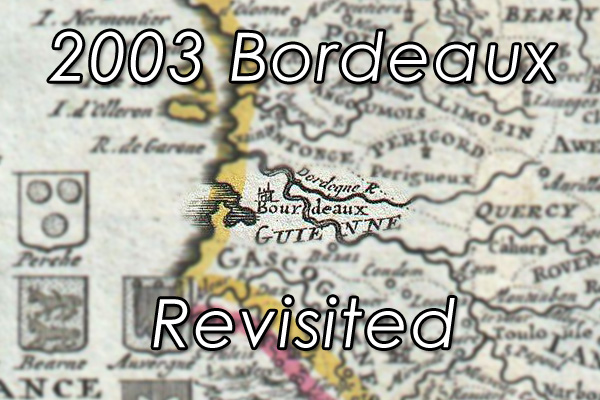 The 2003 vintage in Bordeaux is generally on a current plateau of enjoyable drinking but is so variable with many wines far too ripe broad chunky and lower in acidity. I did a blog on them here on January 28, 2013 you can reference. That amazing Summer heat and drought was record breaking resulting in a vintage that is inconsistent lacking the precision and elegance you usually expect in a more classic year. Bill Blatch ex-Vintex and now Christie's rep in Bordeaux as well as on the Bordeaux Gold Sauternes website conducted a seminar with this scribe on a retrospective of the 2003s in September 2015. Bill has such thorough vintage notes that he brilliantly was able to tell us the important weather conditions and picking dates at various properties on almost a day by day basis. As we know now those who waited for a later harvest during the last 2 weeks of September in the Northern Medoc fared best. Some concentrated Pauillac and St Estephe properties should continue to improve for decades hopefully like the 1982s and the 1959s are doing.
At this tasting the clear winner was the surprising Chateau Duhart-Milon a 4th growth of 1855 in Pauillac with a good DNA connection since 1962 from their parent Chateau Lafite-Rothschild. The replanting in the sixties and seventies resulting in this 73 cab sauv & 27 merlot vintage of reduced 33 hl/hectare yield is a beauty continuing to improve over the last several years. So expressive on the bouquet now with cassis, cigar box, licorice, lead pencil cedar and a full complex classy taste with black fruits. Impressive! Recommend you keep your eyes open to acquire some as you can find this vintage on sale at some wine stores with aged inventory or at a current auction.
Another good value from 2003 with even lower yields is Clos du Marquis from St. Julien with more merlot and bit of petit verdot in the majority cab sauv blend. Shows cloves and subtle spice, plums, cherries, and mocha in the presentation. Drinking well.
---
You might also like:

Loading ...