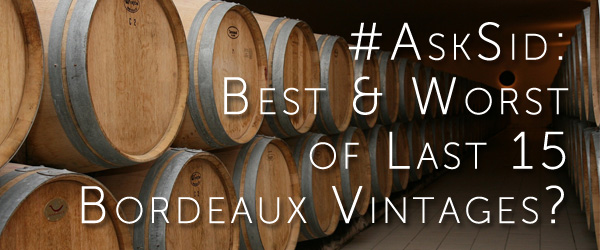 Question: Sid I know you are a wine expert on Bordeaux. Would appreciate help with your quick thoughts on the most recent outstanding vintages and the duds. Thank you.
Answer: Thanks for your kind words. Times have really changed in Bordeaux since the decade of the 60s & 70s when there were some very bad years like 1963, 1965, 1968, 1972, 1974, 1977 and others. Today every vintage is relatively acceptable drinking early on though different in ultimate quality and complexity with age ability. Let's look briefly at the years since 2000. Clearly the best 3 are 2005, 2009, and 2010 all producing some really outstanding wines. The brand new 2015 is very promising and seeking to join that illustrious trio. At the other end of the scale in my opinion as most disappointing though not really "duds" would probably be 2011 followed by 2002, 2007, and 2004. The remaining middle group has 2000 ahead of the under rated 2001 and all the rest.
---
You might also like:

Loading ...