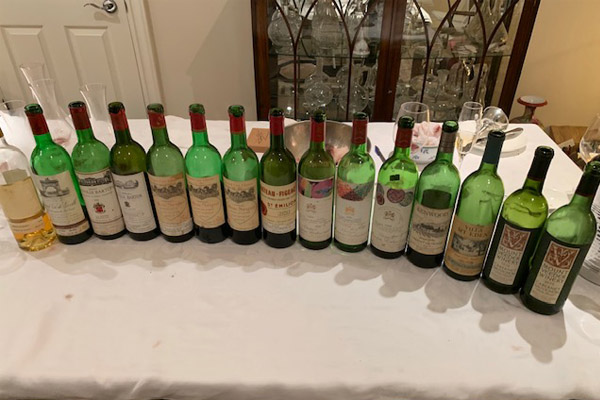 Long time IWFS members and major contributors to the development of the Vancouver wine and food scene celebrated their birthdays & anniversary in grand style on September 8. Alice & David Spurrell invited some 50+ friends for a wine tasting & dinner in what was truly a "Cellarbration". Everyone was in a good mood extending to the Spurrells all their best wishes and blown away with the remarkable quality of the older wines served. Originally they generously planned to open 100 bottles but wisely brought that total down to the 70 listed on the program set out in 4 separate rooms of their home. The aged wines were in such fine shape and so drinkable (with only one corked wine 1975 Chateau La Lagune) that 59 were more than sufficient (plus one more delicious top vintage 2001 Chateau Suduiraut). Treasures of Gruaud-Larose, Lafite, & Latour listed were not needed and saved for another occasion. Out of the 60 wines your scribe tasted 21 were from California & 39 from Bordeaux. Most delighted were the 4 top sommeliers from local restaurants skillfully opening the bottles at their table all with very old drying out cork closures (not a screw-top in sight) and some with difficulty requiring a Durand. Well done indeed. What a wonderful opportunity for them and everyone else attending to receive a Masterclass in older "Bordeaux-style" wines. Much excitement for all and a lifetime experience so well learned!
The California selection were all from the seventies a grand decade for old style cab. Both the 1977 & 1976 vintages expressed the noteable drought conditions of those years. However 1976 Ridge Montebello was stellar from 100% cab combining both young & old vines coming in at an elegant 12.7 alcohol. Fun to compare it with 100% cab from 1978 Ridge Jimsomare with the least "Bordeaux-like" styling showing a ripe big alcoholic 15.3 finish. Other 1978s showed well led by structured stylish Mt. Veeder Bernstein (also intense softer savoury 1975 B. and concentrated regular), solid Stags' Leap Wine Cellars and classic Villa Mt. Eden. Highly rated 1974 lived up to reputation with that still singing complex Mondavi Reserve (more depth in mini-vertical of 75, 76, 77) as did American oak BV Reserve and intense lovely Mount Veeder Napa. Again educational to compare Napa, Sonoma, & South San Francisco Bay styles.
Red Bordeaux selection was simply spectacular! All 1979 or older so in that earlier picked ageable style that ended with 1988. Wines generally now produced riper with softer tannins and less acidity. All communes were represented:
POMEROL 2: Two key "iron" terroir examples with both delicious powerful 1978 Certan de May & surprisingly fresh 1970 Clos Rene.
ST. EMILION 5: Led by historic 1961 L'Arrosee (convinced Haut-Brion to buy the property) in mini-vertical with lighter 1970 & exquisite balanced acidity of 1966 plus herbal distinctive 1978 Figeac and more controversial 1964 Ausone – some loved but some found rustic/cellary.
PESSAC-LEOGNAN 1: What a representative with those aggressive tannins of 1975 now coming into balance with that brilliant concentrated old style La Mission fruit!
LUDON 2: Of course it was La Lagune from that region but a corked 1975 and 1978 miracle year in typical greener style but a touch musty. Not the best showing for this usually fine property.
MARGAUX 6: All wines were excellent. 4 year mini-vertical Palmer shone with stylish elegant 1970 and ever improving powerful 1975 (heading to become another 1928?) with tannins finally softening. Lively 1978 & higher acid 1979 also beauties in a lighter display. Mature 1978 Margaux exciting to compare with the Palmer 1978 and both holding their own style well. 1966 Giscours coarser but underrated long distance runner of that vintage.
ST. JULIEN 5: Some beauties here with two 1961s Beychevelle & Leoville Barton (also 1978) plus bit earthy bottle of usually better Las Cases 1979. Talbot 1966 was still carrying on after 50 years but not the brillance of sibling Gruaud-Larose 1966.
PAUILLAC 9: Probably the favourite region of the group. Some good comparisons of both vintages and chateaux. Four labels of Mouton are always interesting to study and special to drink. 1979 the surprise with complex fruit in an open stunning cedar bouquet with 1978 more herbal toned, 1975 more mature than some bottles tried recently but very Mouton while off year 1969 very browning colour drying out but nose still had enticing interest. May de Lencquesaing's 1978 & 1979 Pichon showed as expected with wonderful balance and Lynch Bages both solid with 1979 good length above the reputation of the vintage yet again. Old style Pontet-Canet can be good as 1966 showed and of course current Alfred Tesseron examples are mind bending.
ST. ESTEPHE 8: Also a good AC showing with three mini-verticals of the top properties there. Showed their unique common more austere styling from clay soils but each property distinctly different. Montrose big rich powerful with a good bottle of the variable 1975, still fresh 1979 (another good 1979); Cos lighter than Montrose not going through their best period at that time; and Calon-Segur super adorable "heart label" is a slow developer needing more decanting time but still most admirable. 1961 & 1966 both impress.
SAUTERNES 1: Hard to beat that top intense vintage 2001 with Suduiraut.
Most memorable Cellarbration by an amazing couple! Your scribe's 5 favs among many outstanding beauties were: 1961 L'Arrosee, 1979 Mouton Rothschild, 1974 Mondavi Reserve, 1975 La Mission Haut Brion, and 1970 Palmer. Doubt the range of these generous rich treasures of wine cellar gems could ever be repeated. Many thanks and many more birthdays & anniversaries.


center
---
You might also like: