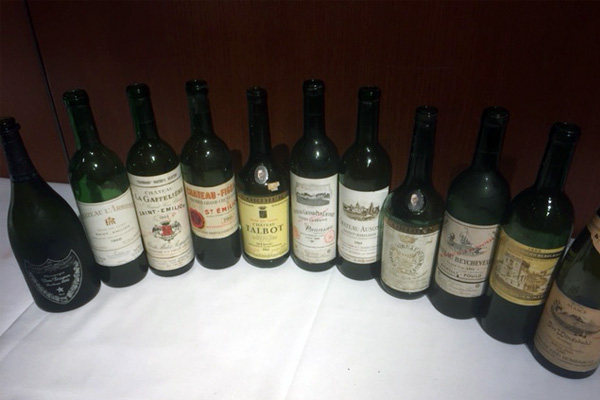 Bordeaux has seen some hotter weather recently. However 50 years ago the 1966 vintage was more typical of the times with dry cooler Summer conditions. There was the outstanding concentrated 1961s followed by excellent 1962 and 1964 but much more frequent vintage failures like 1963, 1965, 1968, and 1969. Therefore 1966 Bordeaux was received with enthusiasm as Peter A. Sichel reported in his treasured annual Vintage Report as "style of 1962s, lighter than 1964s, but with sounder balance. more finesse and even more quality." Michael Broadbent called it "An excellent vintage. Stylish, elegant, well balanced. Lean rather than plump, though with good firm flesh…could develop from 4 star into 5 star class." Tawfiq Khoury staged for the annual KPBS fundraiser in San Diego on November 5, 1986 a tasting of 111 Classed Growth Bordeaux from 1966 in 19 flights commented on by a panel consisting of Michael Broadbent, Bruno Borie and your scribe. Michael called them "Bordeaux style at their best". He was concerned that leanness would prevail, yet he was encouraged by the vigour and old style quality of the fruit at 20 years of age. I remarked "at least some of these wines of 1966 had enough fruit to match their acidity, and showed the long-distance-runner sinews of the vintage." The regions of St. Julien and Pauillac performed consistently strong. Among the many properties showing very well at 20 years of age were Latour, Palmer, La Mission Haut-Brion, Haut-Brion, Leoville-Las-Cases, Grand Puy-Lacoste, Gruaud-Larose, Trotanoy, Petrus, Pichon-Lalande, Lafleur, Cheval Blanc, Figeac, Domaine de Chevalier, Beychevelle, Branaire-Ducru and L'Angelus.
On June 5, 2018 at a tasting-dinner in Vancouver at Blue Water eight top properties of 1966 (plus a mystery wine) were assessed at over 50 years of age in three flights of 3 wines each:
1. 1966 Chateau L'Arrosee St. Emilion – Very dark still young red colour. Excellent work over the years by the Rodhain family with this fine property (with a brilliant 1961) sold in 2013 to Domaine Clarence Dillon. Fresh vigour with lots of body to handle the acidity. Classy wine.
2. 1966 Chateau La Gaffeliere St. Emilion – Quite an aged look and nose less clean with a touch of both TCA & VA (often a problem with their 1970). Disappointing bottle.
3. 1966 Chateau Figeac St. Emilion – Good deep tones with best mature nose of first flight combining drinkability with lovely delicacy and complexity.
4. 1966 Chateau Talbot St. Julien – Lighter look with prominent acidity goes better with the mushroom tart. Big sister Gruaud Larose shows much better balance and depth in 1966. Both properties made outstanding 1982s.
5. 1966 Chateau Grand Puy Lacoste Pauillac – Medium dark colour with rich full cedar character holding up well and even improving in the glass. So stylish. Underrated property even then. 1970 also delicious.
6. 1964 Chateau Ausone St. Emilion – Mystery wine with a very dark colour. Most complex bouquet of second flight. More Merlot/CF showing than GPL blend of Cab Sauv. A wonderful sweetness here and amazing surprise for this property during the sixties.
7. 1966 Chateau Gruaud Larose St. Julien – Old favourite making superb wine in the early sixties. Very dark deep colour. Big open excellent intense wine. Shows outstanding terroir of St. Julien. Impressive at 50+ years. Buy at auction.
8. 1966 Chateau Beychevelle St. Julien – Much lighter look and very mature edge. Has been drinking well for decades and holding on but needs drinking now as losing fruit. Simpler but enhanced by the beef dish.
9. 1966 Chateau Ducru Beaucaillou St. Julien – A treat to have 3 St. Juliens in this last flight. Colour still dark deep and youthful helped by the acidity. Lively palate from the vintage and gravelly soil. Classic elegance on a continuing plateau.
Mature old style Bordeaux for sure. Drier with more acidity than current releases. All wines need drinking up now but experiencing them gives you a special thrill with a better insight into how balanced Bordeaux has such a marvellous capacity for surprising ageing. Have you tasted a red Bordeaux over 50 years old?


center
---
You might also like:

Loading ...