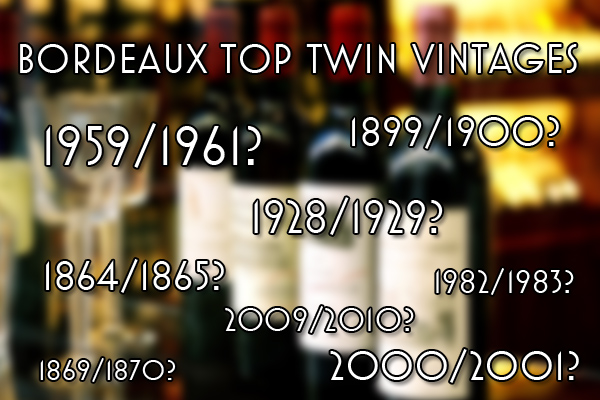 By Colin (Flickr: the brat pack) [CC BY 2.0], via Wikimedia Commons
Are the 2010 & 2009 Bordeaux a twenty year reunion of those 1990 & 1989 twins? Tasting recently a lot of the former twins and drinking frequently those hard to believe now 25 year old delicious latter two. Got me thinking about what should be the recognized top twin vintages in Bordeaux history. Some random thoughts:
1864/1865: These 2 pre-phylloxera vintages were probably the first twins. 64 hot and 65 earlier picked but I have tasted both Lafites that showed amazingly complex and lasted so long as has the solid 64 Gruaud Larose.
1869/1870: Could be but fortunately having enjoyed immensely the 1870 Lafite from Glamis Castle on several occasions I vote strongly for that vintage.
1874/1875: Two big good crops at the time but don't know them well enough to judge which was better.
1899/1900: 99 has a better chance of authentic bottles but 1900 a hotter year and magical with those 2 zeroes but suspicious especially for Chateau Margaux.
1928/1929: 29 delicate showy elegant and best early on but 28 structured balanced and came on late as more complex. Please serve me a Chateau Palmer 1928.
1947/1949: Two hot great vintages not quite consecutive. Port-like 47s like Cheval Blanc & 49s so harmonious and complex like 49 La Mission Haut Brion with better results in Sauternes.
1959/1961: Another not quite twins but the rich 59s like Lafite & classic 61s like Latour make for an intellectual study. Seldom get a disappointing bottle of either year.
1982/1983:  82s so outstanding at many levels including under the  radar Grand Puy Lacoste but 83 unique microclimate with less August rain in Margaux & Pessac-Leognan so Domaine de Chevalier Rouge 83 better than 82.
1985/1986: 85s seductive even early on as a lovely Merlot year while 86 favoured the late ripening Cabernet Sauvignon of St Julien & Pauillac. Love that 86 Mouton.
1989/1990: Another 2 hot years like 47 (90 hottest since it) & 49 (90 sunniest since it) with large crops and lower acids but both with great results. Look at 89 & 90 Montrose. Love the Haut Brion & La Mission 1989s. Some 90 Pauillacs like Mouton & Pichon Lalande underperformed but Lynch Bages super.
2000/2001: Powerful concentrated 2000s helped by the 3 zeros. 2001 lighter favouring the Right Bank but sensational Sauternes- low yield exciting botrytis Climens!
1995/1996: Maybe a lesser quality set of twins than the others listed but some serviceable wines. Hyped after 4 difficult years from 1991-1994. Some excellent wines from the northern Medoc appellations in 1996 with that Pontet Canet improved quality quest starting to assert itself.
2009/2010: The present two "vintages of the century" and maybe even the last one as well. Both years are outstanding indeed. Some producers benefited from learning from their 09s thereby achieving better ripe tannins extraction yet with a firmness for more structure and age worthy style. Jury still is out on which is best.
Do you have a favourite Bordeaux set of twins?
---
You might also like:

Loading ...