The Chefs' Table Society of British Columbia (@ChefsTableBC) founded in 2004 is an inspiring force on the Canadian culinary scene. One of their important projects is the annual #SpotPrawnFestival held each May with The Pacific Prawn Fishermen's Association (PPFA) to celebrate this unique seafood product. It is now a well-established, popular, fun event held at False Creek Fisherman's Wharf in Vancouver – this year on Sunday May 28, 2023. Jammed from 11 am to 3 pm with visitors on the docks watching free cooking demos and almost 1000 enjoyed for $10 a big 8-ounce bowl of #BCSpotPrawn (SP) delicious bisque with a freshly baked bun all led by Chef Robert Clark and Organic Ocean. Also sold out 500 tickets at $79 for two different brunch services that included six innovative SP grazing dishes with samples of wine, beer, and non-alcoholic beverages plus Rain or Shine 4 flavours of ice cream: Rhubarb Custard, Malted Milk Honeycomb, Vegan Vanilla, and London Fog. Lots of participating chefs plus cooking school volunteers were all working hard to make it possible. Well done. Congrats. One of the big impressions made on this volunteer scribe was the diversity of the outstanding SP dishes prepared. There is posted on spotprawnfestival.com some excellent further information describing what an SP is and some proven helpful recipes. Also some good photos of the Chefs on the CTS Instagram. Your scribe believes this was the best selection of tasty SP dishes ever presented at our Festival and here are descriptions and photos of some of them:

There was one grilled BBQ presentation at both sessions carefully done to get a little smoke flavour but quickly so the SP was not overcooked:

-BBQ GRILLED SP THAI PAPAYA SALAD TARE PRAWN CRACKER by STEVE KUAN of TORAFUKU. Tare is a Japanese dipping sauce of soya, mirin & sugar.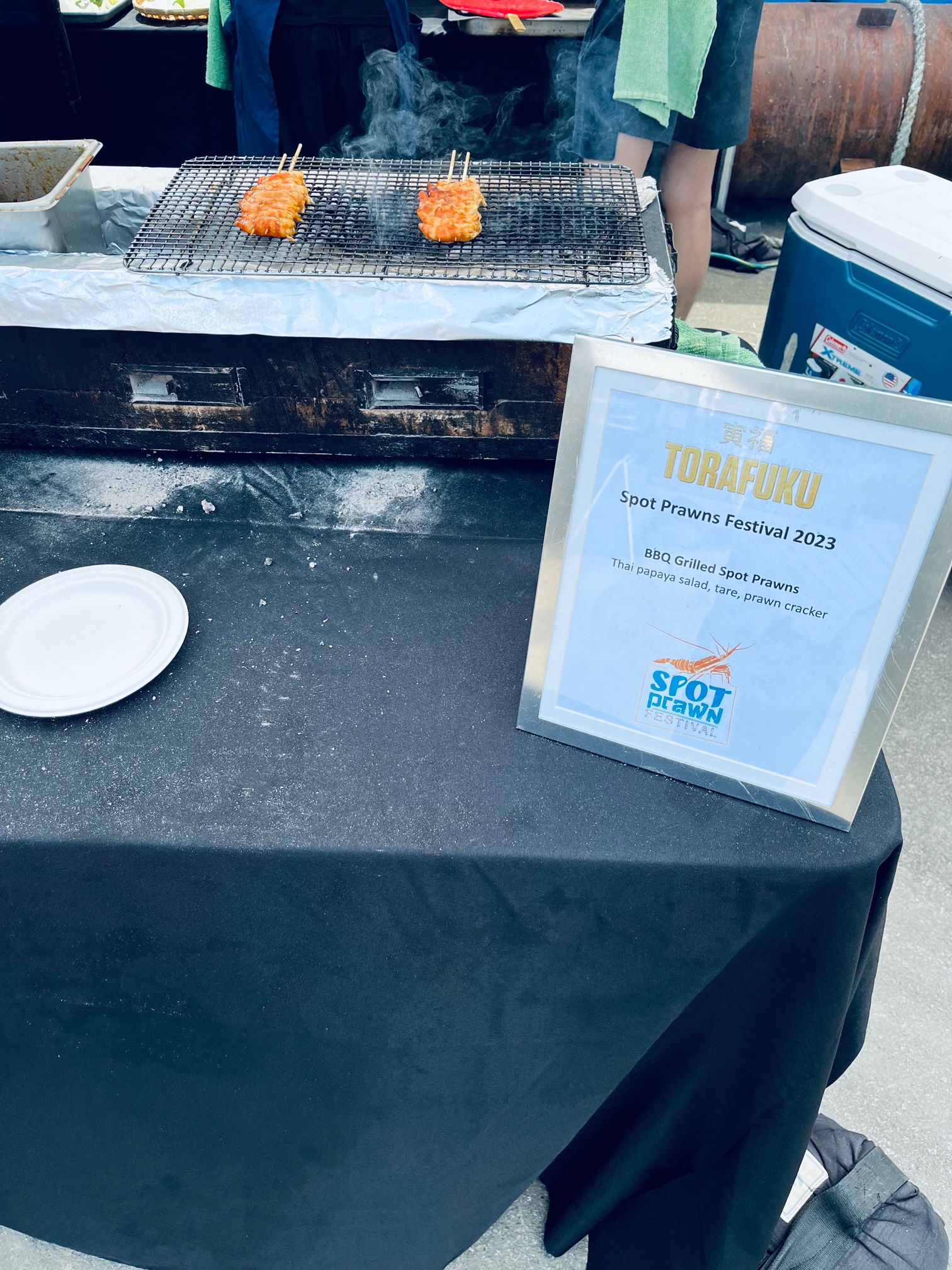 -GRILLED SP GFCO TORTILLA AVOCADO SLAW by JEN PETERS & HAMID SALIMIAN of GOOD FLOUR CO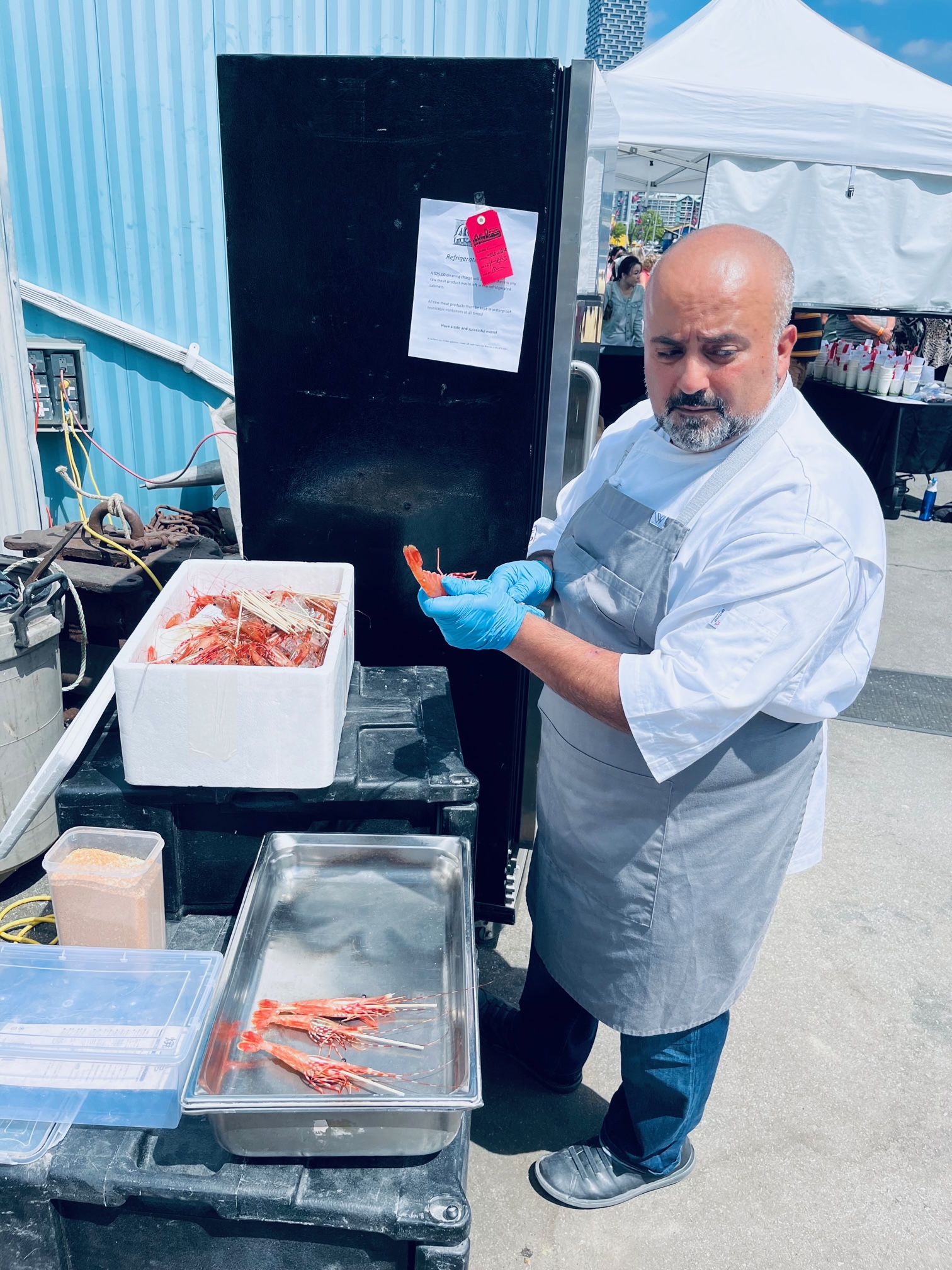 -SP "THERMIDOR" GRUYERE GOUGERE SPRING ONION by BOBBY MILHERON OF TABLEAU, MAXIME'S, HOMER ST. CAFE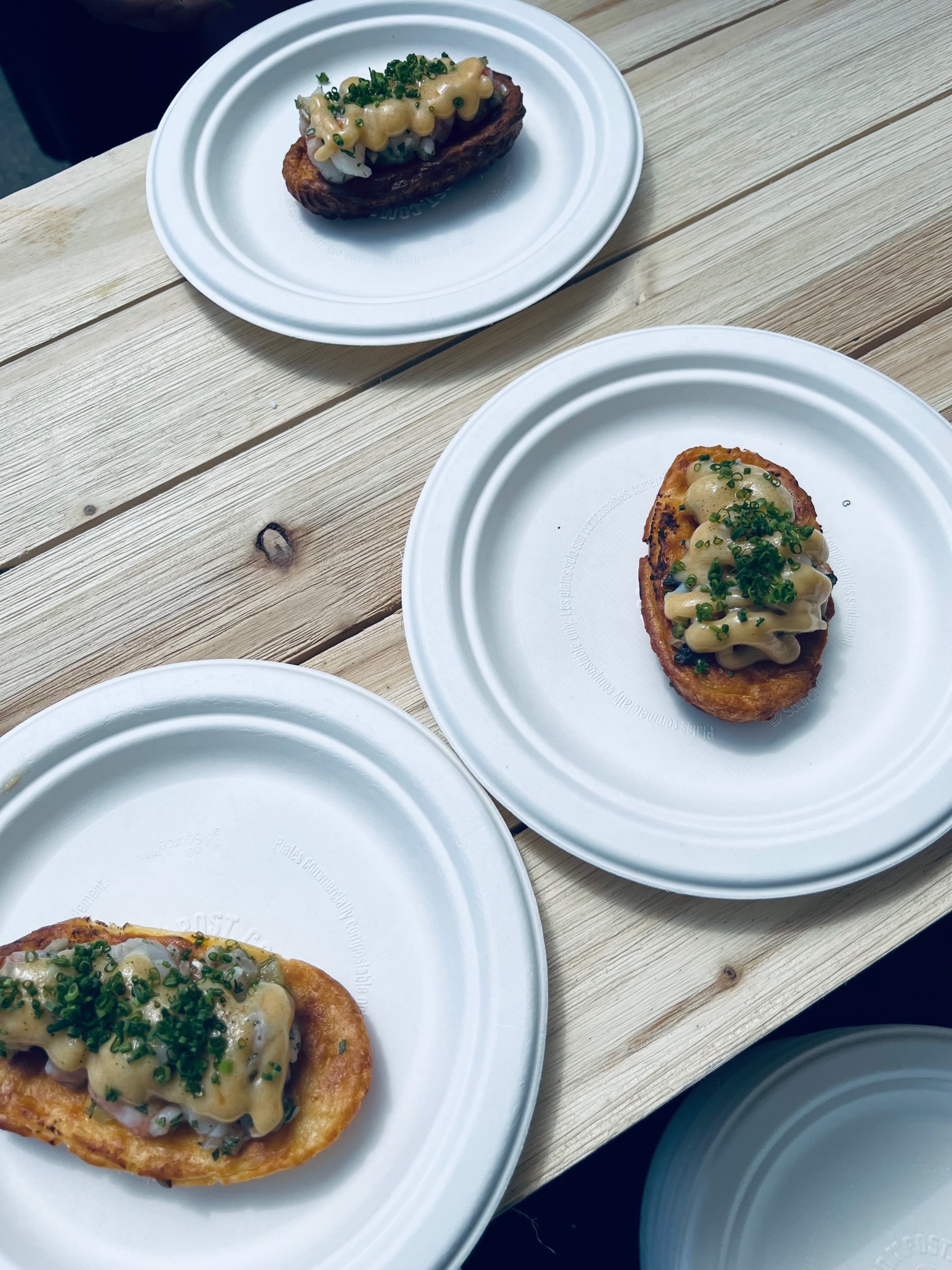 -SP CEVICHE PRAWN AIOLI WONTON CRISP SEAWEED by TOMMY SHORTHOUSE of FANNY BAY OYSTERS BAR & SHELLFISH MARKET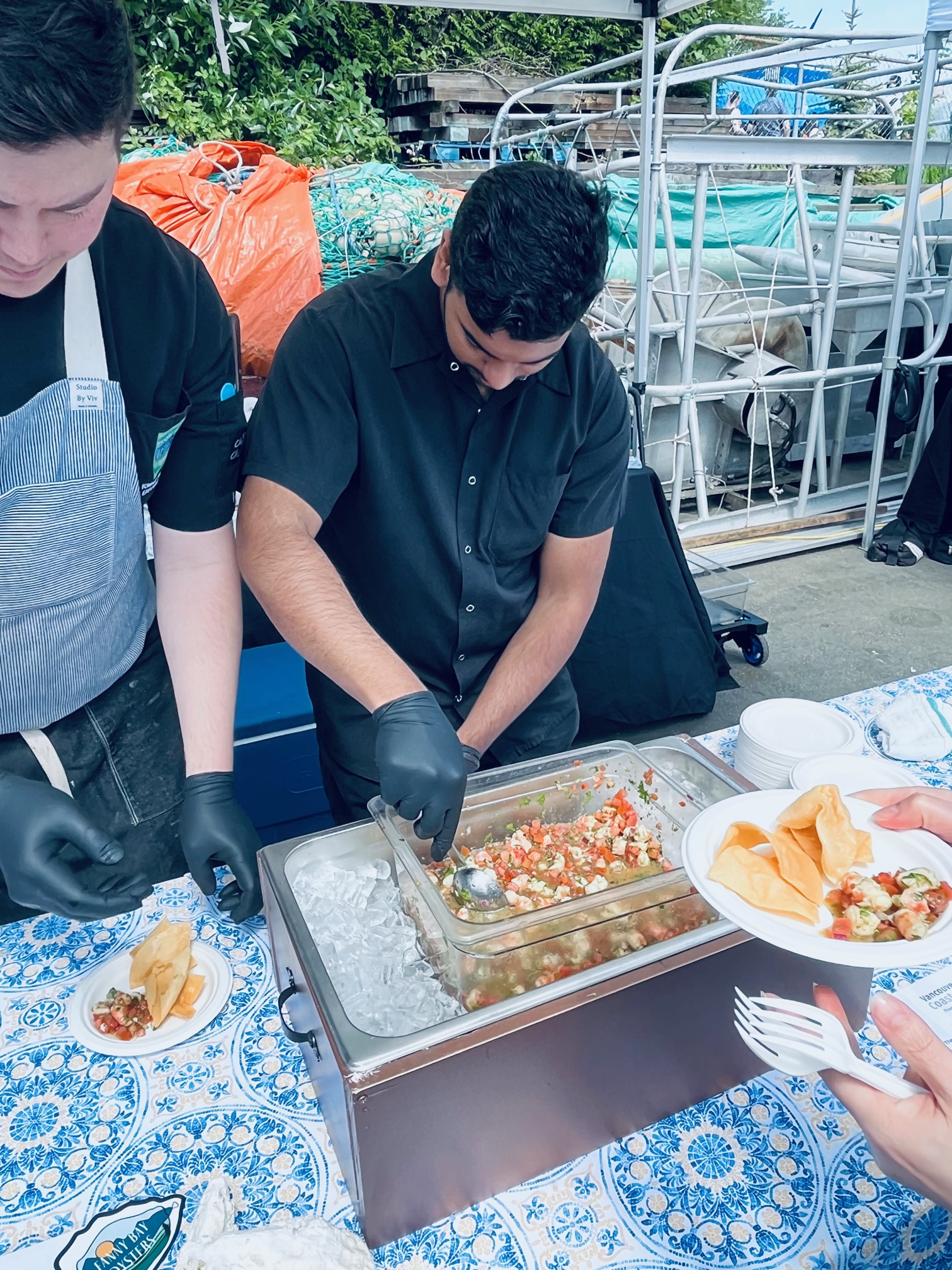 -POPCORN SHRIMP CITRUS POACHED SP POPCORN CONFIT GARLIC OIL CRUMB AVOCADO BASIL MOUSSE SAVOY CABBAGE DAIKON APPLE SAFFRON GASTRIQUE PROSCIUTTO CRISP by LAURA MESSINGER & CURTIS LUK of THE FARMHOUSE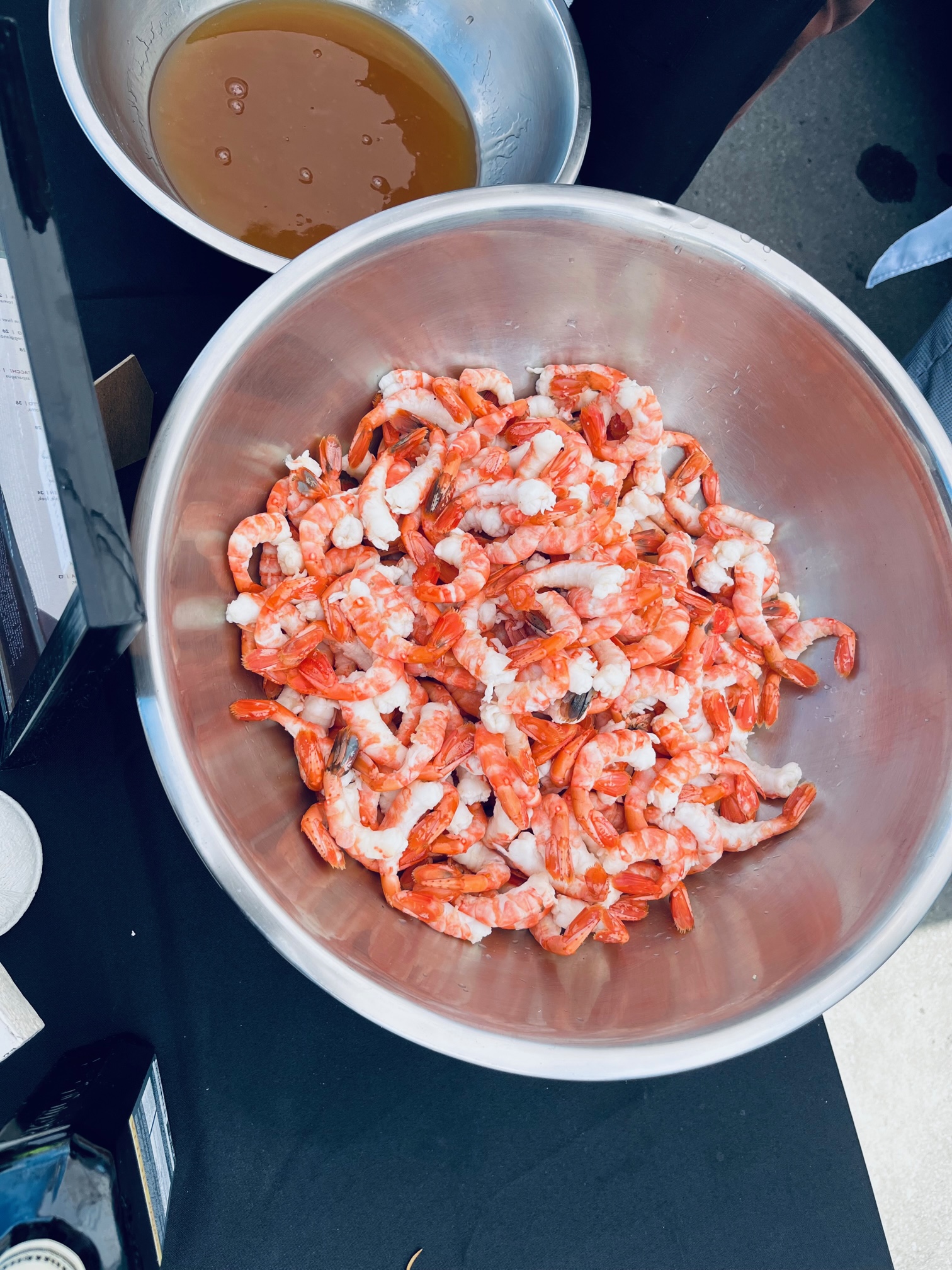 – SEA POACHED SP PRAWN COCONUT CREMA MANGO SALAD KELP CRACKER by DAVID LEE of VANCOUVER AQUARIUM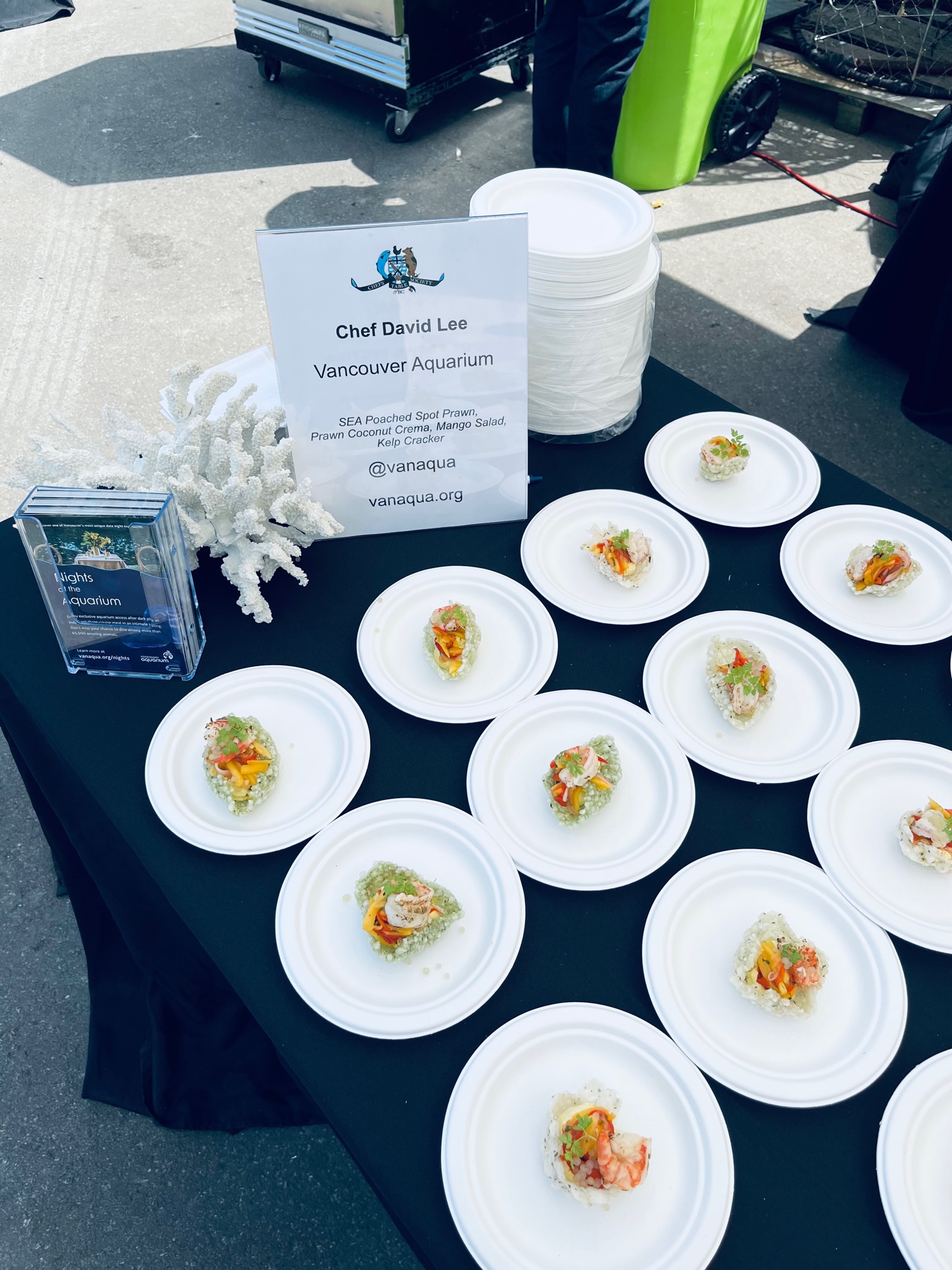 -POACHED BC SP CONSOMME RHUBARB PEAS by LINA CASCHETTO of SAY HEY CAFE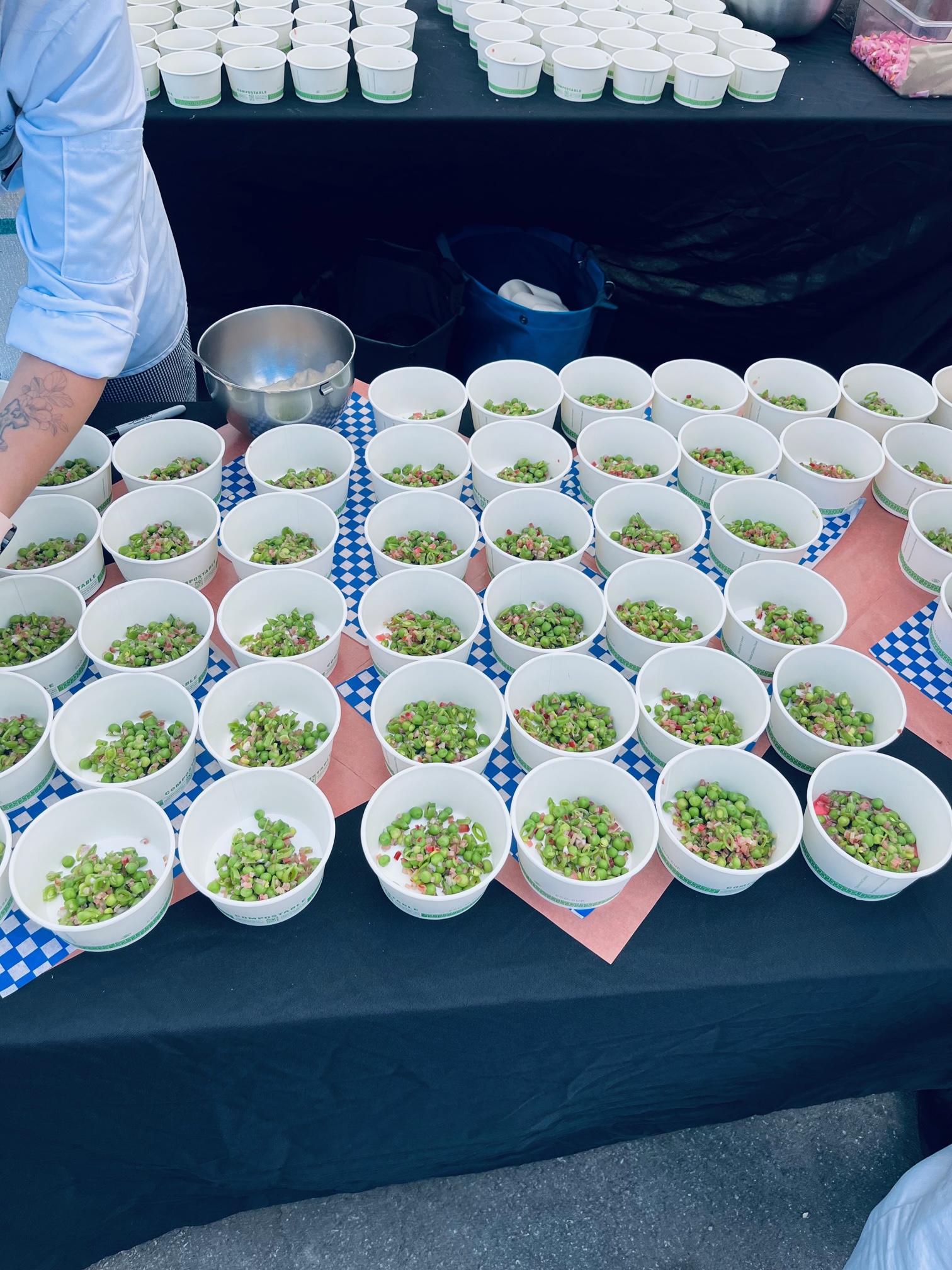 -KOREAN SP SALAD DIJON DRESSING TOASTED ALMONDS PERILLA (a traditional Chinese "minty" herb) by JIWON SEO of BAR GOBO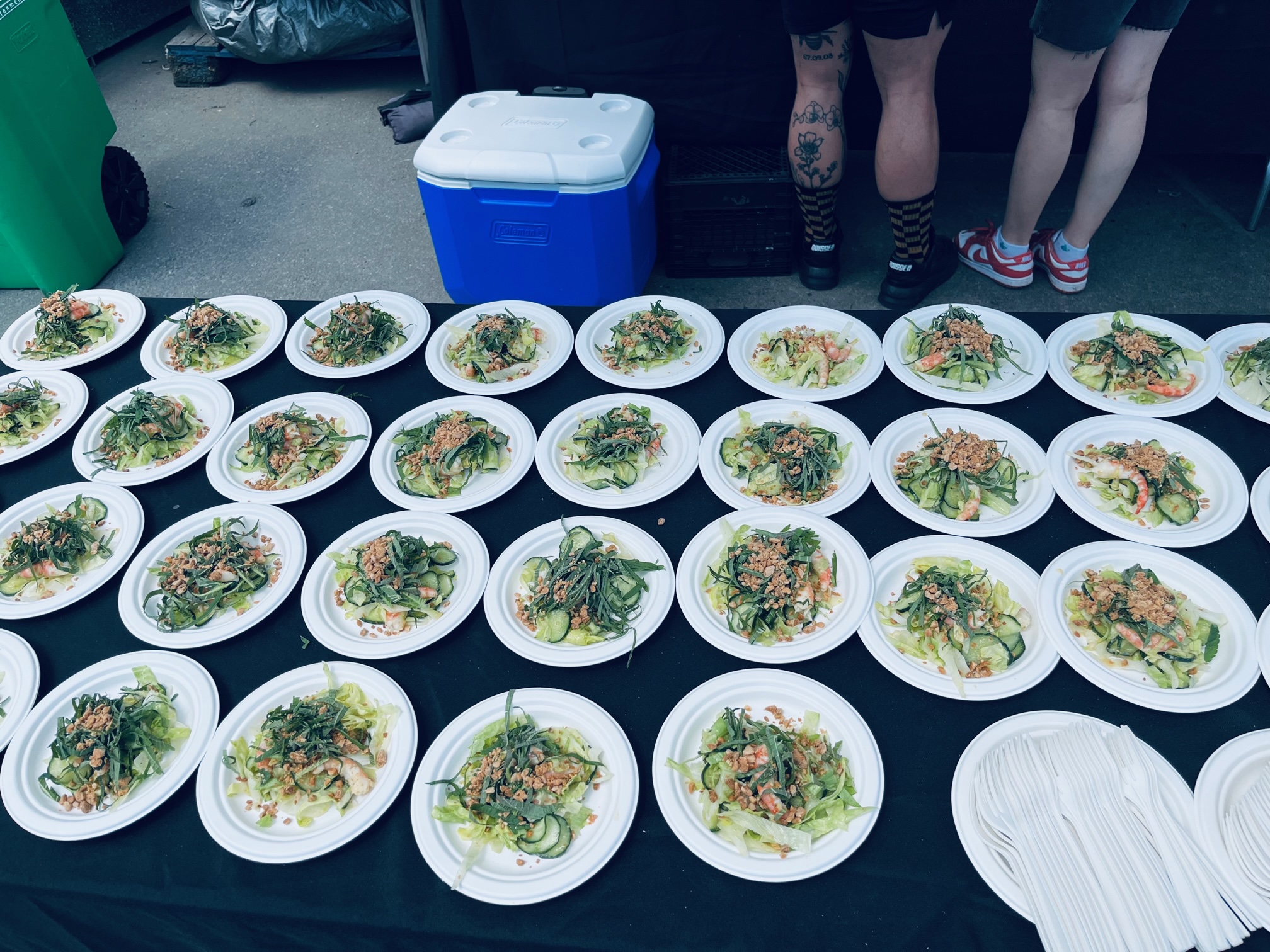 -LEMONGRASS BUTTER POACHED SP TARRAGON & PEA VELOUTE FAVA BEAN & BOAR BACON SUCCOTASH by WARREN CHOW of WILDLIGHT KITCHEN & BAR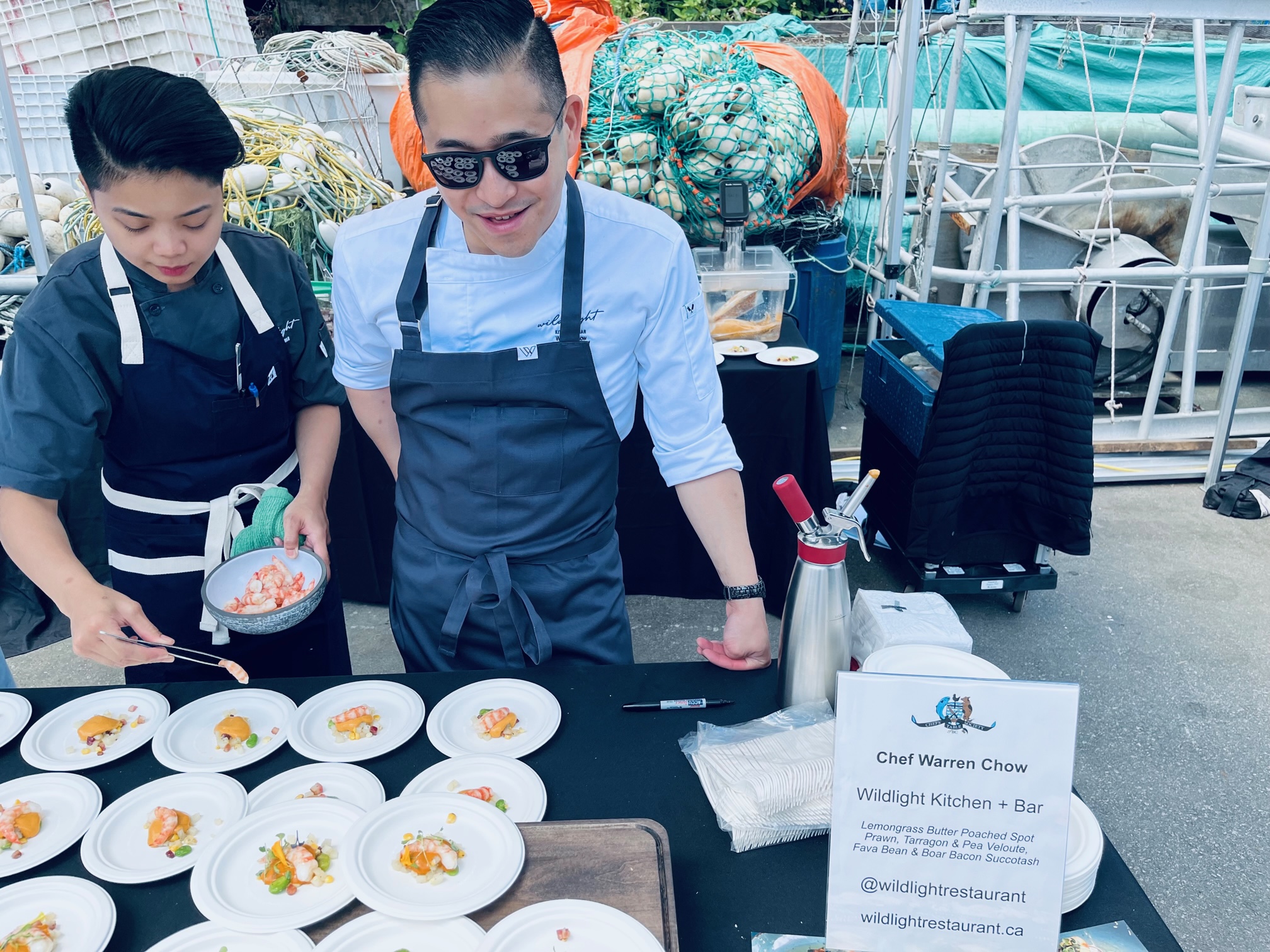 SP are big feature hits at many Vancouver restaurants all this month. Here is an impressive dish your scribe just enjoyed at La Quercia with Tajarin pasta and about to be served Bisque. Delicious!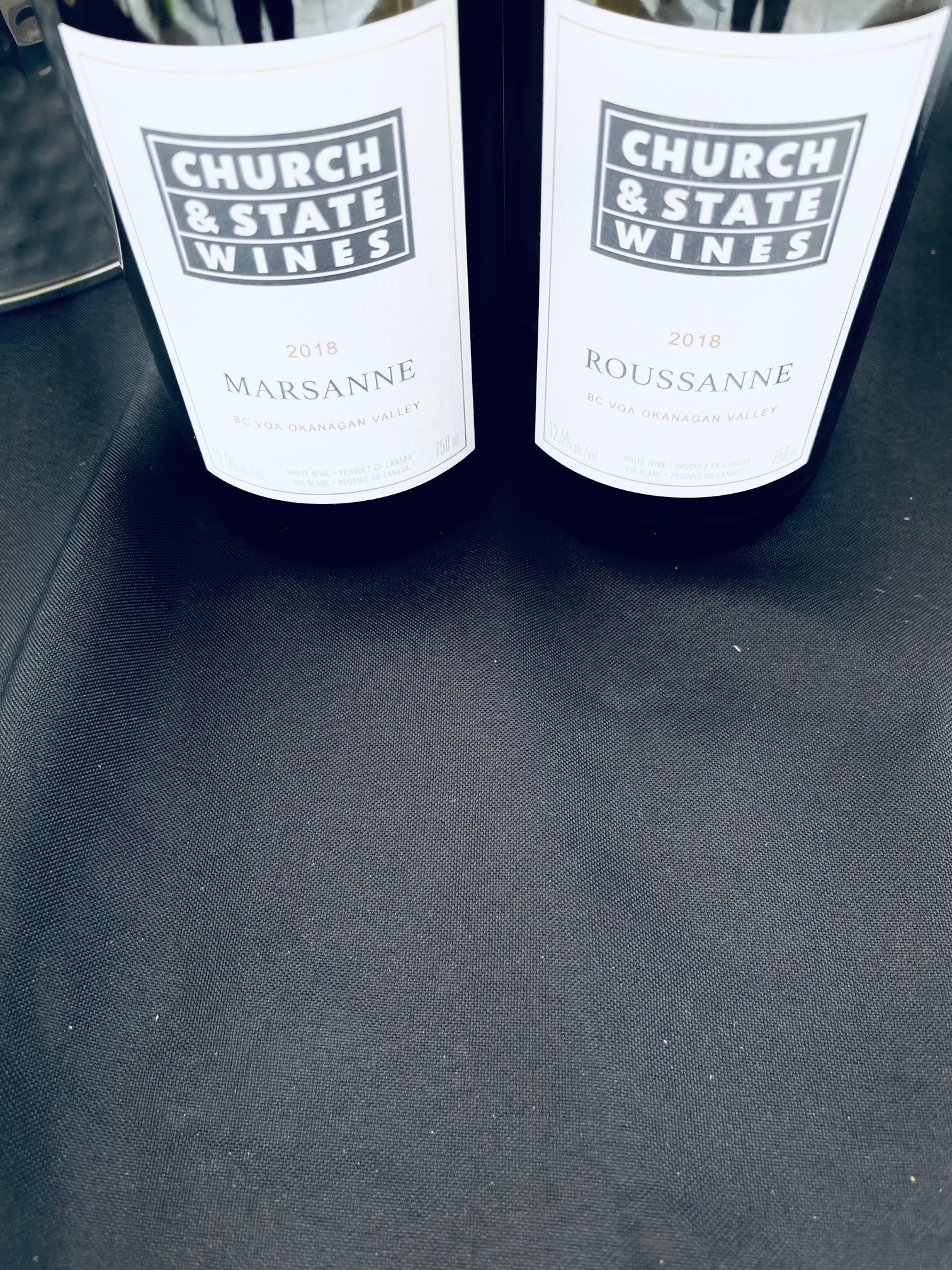 ---
You might also like: