Often it seems that vintages adjoining highly rated vintages can be under-rated. As an example the always delightful 1989 & impressive 1991 red Burgundy still stand in the shadows of the more full-bodied 1990. Also the case in Bordeaux where the triple zero 2000 tended to have the wine consumer ignore the years on either side of it – the pleasurable 1999 & 2001 vintages. A dinner at Boulevard in Vancouver on November 8 explored these two years with several excellent properties shining brightly. A few brief details provided by your scribe:

An Aperitif of 2012 Laurent Perrier Champagne got the evening off to a good start with equal portions of highly rated vineyards chardonnay & pinot noir contributing to the flowery lively elegant bubbles from a top vintage. The next course was a duo of foie gras brilliantly paired with three Sauternes 2001:

2001 CHATEAU LAFAURIE-PEYRAGUEY
2001 CHATEAU SUDUIRAUT
2001 CHATEAU GUIRAUD

As we now realize that 2001 is a sensational vintage for Sauternes showing wonderful botrytis with vibrant acidity to balance the sweetness. All three showed very differently with L-P disappointing with a very dark look and lack of freshness in the taste. Bad bottle? Suduiraut was the clear winner with classic bright balanced pineapple full fruit and long complexity. Wow! The Guiraud also was very lovely evolving with higher Sauvignon Blanc in the mix to a charming delicious pairing with the foie gras. Super endorsement for 2001.

1999 CHATEAU KIRWAN (MARGAUX)
1999 CHATEAU PAVIE (ST. EMILION)
1999 CHATEAU LA MISSION HAUT-BRION (PESSAC-LEOGNAN)

First flight of reds quite diverse showing some of the difficult weather conditions and very rainy September affecting the weight of the wines but severe selection resulting in rather fine Grand Vin bottle results. Kirwan is more modern with fuller rustic fruit than earlier decades but lacking some Margaux "charming finesse". Last decade vintages showing much improvement. Pavie under Perse ownership starting with the controversial first concentrated 1998 vintage. Wonderful aromatics and intense textured fruit perhaps even helped in the elegance factor by the lighter style of the year. Lovely. Liked the classy precise terroir statement of LMHB displaying well the best attributes of the more delicate year. Excellent matching with the earthy pasta course!

2001 CHATEAU LE BON PASTEUR (POMEROL)
2001 CHATEAU CLOS L'EGLISE (POMEROL)
2001 CHATEAU CANON LA GAFFELIERE (ST. EMILION)
2001 CHATEAU PALMER (MARGAUX)

Four excellent examples of the under-rated 2001 – even if not at the very top level of Sauternes. Two Pomerols with Michel Rolland connections show seductive lower acidity simpler LBP against stunning bouquet of Clos L'Eglise with a rich full silky palate. Amazing concentration for 2001 and can give 2000 (if not 1998) a competitive run. CLG solid layered softer approachable St. Emilion styling is a nice match for the duck breast. Palmer from Left Bank is so elegant but subtle with sweet complex fruit that is improved in weight and balanced texture from earlier tastings of it. Surprise of the night. Finished up with fresh firm tannins of 1983 Graham Vintage Port in Magnum! Lots of signature full riper jam of Graham style but personally prefer presently the sublime 1966 and lovely 1977. No rush for 1983 in this format.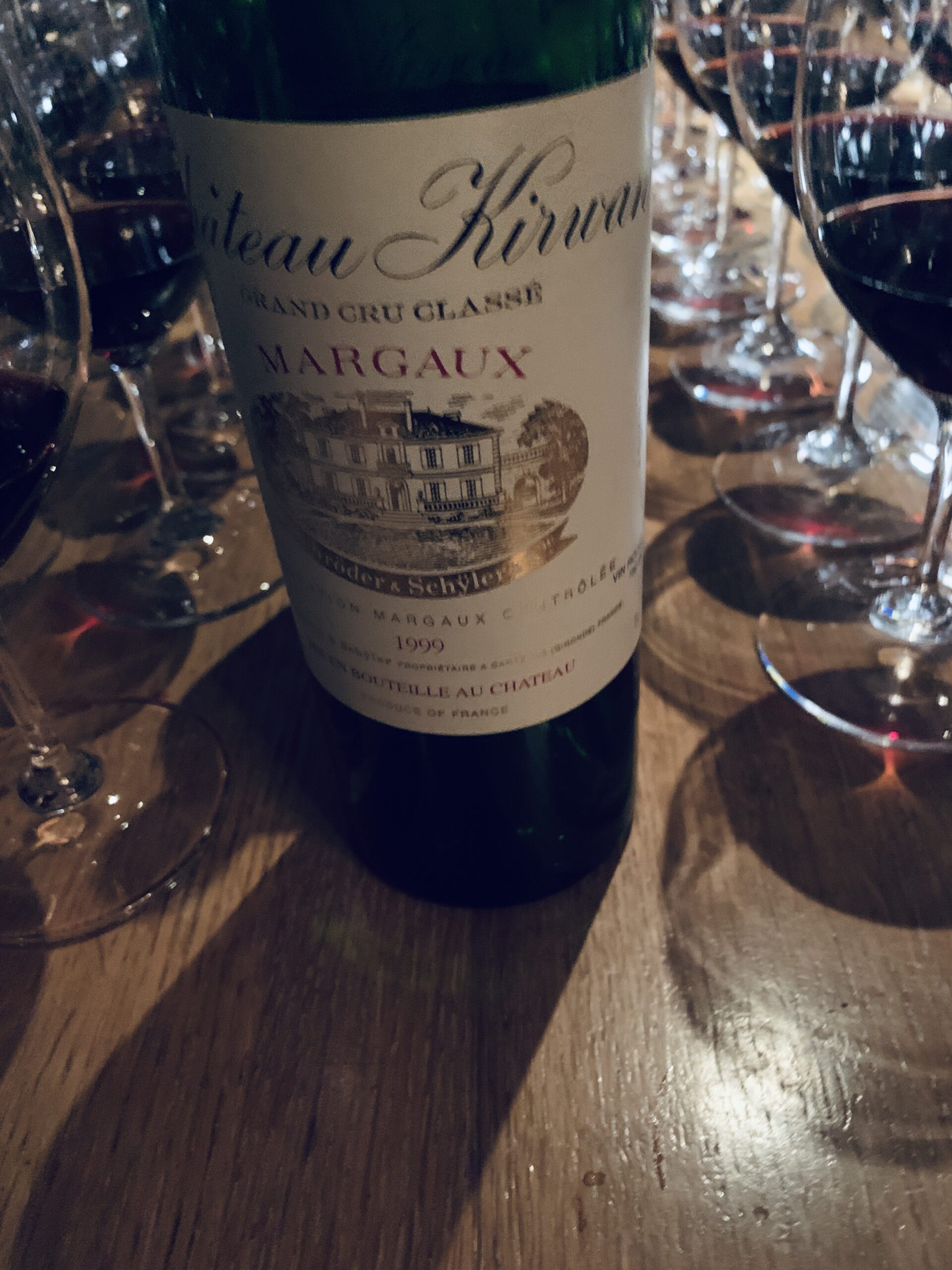 ---
You might also like: