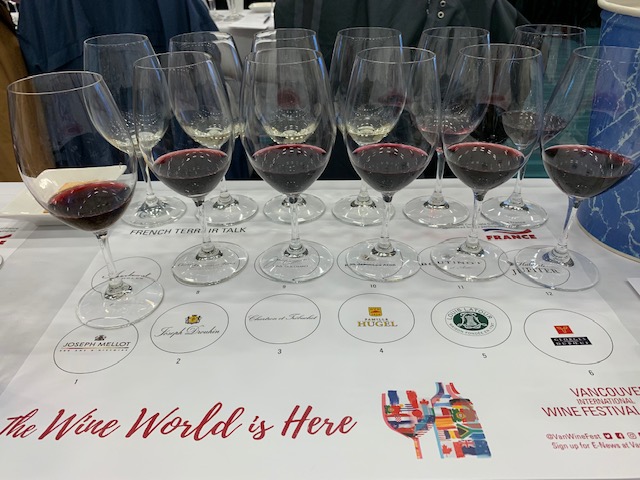 The one week 42nd annual Vancouver International Wine Festival (VIWF) spotlighting 162 participating wineries of which 42 represented theme country France concluded on March 1, 2020. Another amazing success story with 57 Festival events highlighted this year by outstanding keynote speaker Andrew Jefford (AJ). AJ & family live in a small town in Southern France a part of the Montpellier district of the Languedoc-Roussillon wine region. He is a highly respected journalist with multiple awards for his many books (including The New France) and is contributing editor for The World of Fine Wine & Decanter plus Academic Advisor for Wine Scholar Guild. AJ joins a long list of top educators over many years at VIWF that started with Michael Mondavi in February 1979. So many have followed over the decades including early on Robert Balzer at the "California Wine Festival" March 1981, Hugh Johnson for the sixth "American Wine Festival" March 1984 and even this scribe who has been actively involved in some capacity for all 42 Festivals. This tradition has carried on with AJ brilliant this year raising the level so high with his astute topical most intellectual comments delivered at these following 7 events. You had to be there to savour the wonderful flavour of his delivery but here are a few concise educational notes: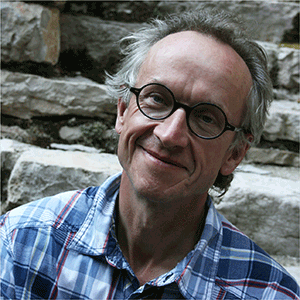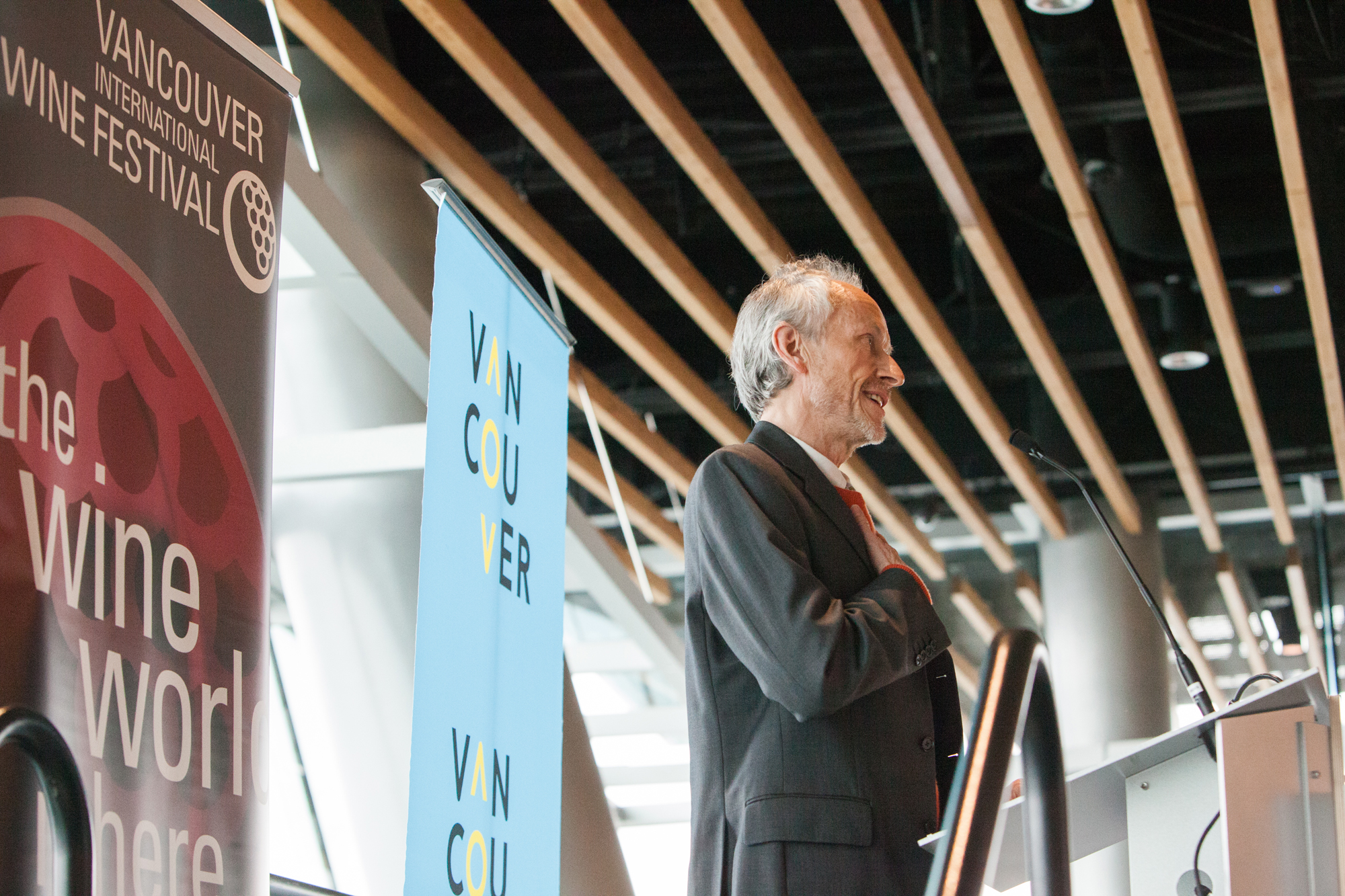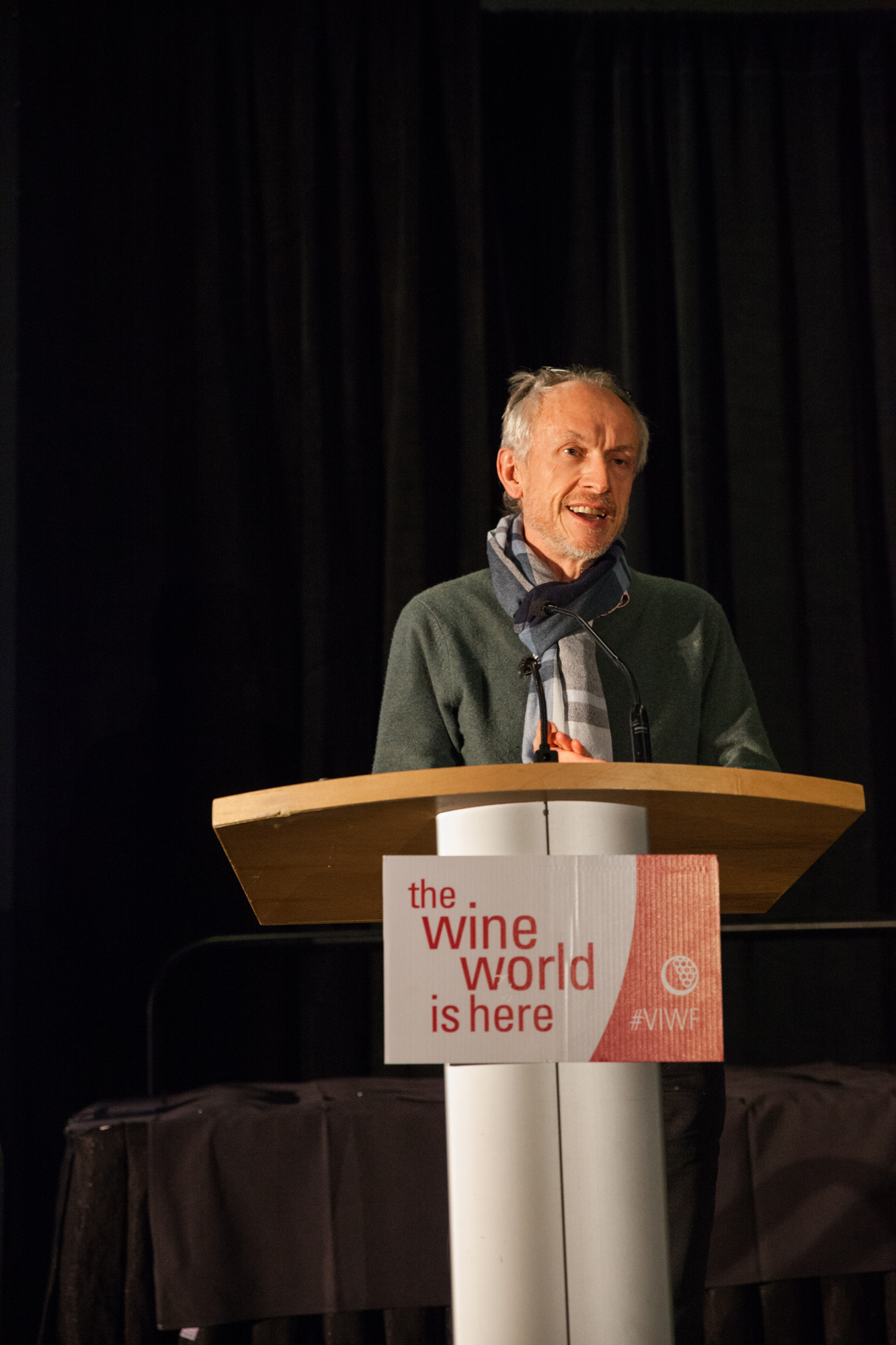 1. Official #VIWF Opening reception February 24 at Joey Bentall One with introduction of AJ and announcement that Bacchanalia Gala Auction at Fairmont Hotel Vancouver February 22 had raised $256,000 for charitable partner Bard on the Beach Shakespeare Festival.
2. Industry Networking Lunch February 25 at Terminal City Club: Debate whether it was mainly "nature or nurture" that has resulted in France becoming such a diverse respected land mass for vines at varying latitudes, temperatures, north and south winds, alkaline & limestone soils that those vines really like. AJ also offered up that there are three things that the French people do better than anyone else – (a) "Divine Dissatisfaction" of never being happy to sit on their laurels but always arriving on Monday morning with a frown trying to do even better! (b) "Fundamentally Modest" so noble vine varieties are based on origin and not with an emphasis on marketability resulting in consumers being the beneficiaries of all this. (c) "High Level of French Cuisine – Viva La France Gastronomique!"
3. Keynote Speaker Lunch February 26 on French Lessons in a Warming World: Started by referring to recent wild weather with high temperatures in France that broke the 2003 record of 111F with 115F or 46C but no wine region is immune. It is affecting all vineyards with higher alcohol and the old balanced classicism of style is under duress. Not all losers though and some northern vineyards are being helped and even Bordeaux is riper since 1982. It has not reached the critical point of change or life threatening yet but may arrive. Bordeaux suggesting new grape varieties be planted but lots of rules & regulations mean you can't move the Chambertin vineyard boundary. AJ suggests four unwritten rules as most important: (a) Know Your Vineyard with attention to detail. Used the example that in 2050 it may be too hot for Romanee-Conti pinot noir but replanted with grenache that may be very good but not the sublime R-C as we know it that can never be replaced. (b) Respect The Natural (not natural wine) of the seasons and style of the vintage overlaying the terroir. (c) Difference Is Everything – Your response to climate change may be a step backwards. (d) Embrace Climate Change in a Positive Way like they did with phylloxers before the cactus takes over the grape vine. Embrace change in Canada and other New World wineries. Topical that the new Master of Wine from Canada Ross Wise MW Winemaker of Black Hills Estate Winery did his Research Paper on "How will climate change be influencing viticulture in British Columbia's Okanagan Valley by the 2050s?
4. The Plenary Session on early morning February 27 featured not only AJ but co-moderator Jon Bonne (delightful 2019 Keynote speaker) on a vinous journey around the special wine regions of France serving top "Cru" representative wines.
5. VIP Festival Toast February 27 Wine Mingler: AJ today on an afternoon walk along the scenic Stanley Park seawall next to the Convention Centre realized after 50 years in the business that the amazing thing about wine is the "Intellectual Aspect". Sure there is the enjoyment and pleasure of the wine experience but it also is the intellectual challenge of learning places, people, soils, grape varieties, vineyards, and vintages. The complexities of it all stimulates you as well as the enjoyment of the special beverage.
6. Celebrating Excellence at 17th Annual Awards Lunch February 28: AJ knows there are "rock star" wine writers out there but the knowledgeable enthusiastic sommeliers are on the front line of service and so good at food/wine matchings. Sommeliers are teachers and ultimate custodians of both young & old wines that bring a lot of happiness for people going to restaurants. Toast to the Sommeliers of the World!
7. French Terroir Talk February 28: AJ states that Terroir is a French word but a universal concept. Just as your garden gives you tastier tomatoes in some parts of it better than others so is there a unique high quality difference between vineyard sites. Place is a key. However there are qualifications. Firstly only through human intervention can that terroir be established. Again he references Romanee-Conti being a tiny part of a vast forest that developed only after centuries of experimentation and pinot noir plantings and becoming cherished as a top red Burgundy. Unique terroir seems to be there in the greatest wines. Like finding a needle in a haystack. On the other hand terroir is not something that is required as you can make commercially attractive good wine without any terroir. It requires a long conversation between humans and a place before it can be established. An example is Champagne in the 12/13 century as sharp sour pale wine developed further in the 15/16 century on its way to what we know as Champagne today. All winemakers are at the service of their raw materials to make the terroir show. They are really midwives (trained to assist women in childbirth) trying to do the right thing at the right time to naturally reveal that terroir. 12 wines (shown on attached program) were tasted to show how grape varieties react to the place where they come from: Smoky Sauvignon Blanc of the Loire Sancerre, comparing the minerally chardonnay character of Chablis to the richer style of the same variety in Montagny, the single vineyard Grossi Laue finest petrol Riesling plots in Schoenenberg Alsace, low yield Corton Grancey Grand Cru pinot noir in Bourgogne vs. fruity Julienas Beaujolais Gamay on usually granite, limestone and here more volcanic soils with stems & whole bunches fermentation, two very different Bordeaux from Right Bank St. Emilion Ch. d'Anielle merlot and Left Bank Ch. de Lamarque thriving petit verdot built on higher ground near Margaux above the marshes, and ending with four Rhone examples with subtle differences of two Northern Rhone both Cornas grown on steep slopes of decomposed granite soils using a single grape variety Syrah compared with more diverse grape variety blends in the South here these old bush vines mainly Grenache, plus Syrah and little Mourvedre & Carignan of juicy La Cote Sauvage Cotes du Rhone Villages in Cairanne (NE of Orange) and Mistral freshness showing in Chateauneuf-du-Pape usually a blend but Adrastee is rare 1500 bottles of 100% Grenache from over 100 years old vines. AJ summed up the tasting with Terroir not just the soils but the totality of the whole specific vineyard place. Many thanks Andrew Jefford for your most memorable learned contributions to the 42nd VIWF.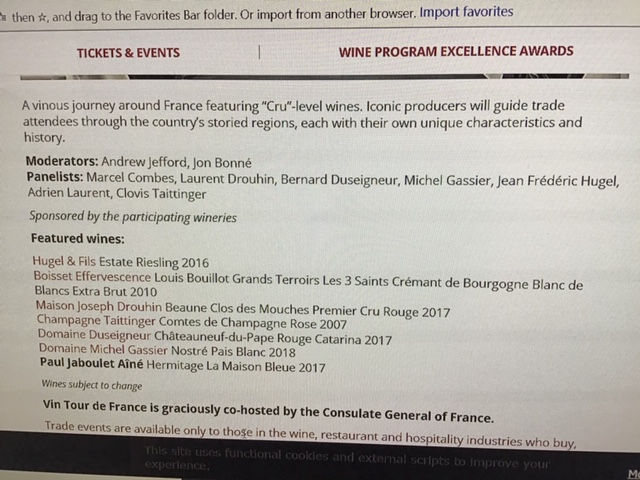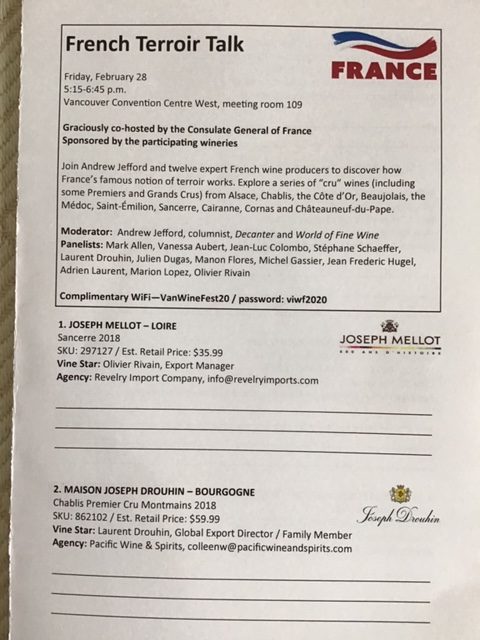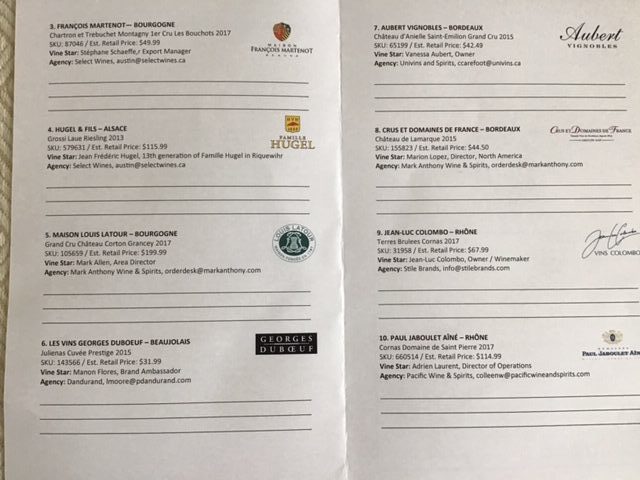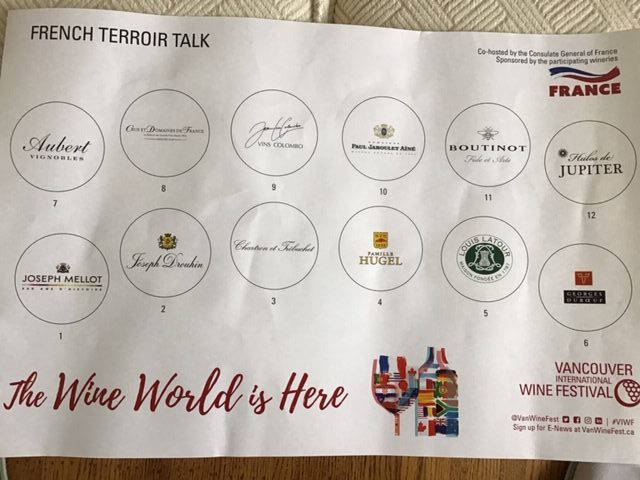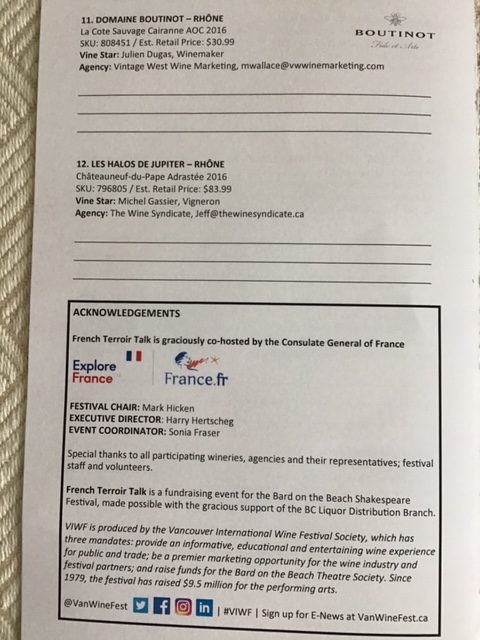 You might also like: