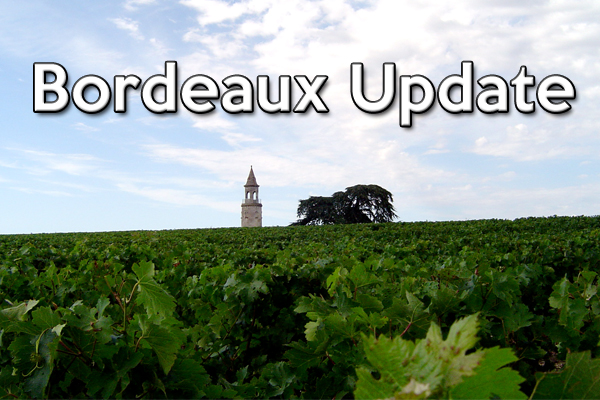 By Jonas Roux (originally posted to Flickr as [1]) [CC BY 2.0], via Wikimedia Commons
Some of my random thoughts after a busy week of events in Vancouver spotlighting Bordeaux:
2014: Stephen Lemaitre Vintex Commercial Director for the Americas is encouraged that estimates of increased crop levels for 2014 over 2013 will help lower present exalted prices. After a lovely Spring and good flowering the weather has been mixed resulting in a catch up year with some recent rains but the forecast for the last 2 weeks of September is sunny and encouraging. Quality levels still to be determined.
2013: Tasting many barrel samples showed whites preferred: Domaine de Chevalier outstanding, Pape Clement, Malartic Lagraviere & Fieuzal also at a high level picked before the heat and rains. Reds suffered from both late budding and flowering, some coulure, rainy Spring and early Summer followed by hot July, August and September but rains forced earlier picking to avoid rot. Harvest of merlots advanced from expected October 8 date and some cab sauv picked in the rain. Sauternes faired much better picking with botrytis between the showers. 2013 reds are lighter but show their terroir well. Bill Blatch of www.bordeauxgold.com and Christie's Bordeaux wine consultant says "lovely purity of raspberry fruit in 2013 acting a bit like a light Volnay in Burgundy presently but in 5 years will show OK."
2012: Reds forwardly with lower acidity showing some successful merlots. Sauternes difficult with 4 top properties declassifying. Again dry whites excellent.
2011:  Current releases show lack of uniformity. Another leaner year that was the opposite of 2013 with a warm Winter hot Spring but cool + wet in July & August delayed ripening and saved by September & October warm up. Bill Blatch says he "was on the beach in February" and "wearing a Panama hat to the office in the Spring". Lovely whites picked in August earlier than 1893.  Clean amazing pure selection of 2011 Chateau Latour impresses me but it lacks the usual power and concentration. Is it really worth 15 times the price of neighbouring Chateau Grand Puy Lacoste? Bill states that " If I was starting a wine cellar now I would buy the 2011 vintage".
Seems like the 2014, 2013, 2012 and 2011 will be 4 less uniform vintages following 2 outstanding years of 2010 and 2009. Note this is quite a similar pattern to 20 years ago when the disappointing 1991, 1992, 1993 and 1994 vintages followed that great pair of 1990 & 1989 Bordeaux wines!
2000 & 1990: Rain that fell on the 1999 harvest continued till February 2000 raising the water table, Mildew risks in April that smaller properties were able to handle better. Mid June finally some heat and July quite warm "better than the stats showed" says Bill. Vintage saved by the triple 000's.  1990 warm wet winter gave the vines a fast start and heat wave continued right through giving tasty lush velvety softer styling. Bill Blatch and this blogger conducted a comparison tasting of 2000 and 1990 for the French wine club Les Chevaliers des Vins de France. Both vintages developing nicely. Bill says 2 characteristics of St Estephe on blind tastings for him are "Oriental spice & abrupt tannins". Croizet Bages 2000 didn't show too badly against a magnificent magnum of a leaner vintage for cedar-cigar box Mouton Rothschild in 1990 (like the Pichon Lalande) but Bill says Croizet had "vineyard spacing too wide and using a bad rootstock." Other 2000s: Haut Marbuzet ready, Yon Figeac a L'Evangile wannabe, Rouget very ripe and concentrated even if a bit rustic. Best wine on the table was clearly the rich opulent 1990 L'Evangile followed closely by two other 1990s drinking well:  classy Trotanoy and fleshy alive Sociando Mallet.
"Bordeaux, toujours Bordeaux" – the official song of the Grand Conseil de Bordeaux!
---
You might also like:

Loading ...