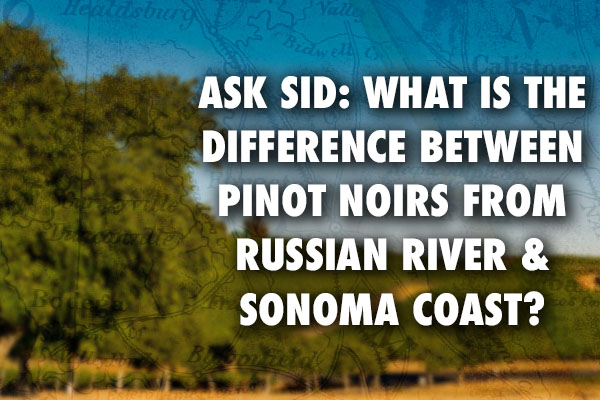 Question: I have been enjoying some pinot noirs coming from both Russian River & Sonoma Coast. Would you kindly tell me the main difference?
Answer: Boy that is tough one to give you a helpful simple answer. Both Russian River Valley (RRV) & Sonoma Coast (SC) are in Sonoma County California under the influence of foggy conditions. Both are a large AVA (American Viticultural Area) with lots of producers showing different styles. Soils are becoming a big factor with lots of alluvial types in RRV but both regions continue to seek out those special Goldridge sandy loam on a sandstone base from decomposed sea beds to terroir advantage. SC is closer to the Pacific Ocean often at higher elevation and generally is cooler, wetter & more windy – resulting in a key difference of lower night-time temperatures. Not really fair because of the wide style variations to summarize the resulting wines from the 2 AVA regions. However I will try to help you a little bit nonetheless. IMHO a simple explanation of the wines from the 2 regions might be summarized briefly as follows:
RRV tends to be riper richer deeper in colour of black cherry & cola notes with a lush velvety texture.
SC often shows more herbal varietal fruit of brighter acidity with a lively structure all with a mouth feel of silky tannin grip.
What do others think?
You might also like: