Your scribe has just spent the first full seven days of October 2023 in fine weather back in Chablis once again. One of my favourite wine towns as well as arguably the world's most unique terroir. IMHO the best starting point is to stand at the highest point of Les Lys vineyard on the Left Bank and look directly across at the Chablis Grand Cru on the Right Bank of the River Serein. Next go across to stand at the highest point of Les Clos and look across at the Left Bank villages with the town in between. Puts the whole region into perspective. The sign at the top of Les Clos (my fav) states 27.70 ha with South West exposure "By far the largest of the Grand Cru vineyards, set between Valmur to the West and Blanchot to the East. Les Clos is intricately woven into the history of Chablis, as it was almost certainly the first vineyard to be planted. The name 'Clos' indicates that the vineyard was enclosed by a stone wall. Situated on a single slope, the soils here contain a high proportion of stones mixed with 'une forte proportion de calcaire.' The wines from Les Clos tend to be quite closed in their youth but have extremely good aging potential, with a strong mineral character and great finesse."
The best way to try and understand the different Grand Cru vineyards is to walk through them. Not easy. Done this many times before but the vineyards seemed steeper and more diverse than ever for me this time. Maybe I am just getting older and slower (true enough) but it is a long tiring most insightful journey well taken. You can't believe the terroir differences. Fun tasting some unpicked sweet juicy delicious Chardonnay grapes from 2023 Vaudesir.
Many winery visits and much learned. Impressed. Canopy management is under much better control raised higher off the ground and some Eastern leaves thinned to allow better circulation. A real key consensus among all growers is how amazed they are that older Chablis vines are miraculously inherently adapting to the climate change. When I mentioned to long time dear friend CHRISTIAN MOREAU (with FABIEN) that those Cuvee Guy Moreau vines planted in 1933 – now 90 years old- may have to be reassessed for production. They said no that those ninety year vines are thriving and 2023 was one of the all time full best ones. Nature is always surprising. Best Zalto tasting glass. 2022 in tanks blending together and impressive. Have some new Blanchots too. Outstanding producer finally getting some of the credit they so richly deserve.
At WILLIAM FEVRE they are high on 2020 just ripe enough with balanced acidity. 2021 such a short crop. 22 & 23 quantity & quality though concerns that extra alcohol can be like adding too much pepper to a food course. 2020 Les Clos is 121 euros in the shop there. Vaulorent 2020 67E, 2019 62E, and 2018 59E.
Impressive tasting at Domaine Jean Paul & Benoit DROIN of 13 selections 2022: Fourchaume finished hotter but Vaulorent precise and balanced. Montee De Tonnerre firmer smoky more flavours. Vaudesir exquisite flowers elegant & stylish. Valmur big rich full. Grenouilles fragrant open. Les Clos truly Wow minerals. Produced 11,000 cases. Blind 2010 Vaillons still lively.
DOMAINE LOUIS MICHEL with Guilliaume Michel excellent wines. 2023 some mildew issues requiring copper spray as elsewhere but again good average yields. Liked the freshness of the small crop all around 12.8 abv. Admired 2020 Vaudesir 12.79 exquisite N facing crisp and elegant. Guilliaume opened blind a richer rounder smoother Chablis. Not 14 but guessed maturing 2015. Some spice exotic style but was surprised so fresh and pure as was in fact 2009 Les Clos. Let us take almost full bottle away and deliciously complex with our dinner next night.
DOMAINE LONG DEPAQUIT has a young knowledgeable star in Regisseur Louis Gimonnet (of the prestigious Champagne house). What a resume that includes Corsica, New Zealand, Santa Barbara, Oregon, even assisted Rajat Parr develop a sparkler. Their 2020 wines (of course including Moutonne written up here earlier) are outstanding indeed. Vaucopins 1er cru full of complex flavours and a truly exquiste Les Vaudesirs. Check them out.
Another producer to follow is FAMILE GUEGUEN of CELINE & FREDERIC with Les Preuses 2022 (75E) & 2021 and also carry Pinot Noir "Les Mazelots" 2022 20E from the increasingly popular Irancy region. Worth investigating. Like especially what family Gabin et Felix RICHOUX with Thierry et Corine are doing there in Irancy with an excellent 2020 Pinot Noir.
Big Chablis fan!!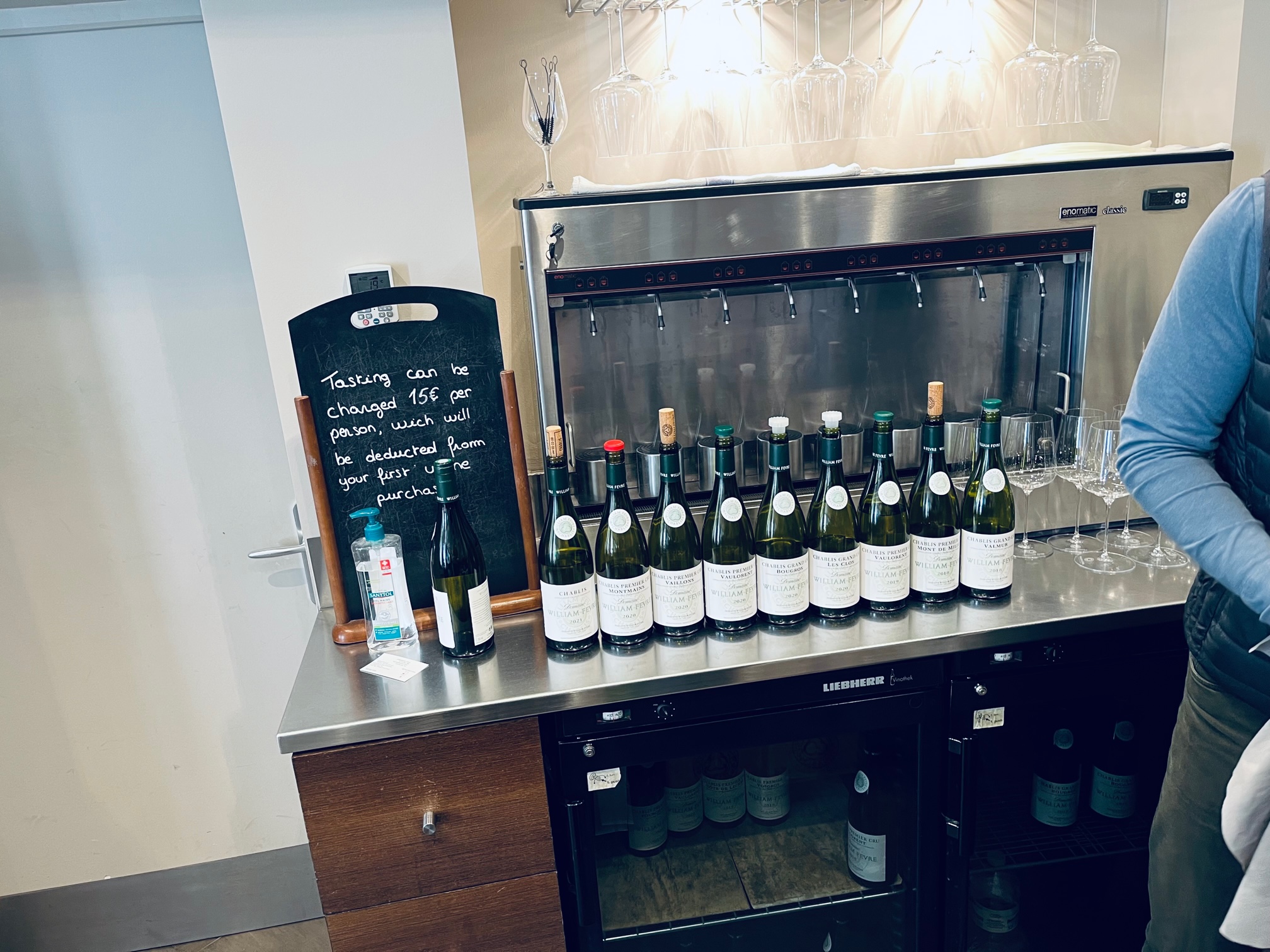 ---
You might also like: