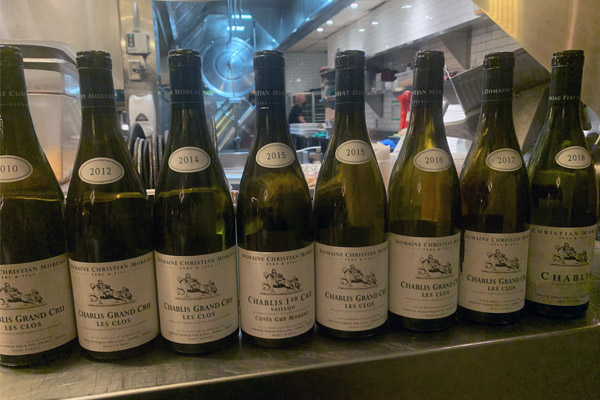 Another wonderful dinner opportunity arose last month to both assess and enjoy the quality Chablis (mostly Les Clos) from the past decade of Domaine Christian Moreau Pere & Fils (DCM). This is an old property but has reached new amazing heights since 2002 through the dedication of Christian Moreau (after more than a decade of the lumber business in Canada) and winemaker son Fabien (6th generation) utilizing 12.5 hectares (30+ acres) of choice aged vineyards. This educational Chablis event followed an earlier one (reported here July 29, 2019) that spotlighted a William Fevre vertical (six vintages Les Clos 2009-2002) and horizontal (four 2008 including Valmur, Vaudesir, and Vaulorent). Both were organized by my brother Ken, held at Nightingale in Vancouver, and well orchestrated by the talented Chris Rielly – Wine Director for the Hawksworth Restaurant Group. Perfectly thought
out and executed food dishes as shown on the menu and in the photos that enhanced these fresh complex white wines. Also a delicious mag of Bollinger Special Cuvee to start, killer vintage still young 1999 red Burgundy Beaune top vineyard Teurons 1er Cru Albert Morot in mag, and finished up with 1988 classic balanced acidity always dark colour Rieussec Sauternes. Some brief impressions on these eight excellent Chablis served oldest to youngest a good option but personally would prefer a reverse order as listed here:
2018 DCM CHABLIS AC – A large crop of older vines early picked where the hot Summer weather puts more focus on the exotic ripeness of the resulting vintage than the terroir. 2019 longer hang time & 2017 frost lower yields show off better the different distinct vineyards. However DCM captures this feature so well in this delicious drinking outstanding value AC wine. Always really like the insightful tasting input from my brother Ken, a highly skilled wine & food aficionado! He drinks this Chablis often as a table wine and describes it accurately
as "Delicious, full, very rich, almost buttery, Cote de Beaune like compared to 2017 more austere typically Chablis like chewing rocks."
2017 DCM CHABLIS LES CLOS – Large choice parcel of nearly 3 hectares (7+ acres) compared to even larger Fevre holdings in Les Clos of 4.12 ha. Described this smaller crop vintage here on September 18, 2019 as "very fruity, elegance with minerals". Shows that with lighter fresh crisp more classic style. Young but so refreshing on the palate with food. Seek it out.
2016 DCM CHABLIS LES CLOS – Troubled by double frost and rains leading to an inconsistent vintage. Here it looks starting to maderize but presently is OK though best for forwardly drinking. Lovely now.
2015 DCM CHABLIS VAILLONS CUVEE GUY MOREAU – Remarkable Left Bank vines planted in 1933 on the steepest slopes for best exposure and drainage. Hailstorm just before harvest affected some vineyards. This one shows the rich powerful depth of the old vines and riper vintage to good effect with extra dimensions. Underrated but 2014 is even better for aging.
2015 DCM CHABLIS LES CLOS – Grand Cru is even richer than the older vines of Premier Cru. Can start to revel in this successful beauty where hail affected some vines but no rush. So intense.
2014 DCM CHABLIS LES CLOS – My favourite vintage of the decade. First year since certified organic in 2013 by Ecocert. Still hints of green colour there. Outstanding structure with balanced acidity hiding the amazing weight and body underneath. Great textbook fresh so young aromatics but this needs more time because it's still austere now. Classic with longevity that will age forever. A rare priceless treasure. Wait for it.
2012 DCM CHABLIS LES CLOS – Mid September start of harvest was delayed a week ensuring better fruit. Rich, full, solid yet a bit softer and less minerals. Start to enjoy it. Chris Rielly really liked the "more aromatics with savoury approachable flavours".
2010 DCM CHABLIS LES CLOS – Wrote up here on May 31, 2021 about a sensational bottle of this! Bottle variation perhaps as this one is a bit lighter than earlier one with less weight maybe backward but still is truly superb. Chris Rielly opined that "surprised it is so bright and seems so much younger". Such amazing complexity with energy and minerally typicity.
Hats off to DCM and to my brother. Congrats on another wonderful showing on how uniquely magnificent Chablis can be. Still a wine region that IMHO is not rated highly enough for the reputation it deserves.
---
You might also like: