We are fortunate to have an annual visit to Vancouver by my long-time friend Bill Blatch. Bill started in Bordeaux way back in 1974 (nearly 50 years ago) but has become the highly respected (yet so modest) authority on so many Bordeaux wine trade matters which include his valuable daily record of weather conditions for his Vintage Report each year. He seems to know every wine property there in amazing detail including all the value priced Cru Bourgeois and Sauternes. What a resource of important key information. Now Bill is the International Wine Consultant for Christie's based in Bordeaux but previously he was with Vintex supplying many Bordeaux Futures to the British Columbia Liquor Distribution Branch and helping Barbara Philip MW responsible for selection choose wisely. Bill continues to come back to BC regularly (he loves the salmon fishing) and provides helpful background information to BCLDB store key employees on the current Bordeaux releases. This year it is the 2019 Bordeaux vintage scheduled for sale on November 19, 2022.
Doug Eakins of Les Chevaliers takes advantage of Bill's visits to organize a Bordeaux wine tasting for his group inviting your scribe to help with the presentation. Previously on this Blog here on October 5, 2015 we reviewed the 2003 Vintage and other tastings subsequently like Clos du Marquis St. Julien vertical & 2000 Vintage horizontal were all most insightful. This year on September 14, 2022 was the opportunity for an exciting update tasting of all three Leovilles held appropriately at Herve Martin's French Table with a superb dinner of home grown beet salad, Beef Bourguignon, and cheeses to follow: Bill opened with a historical look way back when Domaine de Leoville was one Estate before the French Revolution then in 1826 Hugh Barton bought 47 hectares and in 1840 Poyferre split off 60 hectares leaving Las Cases with the remaining 97. Today LB is situated behind the town of St. Julien heading West towards Talbot, LP has underrated terroir, and LLC has choice land adjoining Latour. They showed their similarities of the St.Julien AC but also their differences:
1986 LEOVILLE POYFERRE: Replanting with Didier Cuvelier who took over in 1979 and consultant Emile Peynaud. Briary, "sous bois" forest floor mushroom notes with bramble fruit. Elegant, charming, lovely balanced drinking now. Bill noted that 1986 was "a hot Summer but Fall not good resulting in less successful Merlot but late ripening Cabernet Sauvignon shone in St. Julien & Pauillac."
1986 LEOVILLE BARTON: Year Ronald Barton died during this 3rd vintage of Anthony Barton. Wine was backward for a long time but starting to evolve ("loosen-up") as bouquet shows licorice subtle "iodine" medicinal blackcurrants. Powerful dense intensity of fruit with tannins in an older style but less charm presently. Always such a great value property!
1988 LEOVILLE BARTON: Lighter ("cool August resulting in a later vintage") racy with more acidity from perhaps the last classic vintage is improving with food.
1995 LEOVILLE BARTON: Bill calls "1995 a Merlot year with a hot dry Summer with Fall rain" compared to "1996 a Cabernet vintage with better heat". Michel Rolland took over as consultant in 1994 using more new oak and built a new cellar. Rich red fruits robust yet with smoother softer tannins almost a textbook St. Julien in harmony. Excellent.
1995 LEOVILLE LAS CASES: Probably the best St. Julien property (though Ducru-Beaucaillou has remarkable distinct terroir too). Fuller riper blackberries with minerals has real depth that impresses. Almost Pauillac-like. No rush. Not as powerful as 1996. Outstanding.
2001 LEOVILLE LAS CASES: Bill believes "a cool dry September not beaten down by the sun made the vintage in this reserved style." Low yields of 32hl/ha less than 2000 (43hl/ha) helps display typical LLC intense elegance for a long life ahead. Like the lead-pencil cassis complexity already showing. Classy.
2001 LEOVILLE POYFERRE: Can be be very good but these two bottles strange rather light quite cheesy and the disappointing wine of the tasting.
2002 LEOVILLE POYFERRE: "June, July & August dry & cool (no sun) but not wet then harvested in September sun (but not hot sun)." Challenging year gives that earthy menthol not totally ripe style but still admirable and enjoyable drinking. Not 3 best vintages for LP. This property has improved substantially in the last 20 years (though an excellent 1982) with more cab sauv planted and big success 2009, 2010, 2015, 2016.
2003 LEOVILLE LAS CASES: "Hot early harvest" gives rounder opulent riper figs and sweet tobacco notes with a touch of dark chocolate. 2003 Clos de Marquis showed excellent in that vertical and expectations for LLC are met here for this unique vintage. Delicious.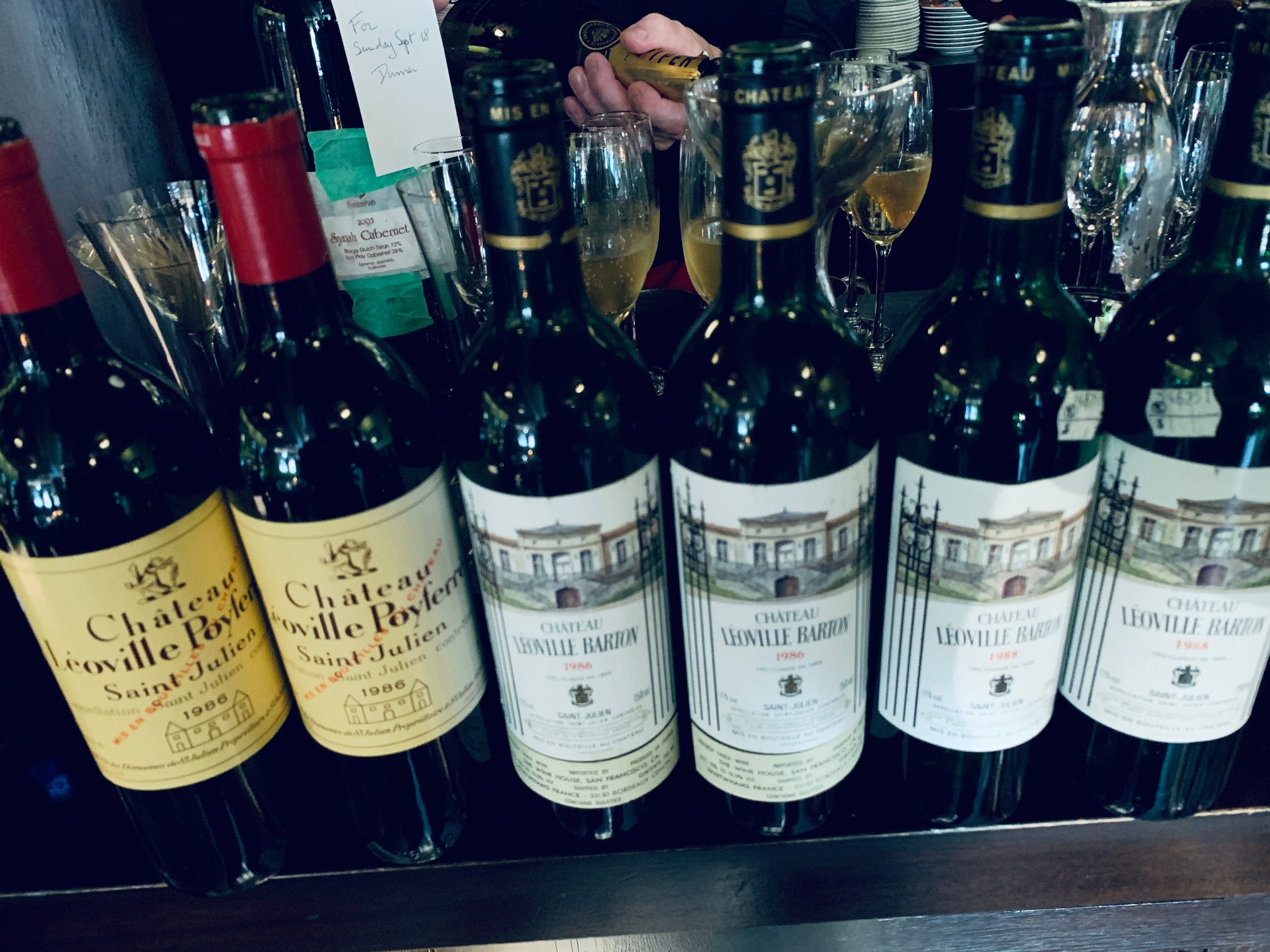 ---
You might also like: