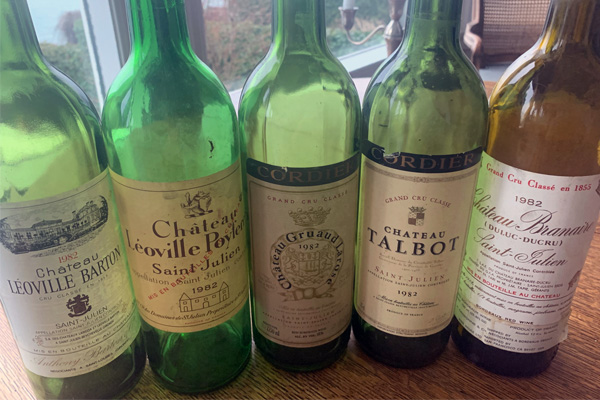 Hard to believe those amazing 1982 red Bordeaux wines will be celebrating their 40th birthday this year in 2022. Remember trying barrel samples that were rather delicious which we reckoned would provide wines for wonderful earlier consumption. At the time too much emphasis was being placed on historical higher acid and hard tannin
levels needed for aging Bordeaux and not enough also on the important factor of intense concentrated ripe balanced fruit. There was an early buzz about this vintage and many tastings were held during 1985 after bottling and release. One of the first and most memorable was at the every Thursday blind tastings of the Vintners Club in San Francisco on June 13, 1985. Invited as a guest of Haskell Norman, that remarkable unmatched leader of IWFS Marin County, to taste blind twelve red wines was so exciting for this budding wine aficionado . Even more so when
they turned out to be all fantastic 1982 St. Julien properties showing so impressively right out of the chute. Scores were collected by rankings from about 27 keen participants and Leoville Poyferre (LP) was declared first at 143 (3 firsts & 7 seconds) with Leoville Las Cases (LLC) second at 145 (actually more firsts with 8 – including mine – & 2 seconds for equal first & seconds but a little less support further down the scoring). My 3 clear favs were LLC, Ducru Beaucaillou (DB) and Branaire Ducru (BD). Speaking highly for the consistency of the vintage was that all properties were well supported and all received a first place vote (except Gloria). On June 22, 1985 eighteen more excellent 1982s in Bellingham, Washington including the First Growths where Mouton and Grand Puy Lacoste shone brightest.along with that early legend Cheval Blanc. Another opportunity arose on September 26, 1985 at a Commanderie de Bordeaux event in Vancouver to try 12 more 1982. Again LLC & DB (the only St. Juliens) were most prominent though Lynch Bages (82 impressive at June 20, 1985 vertical back to 1953) and value La Lagune also shone brightly yet again. Don't forget to check out Beychevelle as it surprises with quality in 1982. Detailed hand written notes by your scribe on two of these tastings are attached. This exposure focused my early attention on collecting 1982 Bordeaux – especially St. Julien (though the later release of LLC was harder to find) and Pauillac. A pleasure to monitor these wines over the many years with many more 1982 tastings including special
ones at 10/20/30 year anniversaries has been most educational. More recently have been fortunate to update my 82 St. Julien knowledge. LLC a RMP 100 probably remains my current fav with outstanding fruit and complex nuances matched so beautifully with a roasted duck leg dinner but DB is lovely more forwardly showing textbook St. Julien terroir. Decided to try 5 top 1982 St Juliens for 5 home dinners last week and was pleased with the overall results of 40 year old wine:
LEOVILLE POYFERRE is very full and deeply concentrated but has a touch of that "dank wet dog & cardboard" I noted way back in 1985. Bottle variation.
LEOVILLE BARTON has that expected earthy iodine character in an almost rustic style. Bottle variation too. Can be excellent. Very good but probably prefer the cleaner 1990.
BRANAIRE DUCRU continues to be a delightful surprise. Ranked my 3rd in 1985 and though lighter bodied is so balanced and elegant that is a pure joy to drink. Underrated.
TALBOT is also under the radar as 82 & 86 both are showing brilliantly at present. Less celebrated Cordier sister to Gruaud Larose (GL) but dense buckets of fruit and improved from early days.
GRUAUD LAROSE – Admit a bias for this property because of so many marvelous bottles of the 1961 – but also the successful 1966 (and 64 & 62) – though a leaner period from 1967-1980. They bounced back in 1981 and especially 1982 & 1986. Solid St. Julien fruit that often needs time to show its best. Showed harder in 1985 tasting where noted "will age well" but now really excels with open cedar cassis with awe inspiring luxurious texture plus complexity. Competing with LLC now.
Hope you too still have some of these remarkable 1982s to cherish and bring back fond memories!
---
You might also like: