Long time followers of this Blog will know your scribe's affection for Meursault wines – and especially classy Perrieres with postings here on August 26, 2019 & August 24, 2015. Also reference notes here on the rounder Les Charmes on September 7, 2020, September 24, 2018, and Ask Sid feature on Dessus September 19, 2018. Long list of producers of top Meursault today that include among others my favs of Bouchard Pere, Coche-Dury, and Guy Roulot. Also very much in that star group is Domaine des Comtes de Lafon in the hands of the most competent Dominique Lafon since 1984 taking over and extending with innovations (biodynamic late nineties) the marvellous tradition of his father Rene. Clive Coates calls Lafon the "best white wine domaine in Burgundy". This opportunity for a tasting-dinner on June 7, 2022 at Blue Water Cafe of 10 Meursaults & 3 Volnay Clos des Chenes all from Lafon was exhilarating indeed! Some thoughts:

The initial plan was to start with 6 consecutive vintages 2007-2012 of Clos de la Barre but 2011 was misplaced so 2000 Desiree substituted:

2000 DESIREE MEURSAULT AC – Nice treat here of older vines that were replanted in 2007-2008 and reappeared again in 2012 as younger vines. No oxidation or madrization with 2000 but mature softer luscious rich hazelnuts. What a big surprise opening statement!

2007 CLOS DE LA BARRE – Vines of this "home" 2.4 hectare village AC vineyard are a step up with limestone-clay soils. 2007 is fresh light and leaner but rather good despite the lack of much Summer sun that vintage.

2008 CLOS DE LA BARRE – Lovely now with some full tropical fleshy guava but nice tighter balance too. Clos de la Barre always shows the fruit well because no new oak is used.

2009 CLOS DE LA BARRE – Riper opulent concentrated delicious now with ginger, spices, anise but a bit of heat on the finish.

2010 CLOS DE LA BARRE – So vibrant and precise citrus! Intense but not over concentrated. Still young, sophisticated and subtle that can age further for even more complexity.

2012 CLOS DE LA BARRE – Lower yields for Lafon in 2012 results in wonderful elegance. So clean.

2012 MEURSAULT PERRIERES – Admire this vineyard in 3 parts of older vines north, younger south and newer small parcel also Dessous facing SE acquired in 2004 first used in the 2010. However, this bottle of very low yields (15hl/ha) is a tad earthy mushroomy and not as typically pristine as usual, outshone by the 2012 Clos de la Barre this time.

2013 MEURSAULT PERRIERES – Shows wet rocks minerality with complexity still so youthful. Impressive for the year with a steely backbone! Older vintages of Perrieres in Lafon horizontals have sometimes been more mature than Charmes. Dominique told me it was because he was picking Perrieres a week later but now picks all vineyards earlier and as much as possible at the same harvest time. No filtering.

2014 MEURSAULT CHARMES – Love that 2014 vintage for white Burgundy including Chablis! In fact here the vintage vibrant structure is so strong that it takes over from the Charmes terroir underneath. What a future treasure!

2015 MEURSAULT CHARMES – Richer rounder more classic velvety texture from this large vineyard (more than Perrieres & Genevrieres combined). Riper pears of 2015 are more forwardly delicious already.
1999, 1997, & 1996 VOLNAY CLOS DE CHENES – Generally balanced fuller bodied from the southern part of Volnay These three vintages are showing quite differently. 1999 biggest sturdy deep intense powerful fruit; 1997 much paler but seductive open delicate charming aromatic bouquet; and 1996 pure more elegant Volnay styling.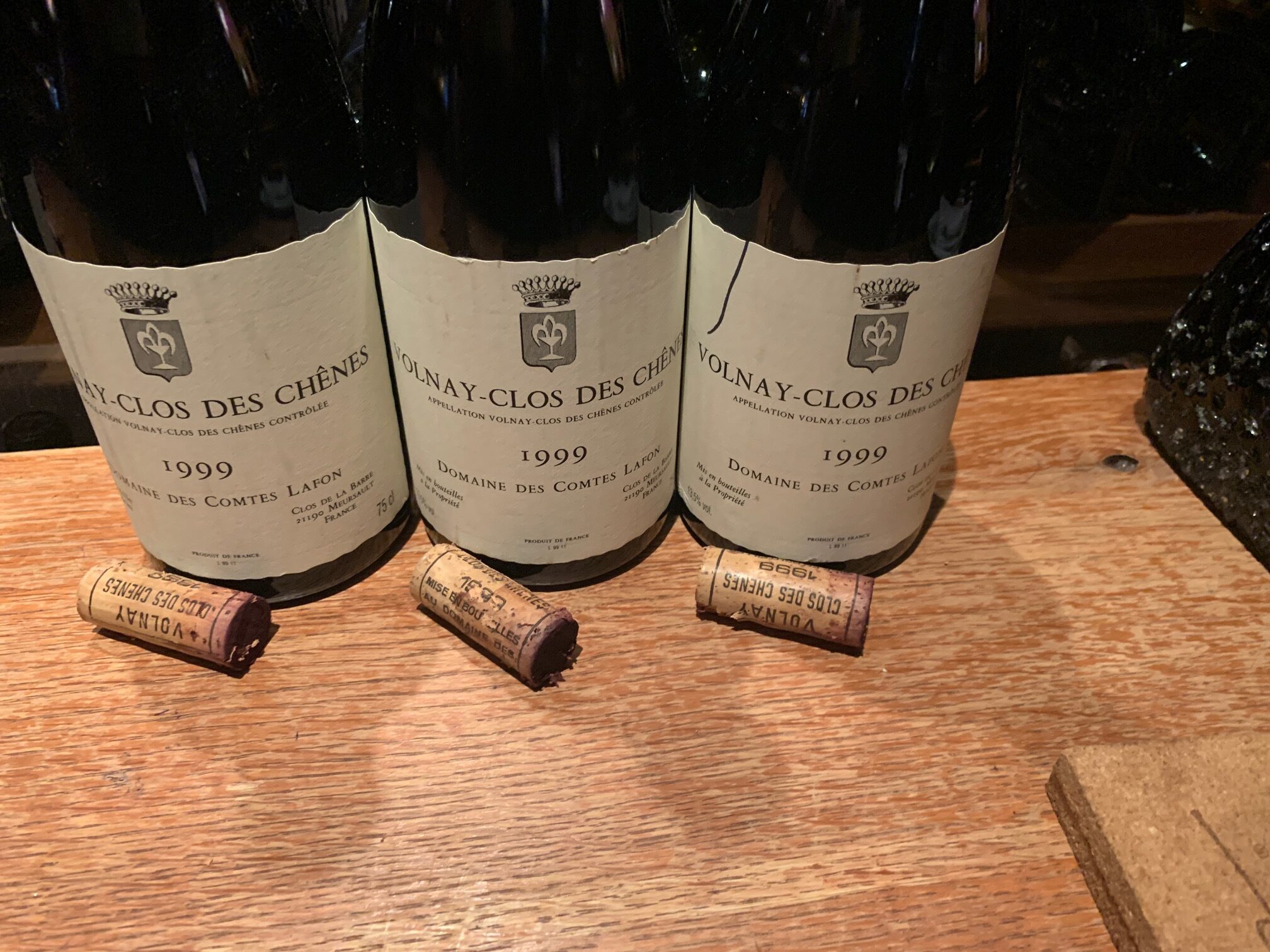 ---
You might also like: