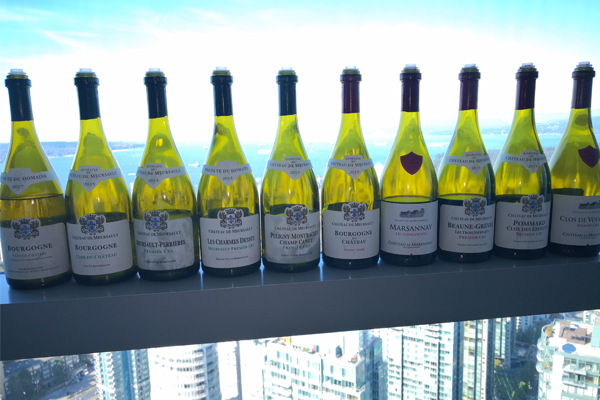 Remember the hall of the old Château de Meursault winery where the wonderful Paulee de Meursault lunch is held every November after the Hospices de Beaune Auction? Well the Domaine wines are changing there! Is there any winery in Burgundy who has made more progress in the last 5 years with the quality level of their wines than Château de Meursault? Your scribe was previously impressed with the renewal going on and now even more so after spending time on September 18 tasting with knowledgeable CEO Stephane Follin-Arbelet. This large beautiful property has a long history created in the 11th century but the exciting new regime started by the Halley family acquisition is from the end of 2012. Their vineyards are spread over 65 hectares in Cote de Beaune plus also have Château de Marsannay 40 hectares in Cote de Nuits. All wines are Estate grown and no negociant ones. Upgrades in both Premier & Grand Cru (including since 2015 vineyard time lapse recorded imaging to monitor leaves for canopy management, flowering and best fruit development) and in the cellar (never pump & use optical scanners) have been major indeed. In the result the wines (in special 18th century molded bottles) show dramatic improvement better expressing their vineyard terroir from Puligny-Montrachet in the south through to Corton in the north including 10 'climats" in the Meursault appellation. They have about 30 different wines to experience and these are some short comments on some of them recently tried:
BOURGOGNE DU CHATEAU PINOT NOIR 2015: Blend of 3 vineyards of Savigny les Beaune (Aux Boudieres & Sorbins) and Pommard (Croquamot) hand harvested from 7am to noon and destemmed with 2 week cold fermentation spending 15-17 months in French oak (20% new & 30% used) & 50% Stainless Steel.
MARSANNAY LES LONGEROIES 2015: 95% of their vines there are 40 year old average red facing E/SE on gentle slope with good drainage with 10 day pre-soak with 13 months in French oak (33% new) followed by 3 months in Stainless.
BEAUNE GREVES LES TROIS JOURNAUX 2015: 40 year average again 2 week pre-soak and 18 months in French oak (40% new) with a lovely nose of old sweet roses.
POMMARD CLOS DCES EPENOTS 2015: Same treatment with only 30% new oak. Fresh well balanced on elegant side.
CLOS VOUGEOT 2015: One third of 1 hectare close to the building & road. 50 year average age vines, 10 day pre-soak, 12 months new French oak and 5 months Stainless. Step up to Grand Cru shows.
BOURGOGNE BLANC CLOS DU CHATEAU 2015: 8 hectares near Château produces 50,000 bottles barrel fermented. Shows good richness.
BOURGOGNE BLANC CLOS DU CHATEAU 2017: Fresher more energy and excellent balance from this 2017 vintage.
MEURSAULT CHARMES DESSUS 2015: Large Charmes vineyard holdings on clay and limestone separated into preferred upper part (dessus) which adjoins Les Perrieres and below part (dessous). Have their own respected pruning expert with hands on for perfect yields. 35% new oak and 18 months on fine lees. Delicious full concentrated for mid-term enjoyment yet fresh with good vibrancy for a 2015 vintage.
MEURSAULT PERRIERES 2015: Stones here contribute to elegant lemon-apple mineral style that delivers good length of flavour. My favourite. Much better IMHO than Burghound review of 89-92 gives it credit for being already. Also have lots of these wines in Magnum format including this one for $380 Canadian at BCLDB.
PULIGNY-MONTRACHET CHAMP CANET 2015: This is solid, full and drinking well already. Some balance for 2015 but even more on their Champ Gain vineyard.
Tip: Try some of these 2015s to be pleasantly surprised and look for these wines when released from the upcoming 2016 & 2017 vintages.
---
You might also like: