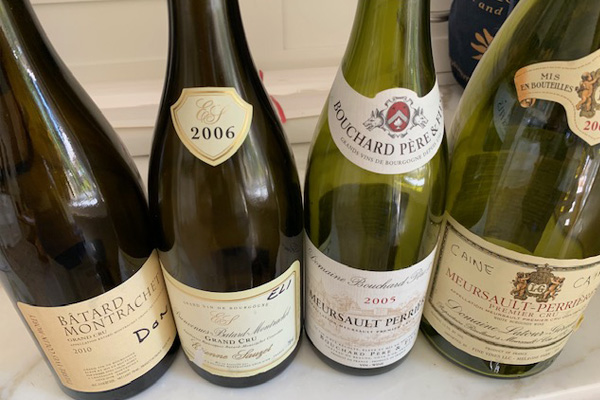 Meursault Perrieres has clearly risen to the top of the Meursault appellation in Burgundy. Meursault AC wines and especially the Premier Crus have that textbook nutty character with fat rich textures that are so specially admirable. However the Perrieres vineyard both the lower (dessous) and upper (dessus) parts deliver something even more complex with their elegance, structure and minerality which in some vintages from the best producers develop so well with age. Some of us feel from extensive tastings over the years that it is worthy of consideration for Grand Cru elevation.
These thoughts came to mind on August 25, 2019 during an exciting Paulee lunch for 64 guests at which your scribe had the opportunity to taste and was asked to make comments on 20 bottles of Perrieres and 14 other Grand Cru white Burgundy. This was a BYOB contribution event ranging in vintages from a fresh vibrant 2016 Perrieres gift bottle given by Vincent Girardin to a mature 1989 Bienvenues-Batard-Montrachet Paul Pernot. A write-up here on this Blog in August 2013 at an earlier Paulee referenced an older Batard going back to 1957 with a brief summary of vintages from 2005 to 2013 inclusive. As we are presently experiencing the 2014 vintage is outstanding with some super balanced white Burgundy while 2015 tends to be riper softer and more forwardly. This showed with 2015s from both Domaine de Montille (2013 had more structure) plus Thierry & Pascale Matrot in that style but Chateau de Meursault & Ballot-Millot were surprisingly fresh. Bouchard Pere who are producing some excellent Perrieres (a remarkable 2010) again excelled with 2008 on a lovely plateau of enjoyment. The sometimes disappointingly forward 2005 vintage whites (here Lafon showed late picking rich softness but they have changed to earlier harvest for Perrieres in recent times) not the case for Bouchard Pere still fresh stylish balanced bottle. Latour-Giraud had an intense 2010 but more hazelnut Geneveries-like style than mineral but a magnum of their stylish 2000 was popularly emptied quite quickly. Solid Jadot 2012 but a softer Drouhin and the 2010 Drouhin badly pre-moxed. The other off bottle was a hopeful but maderized Leroy 1996.
Five Grand Cru from Corton Charlemagne included an earthy Bonneau du Martray 1991, delicious Bouchard Pere 2011, fresh Olivier Leflaive 2014, and classy Jadot 2016 over rather ripe disjointed Louis Latour. Chevalier Montrachet terroir shone brightly as usual with two beauties both 2015 of Bouchard Pere & Philippe Colin. Batard which can be more inconsistent had a winner with still improving 2010 Pierre Yves Colin-Morey over 2010 Olivier Leflaive and mature spicy Remoissenet 2005. Bienvenues had perhaps the best wine of the day with a delicate 2006 Etienne Sauzet while Paul Pernot was well represented with both 1989 and 1999. No Montrachet or Criots but a nice cross-section comparison.
Overall though it was a very good performance yet again by the unique still underrated Perrieres vineyard against some tough company!


center
---
You might also like: