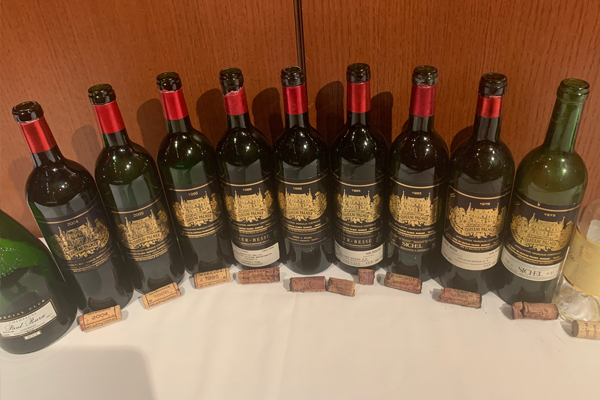 Those were two challenging horizontal blind tastings written up last week on this Blog. Easier this week with a non-blind vertical of nine vintages of that outstanding Chateau Palmer Third Growth Bordeaux from the Margaux AC. A similar event of a Chateau Palmer vertical was spotlighted on January 16, 2017. Check it out here. Your scribe reflecting back has enjoyed more verticals of Chateau Palmer than any other wine property (though Pichon Lalande is right up there too). Several earliest visits there in the seventies with Peter A Sichel or John Salvi resulted in my admiration for this most elegant wine and the special unique terroir of their 55 hectares of vineyards. Wonderful dinner at the Chateau on May 2, 1983 with Franck Mahler-Besse (and his father Henry who acquired a part of the Chateau Palmer property in 1938) resulted in an inspiring discussion on 3 bottles of 1959 Chateau Palmer each opened an hour or two apart. All showed lovely styling but quite differently. Was that because of bottle variation of 24 year old wine as advocated by your scribe or length of airing in the decanter as submitted by our hosts? Most
interesting debate. Franck conducted a tasting in Vancouver a few months later at The Four Seasons Hotel on July 7, 1983 for our popular wine club Les Chevaliers des Vins de France. He was so proud they had not produced any Palmer in those terrible vintages of 1963, 1965 (a few bottles), or 1968. Franck liked his 1978 "showing character" that "will age" while 1979 will be "ready sooner". Compare the comments by Peter on the 1978 being "not as deep red colour" as 1979 which has a "brighter younger look because of the higher acidity level". At Gourmet of the Year September 1989 by Society of Bacchus celebrations in Vancouver your scribe served a vertical back to 1966 and 1961. Close friend Peter so kindly provided those pristine bottles directly from the Chateau at the unbelievable price of 600FF and 1000FF per bottle respectively. Good storage is so important for aged wine!
David Spurrell held an amazing blind vertical on August 5, 2001 from 1989 back to 1970 with details posted below. Your scribe was hot that night in solving the theme with the 1970 an open star with outstanding depth and complexity as it showed on November 1, 2021 Blog here. 1989 and 1983 were both solid but 1989 had more lively balance and length while 1983 showed mint, spice, and forwardly.
On December 14, 2021 at Blue Water Cafe some 20 years later nine wines previously tasted showed similarly even the Mystery Wine which was 1975 a bigger atypical year for Palmer with floral drier notes. This time though the clear group vote (including me) was for 1989 for Wine Of The Night followed by 1983. The 1978 was a tad musty and not the best bottle. 2004 a nice surprise with 47% merlot, 46 cab sauv and 7 petit verdot (almost identical to the vineyard plantings) using 1/3 of the crop in the Grand Vin. Big and also a bit atypical but impressive indeed. The 2000 was very good but less ripe and full than expected from the vintage and 1996 harder big fruit. 1988 a hard tannic acidic year but more accessible here.
A big salute to Chateau Palmer for their sensual so elegant complex wine yet with depth. Admire that special smoothness delivered from those merlot grapes grown on choice gravel soils usually saved for cab sauv plantings. Thanks for the memories. Property still is going from strength to strength over many vintages including presently.
---
You might also like: