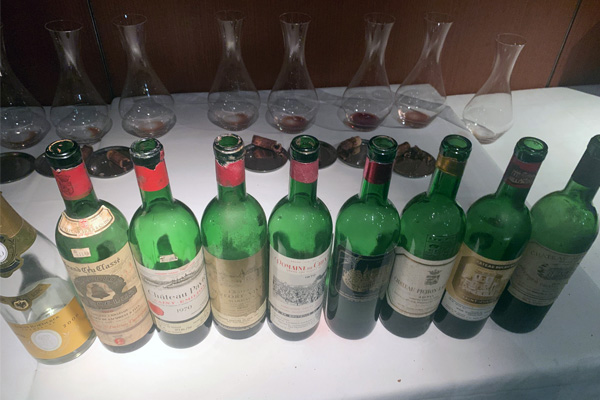 The 1970 Bordeaux vintage is getting on in age more than half a century old. It is the vintage most tasted over the years by your scribe together with the 1982 and 1975 as close runner-ups. Fortunate to monitor so many properties from this big 1970 crop produced from rather good weather but is an underrated vintage. It was released as an optimistic beacon in what has turned out to be the darkest period of Bordeaux vintages. Many decades were assessed by Harry Waugh in his brilliant Wine Diary with quotes from his 1982-1986 one published in 1987 as follows:
1963: "a disaster"

1964: "rain during the vintage in the Medoc, but it was quite successful for the wines from Pomerol and Saint-Emilion." Love those old vines Chateau Trotanoy 1964 that mostly survived the 1956 frosts just like L'Eglise-Clinet did.

1965: 'The less we say about 1965 the better!"

1966: "Great expectations … too much acidity for enjoyment." IMHO there are some excellent 1966s where there was enough fruit with the acidity in balance (like Chateau Palmer) as Michael Broadbent called "the long distance runner of 1966."

1967: "Made from unripe grapes, this is another vintage which did not come up to expectations."

1968: "third catastrophe of this irregular decade"

1969: "indifferent vintage"

1970: "one of those golden years which occur all too seldom and which yielded a very large crop of excellent quality. It is rare for such quality to accompany a large harvest and it was not until some time later that sceptics could accept it had actually happened."

1971: "overshadowed by 1970 – have advantage of developing faster than the more robust and tannic 1970s." Some outstanding Pomerols including Petrus.

1972: :wretched climatic conditions during most of the summer, the grapes had no chance to ripen and the result was some of the most unattractive young wine the writer has ever had the misfortune to taste."

1973: 'began to rain in September, to such an extent that the grapes swelled almost to bursting point – production was a vast one mainly of rather pallid washed out wines."

1974: 'born under unfavourable circumstances – cannot be placed among the good years."

1975: "I have never thought, as I believe some people did, that 1975 was a better vintage than 1970, but of course time will tell."
As you can see from these comments on vintages 1963-1975 inclusive that it was a bleak time for collectors and 1970 was the star year with 1966 and 1975 also finding advocates. Harry Waugh attended in Vancouver on March 11,1982 for a blind tasting & dinner at The Beach House featuring 10 top Bordeaux 1970. We all thought the wines showed most impressively featuring Latour, Palmer, Ducru Beaucaillou, Lynch Bages, and Montrose all needing more bottle age. The following year October 1983 was the celebration of 50 years for IWFS held in Vancouver with a tasting conducted by Michael Broadbent of top 1970 Bordeaux and again Palmer, Lynch Bages, and Ducru Beaucaillou were stellar but no rush to consume.
Over the next nearly 30 years your scribe has been delighted to taste 1970 Bordeaux hundreds of times and monitor their development. Not expecting consumers to wait 50 years to enjoy any vintage yet there can be surprising thrilling consequences in doing so.This experience has led me to the conclusion that the 1970 Bordeaux vintage is inconsistent, some were made from unripe grapes picked too early with way too high a yield, some should have been consumed many decades ago for peak enjoyment showing maximum young fruit, some had problems like the frequent volatile acidity notes of La Gaffeliere, and La Mission Haut Brion, and some were and still are outstanding. Don't believe these best wines get the credit they deserve probably because there is no clear banner waver for the year – like a Lafite for 1959 or a Palmer in 1961. The top 1970s led by Latour, Palmer, Lynch Bages, Ducru Beaucaillou, PIchon Lalande, Domaine de Chevalier, and others don't get the acclamation as mature wine treasures that they richly deserve!
All these thoughts and many more came vividly back to me at a 1970 vertical of 8 examples on October 26, 2021 at Blue Water Cafe in Vancouver. Exciting Champagne 2008 Roederer Cristal got the evening off to a good start with 60% Pinot Noir & 40% Chardonnay described by them as "chalk soils which lend it velvety texture and delicate
tension energy tamed by unusually long period of bottle ageing 10 years – A first!".
Very old wines are always inconsistent because of bottle variation. However here one group was simpler and seen better days: ANGELUS dry, one dimensional, no oak used in maturation, still best bottle in decades; PAVIE: more open but rustic and musty, loose cork; DURFORT VIVIENS: lightest brown colour, simple, acidic. CHATEAU MARGAUX (Menu lists Latour but saved for an upcoming vertical) was in the middle with a couple of us thinking it may even get better as each bottle shows improved bouquet complexity. Yet it suffers from less concentrated unripe Cabernet Sauvignon grapes finishing short even though the terroir is so special. However, 4 wines really sang brilliantly as excellent mature classic Bordeaux: DOMAINE DE CHEVALIER always needs time for the tannins and fruit to cohere and is lovely drinking presently with tobacco notes; DUCRU BEAUCAILLOU has terrific gravelly terroir resulting in classic St. Julien style so beautifully elegant; PICHON LALANDE before May de Lencquesaing's time but well stored Pauillac cedar cigar box dramatic bouquet and lots of smooth fruit left. Underrated. plus PALMER with 16% Petit Verdot (44M 31CS & 9CF) perhaps not as stunning as 1966 or 1961 but still outstanding
with no rush to drink up and purchased for a steal in 1975 for $11.50 a bottle.
Try a great 1970 Bordeaux to learn why the region is so deservedly celebrated for the delights from long aging red wines. A rare treat!
---
You might also like: