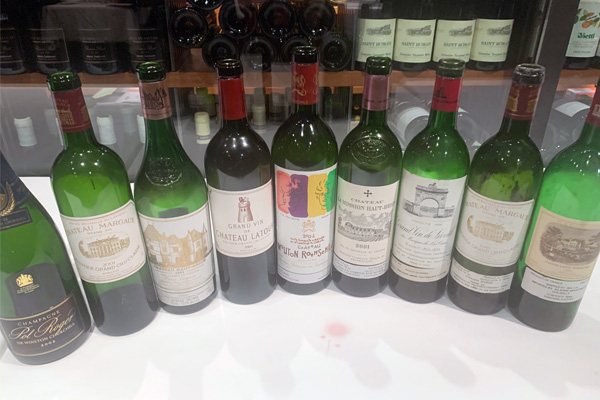 We are most fortunate in Vancouver to have many long standing wine tasting groups. One of the grandparents is the IWFS Vancouver Branch started around 1967. Another early one was Commanderie de Bordeaux Vancouver (CBV) ten years later in 1977 now coming up to our 45th anniversary. Recently enjoyed receiving from Scott Bailey their excellent Histories booklet on Commanderies de Bordeaux Miami & Greater Miami Florida (celebrating their 40th in 2022) that includes an Appendix with a wonderful tribute to Dr. Lou Skinner (1917-2005) including reminiscences on his amazing tastings of outstanding 1961 Bordeaux. Lou founded both the Miami Branch of the International Wine & Food Society in 1962 and the Commanderie de Bordeaux in 1982. On December 8, 2021 at Blue Water Cafe CBV held their first ever totally Blind Wine Tasting thanks to the orchestration and generosity of long-time member Ian Mottershead who kindly donated all 10 wines (4 bottles of each) for this memorable event. Unbelievable wine education at the highest level. There were four wine flights served with appropriately paired food courses. Studying the wines by your scribe was delightfully challenging and here follows some of my random thoughts during my analysis:
2002 POL ROGER "CUVEE SIR WINSTON CHURCHILL" CHAMPAGNE BRUT
This arrived in a flute showing an explosive powerful stream of continuous tiny bubbles in a rather pale solution. It looked & smelled youngish while fresh and vibrant with clean classy deep intense fruit. First impression taste was so rich and full with interesting lees aging notes all balanced by outstanding higher acidity. Thinking definitely Prestige Cuvee Champagne maybe 2008. Usually I have my Champagne in a tulip shaped glass for better access expression and this flute took longer to warm, air, and really open up to me. As it did much improvement showed more apples, ginger, candied lemon, and brioche than earlier on plus the palate was rounder with complexity of
age starting to develop but still very alive. Lovely plateau of enjoyment now but no rush. Must be that marvelous 2002 vintage. Amazing weighty smooth texture and robust length reminds me of Pol Roger Grand Cru blend of full pinot noir fruit driven with chardonnay finesse. Lucky deduction but matched openly by insightful commentator
member Drew Malcolm who nailed it with "green apple, peaches, nutty, not Blanc de Blancs, early 2000s – say 2002 PR Sir Winston". Well done indeed.

2001 CHATEAU MARGAUX (M)
2001 CHATEAU HAUT-BRION (H-B)
2001 CHATEAU LATOUR (L)
2001 CHATEAU MOUTON ROTHSCHILD (MR)
2001 CHATEAU LA MISSION HAUT-BRION (LMH-B)
Five red wines double blind. Talk about a difficult challenge. Likely a vertical of different years of a single property or a horizontal of the same vintage across five properties. Will all be Bordeaux? Any ringer? Same commune? Different communes? Could be a mixed bag but unlikely top wine collector Ian would do that. So many questions. Must be a theme here! Difficult to solve. Best initial strategy is to systematically go through all five and look for regional styles as well as similarities and differences.
#2 has a ruby red colour to the rim. Approachable lighter cabernet sauvignon style more tea-like red currant herbal floral in character from a cooler year. Almost like a Right Bank top wine with cab sauv (Figeac? – too much baggage knowing Ian is a big collector of it). 1999?
#3 Similar red look but darker right to the edge. Shy at first yet seems riper purer and creamier with more merlot with the cab sauv. Structured rich full sweeter palate with delicious flavours in an earthy Graves style. Perhaps the first two are both Right Bank or maybe Pessac-Leognan? 2001?
#4 Darker and deeper than the first two. Open plums, black olives and blackcurrants with phenomenal concentration seems possible St. Julien or Pauillac from an excellent year – could well be a First Growth.
Confusing since it is so different from the first two wines. Maybe a horizontal tasting as the wines are not that similar. Maybe not a horizontal tasting since so much more depth here. Impressive power but still a baby. What vintage? Seems a more outstanding year than #2. Is this 1995?
#5 Again, a very dark young look. Features cherries and graphite in a classic Bordeaux blend. Oak, acidity and quite tannic up front in a medium-weight slightly austere style.
#6 Seems darkest of all right to the rim but all five of these have really good bright deep colour. Bottle variation with host Ian getting a corked bottle initially (later substituted for a pristine one). Turned stones and earth are evident with a touch of mint in this sweet enticing softer nectar. Maybe it is a horizontal tasting from the late
nineties with such a variety of characteristics in these wines but this seems more like a 2000?
Hindsight is 20:20 but surprised it was five First Growths from 2001 at 20 years of age. Easy to go back and see confirmation of that with the wines. Higher cab sauv in M 82% & L 79% compared to H-B 52% merlot & LMH-B 62%. Selection for the Grand Vin was strict from only 35% for M to 50 & 53% for H-B & L. H-B had a higher yield of 52 hl/ha. Still the cooler Fall weather and late picking showed through in the acidity and tannins of these 2001s. Amazing education trying 5 First Growths yet not really singing at 20. Sometimes shoulder vintages can show the
terroirs of the properties to advantage. They were opened, decanted and immediately served. Usually use that procedure but IMHO these First Growths needed more aeration and showed their distinct personalities much better an hour or two later in the glass. Another factor to assess.
7. 1986 CHATEAU LEOVILLE-LAS-CASES (LLC)
8. 1986 CHATEAU MARGAUX (M86)
9. 1986 CHATEAU LAFITE ROTHSCHILD (LR)
We already enjoyed a horizontal so this must be a vertical. Yet these wines show even more powerfully and consistently similar as a great vintage and are requesting food accompaniment. Commentators were all over the map and tending to younger with opinions ranging from 2005, 2003, 2000, and back as far as 90 & 89 all popular. In fact 1986 is already 35 years old but these choice properties will go a long time. LLC was proprietor Michel Delon fav plus 100 point RMP classic as well as Ian's fav tonight. Impressive big open intense vibrant cedar fruit. Group voted for LR best, which is another RMP 100 pointer with a bright future ahead of it. M86 is so atypically big and backward – even more so than the other two – but will open up at the end of this decade with the buckets of fruit still there. What a remarkable comparison of three treasures! All showed even more spectacularly
standing up to the truffled beef tenderloin with mushrooms. Patience.
10. 2007 CHATEAU D'YQUEM
This was easier. Most of us identified this as the superlative iconic Chateau d'Yquem but what year? Guesses were older all the way back to the trio of 1988, 1989, and 1990. Expert Bill Blatch describes 2007 as "very fine with a special pure zest". Unmistakable fresh exotic youth of pineapple, orange marmalade, tropical. coconut, already somewhat creamy and developing some creme brulee notes. So rich, sweet, and complex. Your scribe got up speaking on the unsung long plateau of perfect enjoyment of d'Yquem. This Sauternes is so marvelous young at
only 14 years of age accentuating the freshness, acidity, vibrancy, opulence and sweetness. Yet it can age forever darkening in colour with caramel notes, peaches, apricot, honey, botrytis, and undescribable complexity of bouquet and flavours. Truly a special WOW wine whenever you open the bottle. Matched up here perfectly with the almond, quince, and apricot in the dessert.
Practice your blind tasting. Doesn't have to be as here at the aged very highest priced wine level. Start anywhere. A lot of challenging fun is so educational in learning about the nuances of wine and your true impressions without seeing the label. Enjoy.
---
You might also like: