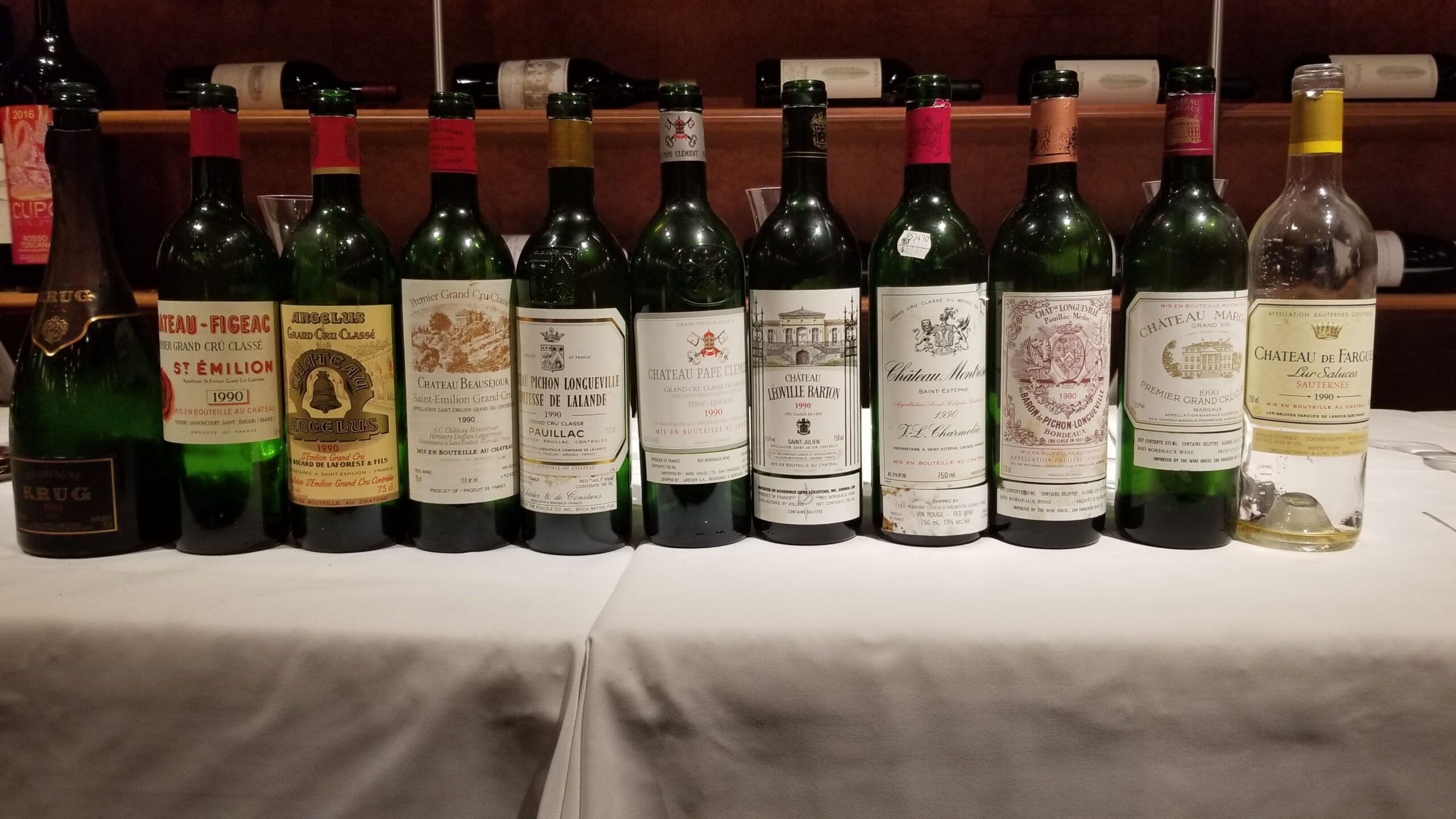 This persistent Covid-19 pandemic has been well managed in British Columbia with restaurants allowed to re-open under stricter safety guidelines. Pleased to have attended my first return at Blue Water in Vancouver on June 16 for a delicious dinner matched with some pretty stellar top Bordeaux from the 1990 vintage. Their competent management and staff did an excellent job of putting eight of us together at one table appropriately spaced in their private Oceans room with the door to the outside open providing lots of fresh air. Nice conditions – well done! Fun to be social again in real time tasting and dining among friends. The dinner commenced with the delicate 2004 Krug vintage bubbles tagged by them as "Luminous Freshness" probably because this blend contains higher chardonnay 39% & pinot meunier 24% with lesser pinot noir 37% (2006 has 48% pinot noir). Lovely harmony with finesse forwardly drinking but somewhat atypical for Krug – watch for their release of that anxiously awaited phenomenal 2008!
The 1990 Bordeaux were celebrated on release and continue to be highly regarded while still often compared with their 1989 twin sister. Both vintages produced very large crops from hot opulent years with lower acidities. Today most of us feel that generally 1990 is more consistent and holding better at age 30 than 1989. However there are lots of great 1989s as well including those amazing 1989 Haut-Brion & La Mission Haut-Brion and Pichon Baron Wine Spectator Wine of the Year in 1992 – though their 1990 is spectacular as well. Clearly the Mouton & Pichon Lalande are richer and more complex from 1989 than in 1990. For reference your scribe featured here in this Blog on February 24, 2014 some interesting 1989 Bordeaux at 25 years of age and on February 22, 2016 compared in more detail these twin vintages of 1989 & 1990.
Ten 1990 top Bordeaux in 4 flights are memorable well paired with some brilliant food courses summarized briefly as follows:
1990 CHATEAU FIGEAC: A lovely example of this cabernet styled St. Emilion showing quite aged paling browner colour forwardly open of some attractive herbal notes improving with airing most ready to enjoy as an elegant claret.
1990 CHATEAU L'ANGELUS (as it was then known – now Angelus): Darkest dense almost black look with full rich concentrated fruit. Depth is so intense and impressive with no rush to drink at 30 still showing potential though already wonderful. What a strict selection of the best merlot & cab franc grapes most worthy of Premier Grand Cru status even before its elevation in 1996.
1990 BEAUSEJOUR DUFFAU-LAGARROSSE: Fairly dark with a paling rim. Fragrant bouquet is very stylish indeed with a long finish on an interesting enjoyment plateau this time edging a little closer to that controversial 100 point score than on my last couple visits with it. A legend.
1990 PICHON LALANDE: Light vintage because no press wine added plus the unsettling conditions with passing of May's husband The General and the departure of the winemaker. Nonetheless this is the best bottle of the 1990 I have ever tasted. Expected the leanness but still surprised by the lasting terroir freshness there with this extended aging – quite lovely with the quail dish.
1990 CHATEAU PAPE CLEMENT: Dark look. Solid fruit but lacks in several bottles tried recently an overall charming excitement. Shows best here in this second flight but is flattered tonight by the easier company. Also better enjoyed with the food.
1990 CHATEAU LEOVILLE BARTON: Not the best bottle as unclean with some brett & TCA issues. Has those typical iodine notes too but there are excellent cassis very St. Julien classic usual bottles out there. Good luck.
1990 CHATEAU MONTROSE: Another 100 pointer that is very St. Estephe deep big powerful fruit with some of that coarser austerity still present. Impresses but not really singing yet though still believe this massive wine will be superb as old bones as it benefits with more cellar aging.
1990 CHATEAU PICHON BARON: Maybe wine of the night! Very dark and young looking. Rich full cigar-box cedar Pauillac. Enjoyed the showing of this wine with Christian Seely in a vertical at Terminal City Club Vancouver on February 28, 2014 and subsequently. Gets better on ever occasion. A treasure probably better than the celebrated also excellent 1989 "Wine of the Year". A treat indeed.
1990 CHATEAU MARGAUX: First Growth breeding shines through in another 100 point wine. Sometimes underrated property because of this fine graceful Margaux styling but most deserving here. Really admire the violet flowers the fragrances and the pure elegance of cab sauvignon unique to this terroir. What an amazing flight of 3 beauties to enjoy served with top cuisine.
1990 CHATEAU DE FARGUES: Alexandre de Lur Saluces historic "museum" produces special low yields from late picking with a particularly powerful rich thick many flavoured Sauternes in 1990 the last of the trilogy of vintages. Fresh ripe pineapple fruit shines in both the wine and the dessert with hints of ginger, orange, caramel, and creme brulee crisp softness.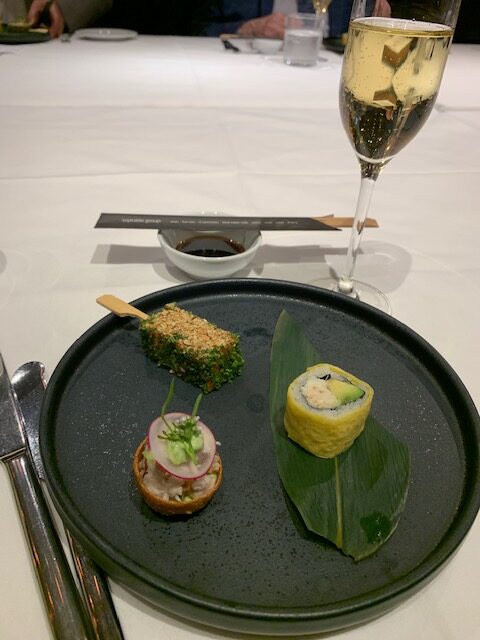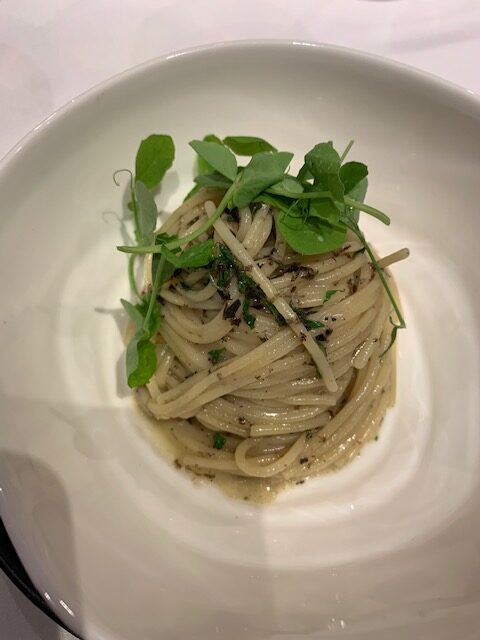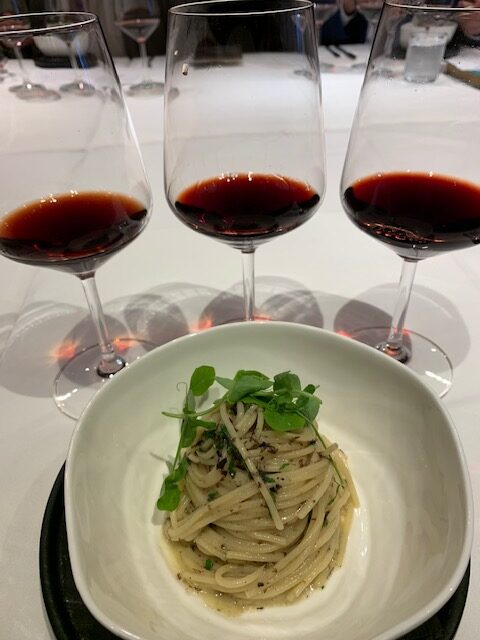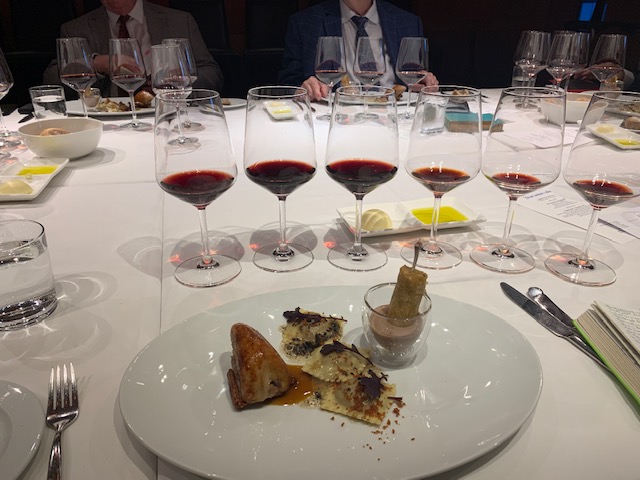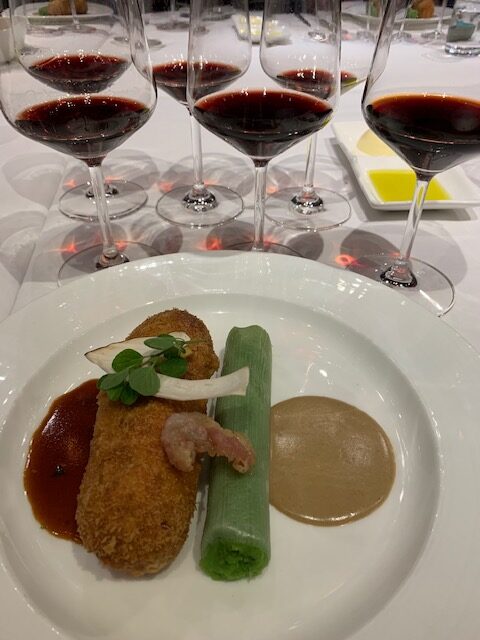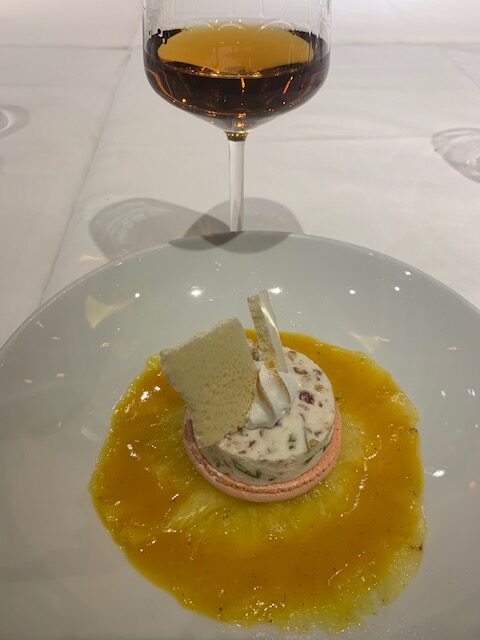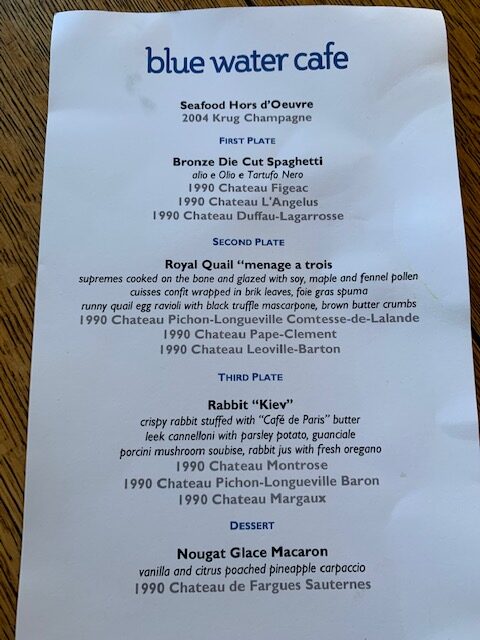 You might also like: