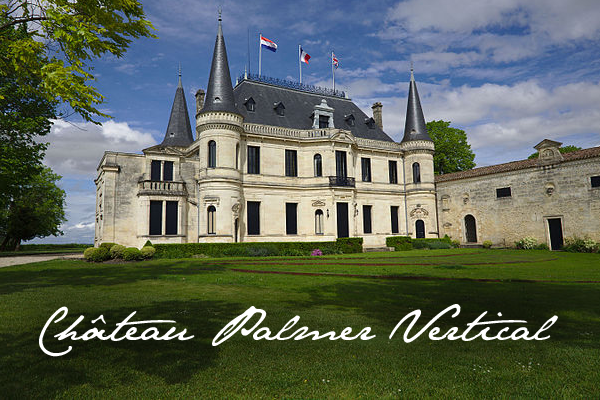 By PA (Own work) [CC BY-SA 4.0], via Wikimedia Commons
Last week your scribe had the pleasurable opportunity to reflect on one of my favourite wine properties and study at a dinner 10 vintages of Château Palmer. Most of my early visits to Bordeaux in the seventies and eighties always included memorable tastings of exquisite old bottles of this 3rd growth in Margaux with the family syndicate ownership represented by either the outstanding weather chronicler now deceased Peter A. Sichel or old Bordeaux vintage collector Franck Mahler-Besse providing invaluable insights into their wines. This property was the star of the appellation during this period before the re-emergence of Château Margaux under the Corinne Mentzelopoulos and the late Paul Pontallier leadership. Palmer also was made in quite a different style not using a clear majority of cabernet sauvignon but instead usually an equal amount nearing 50% of seductive merlot in the blend. Since 1998 there is a second label Alter Ego de Palmer showing a more forwardly drinking style using Estate fruit but in different proportions from the Grand Vin. Since 2004 Château Palmer has been under the competent management of talented Thomas Duroux (with Ornellaia winemaking experience) and his team. They go from strength to strength every vintage. A property to follow and collect.
Some brief tasting impressions:
1999: Successful limited selection of Grand Vin grapes of cab sauv, merlot, and petit verdot 48/46/6. Medium bodied with colour lighter at the rim. Less of a power statement but superb lovely complexity here on nose and palate. On excellent drinking plateau already but no rush either.
1998: Dark colour from superb year for ripe merlot. Underrated and so expressive because of choice grape selection similar to 1999. Well balanced very Palmer style with variety of herbs and flowers is drinking well. Like the 1999 was early on a smart good value buy.
1996: Surprisingly paler colour but has more cab sauv at 55% which is much more closed yet rich and powerful notes in a cassis style. Harder finish. Needs time.
1995: Very dark colour right to the rim. Similar to 1996 but better tannin integration here and much softer plush textures. Drink before 1996.
1989: Hot weather resulted in early picking with all varieties having phenolic ripeness. Clearly my wine of the night with compelling exquisite exotic flair. Concentration with complex elegance. A winner!
1988: Deep colour but leaner herbal style shows more lively acidity & coarser tannins which are still rather prominent. Has fruit there so may come around with patience.
1986: Better year for cab sauv especially in north Medoc. Atypical for Palmer here being a bit stern and austere. OK.
1985: Red ruby with better mature fruit than 1986 showing more charm. Drinking at best level with some drying tannins on the finish. Enjoy now.
1983: Enjoyed this vintage many times over the last decade often paired with the 1989. 1983 Palmer always has overshadowed the 1982 yet shows now a more herbal quite minty lighter charm and elegance when compared to the fuller sweeter richer longer aging 1989.
1978: Miracle vintage that was saved late. Sometimes like here a bit too herbal earthy and less than full ripeness with bottle variation.
Also tried during 2016 four outstanding Palmers all showing brilliantly: 1975: big hard brutish vintage but this one coming around nicely now; 1970: is so classic and maybe the wine of the vintage luckily purchased in BC liquor stores during December 1975 for the bargain price of $11.50 a bottle; 1966: the long distance runner of perfect balanced acidity with wonderful fruit; 1961: always ranks among the very best wines I have tasted being still so remarkably aristocratic perfect from well stored bottles. Big salute also to those ancient special treasures of 1959 & 1928!
---
You might also like:

Loading ...