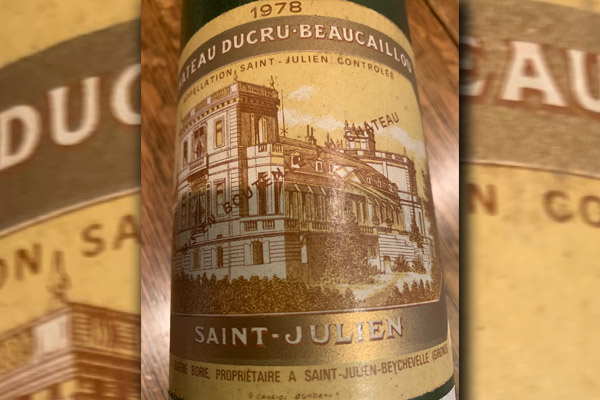 Chateau Ducru-Beaucaillou (D-B) is a long-time favourite of this scribe. A top Second Growth St. Julien in the 1855 Bordeaux Classification they celebrated via Zoom on October 24, 2020 their 300th anniversary over six families from 1720-2019 featuring present proprietor Bruno Borie toasting with vintages 2016, 1996, & glorious 1982. The property has a really fantastic terroir right on the Gironde River with those "beautiful stones" of the name an important contribution to the quality and long aging ability of the wines. My first visit was over 50 years ago back in 1970 which initially impressed me. Early exposure to their wines continued intensely over the next decades starting at the 4th International IWFS Convention held in 1974 in California where location was split first in LA followed by San Francisco. At Dining Out night in LA at Scandia on October 1, 1974 your scribe was in charge of tasting before serving each bottle from a case of both 1961s from Pontet-Canet & Ducru-Beaucaillou. An outstanding vintage as shown by the P-C but disappointingly all twelve of the D-B bottles suffered from "cooked hot storage". A good experience learned about storage even from wines that were only 13 years old at the time. Subsequently many great bottles including on March 25, 1976 a marvellous aged subtle toffee 1934 from the Heublein auction held on May 23, 1972 in New York of the Delor collection. Later on several vertical tastings in the eighties confirmed the magical fruit character with amazing harmony this site can produce which usually improves with longer aging. On May 23, 1987 D-B blind from 1982 to 1966 included a lovely very St Julien 1978 and tannic backward 1975 but the stars were the older bottles of rich 1970 and elegant 1966. A year later on April 5, 1988 another blind vertical of 13 D-B from 1983 to 1959. Fourteen years after 1974 poor showing this well stored 1961 this time was all complex spices and concentration. 1959 was a tad musty but 1962 was beautifully balanced and also outstanding yet younger stars still in development were 1982 & 1970. At this tasting 1978 was more herbaceous and 1975 with a hard tannic finish.
Last week your scribe carrying all this baggage looked forward to studying aged bottles of 1978 D-B with braised duck leg and 1975 D-B with freshly home-made pasta for lasagna. Recently on this Blog we have referenced how exciting old D-B have shown from 1970 on November 1, 2021 here, 1966 on June 18, 2018 here, and vertical on May 8, 2017 here where the 1975 was creamier than the current one. Nonetheless continue to be impressed with how these older D-B have changed and improved for drinking with what might be too much bottle age. The 1975 now has lost those hard tannins and though finishing a tad too dry is excellent with food. Neal Martin in Vinous awarded 93 points to 1975 back in May 2018 with these comments:
The 1975 Ducru Beaucaillou is a vintage that I had not encountered for 15 years but my God, what a wonderful wine! Surely the best between 1970 and 1982, the 1975 is beautifully balanced with ample fruit on the quite precocious nose that is more akin to a 1982 or 1985. Certainly unlike some of its more esteemed counterparts, this
1975 shows no signs of drying out or hard tannins, one of the best I have encountered for some time. (NM)
The 1978 was truly sensational with still a lot of fruit left and combining the inherent herbaceousness of that year from the foreground into the background as a freshness. It is now integrated beautifully into the more prominent defined terroir of cedar, cigar-box, minerals and undergrowth. A treasure.
Confirming earlier comments on 1978 D-B by Neal Martin and John Gilman:
Neal Martin's Wine Journal in 2010: "Served at the Ducru offline in London. One of the highlights of this vertical, this is a classic 1970s Saint Julien that is aged much better than one would presuppose. The nose is leafy, unashamedly austere with cedar, cigar box and a touch of peppermint, yet there is still agreeable clarity and
precision. The palate is medium-bodied, very well balanced with sturdy but fine tannins, an "unbending", conservative Ducru Beaucaillou that has great focus and vigour. Lively dark cherry finish with hints of tomato and even some toffee/creme-brulee notes lingering on the aftertaste. Very elegant and poised, this is the kind of mature claret I adore. Lovely. Drink now-2020." 92 points
John Gilman in May 2012:
The 1978 Ducru is one of the unequivocal successes from this vintage. The wine shows just a bit of the overt bell pepper tones of this year, which was "saved" by a brilliant Indian Summer that brought late-arriving ripeness to the grapes in what had looked for a long time like a vintage that was not going to be successful. I have drunk more than a case of the '78 Ducru over the years and have enjoyed each and every bottle, but have noticed that the slightly "weedy" nature of the vintage has increased a bit in the last few years. The bouquet is deep and complex, offering up a tertiary blend of cassis, bell pepper, tobacco leaf, gravelly soil tones, a touch of coffee, fresh herb
tones, cigar smoke and cedar. On the palate the wine is deep, full-bodied and nicely balanced, with a good core, lovely complexity, melting tannins and a long, tangy and beautifully focused finish. The wine these days has a "cooler vintage" profile that I very much enjoy, as the slight weediness from the not quite ideal physiological
ripeness of the '78 vintage provides a character that is very much in keeping with claret from this and earlier epochs. Today, some palates may find this lovely wine just a touch "green", but I find it absolutely enjoyable and it is a great success in the context of the vintage. (Drink between 2009-2030) 90 Points.
---
You might also like: