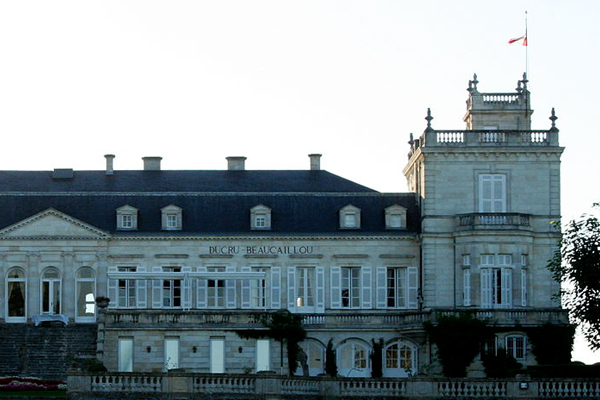 Photo by Megan Mallen [CC BY 2.0], via Wikimedia Commons
Last month I was delighted by an invite to the challenge of trying with dinner 10 red wines double blind. It always is stimulating to approach such an exercise with an open mind but bringing with you all your wine experiences and personal preferences. You usually outguess yourself as to whether it is a vertical, a horizontal or mixed group of wines but with something in common. The wines were served in 3 flights matched with Blue Water Cafe outstanding courses of Tagliatelle Aglio e Olio (with fresh black winter truffles), Fraser Valley Rabbit Porchetta (stuffed with portobella mushroom, swiss chard & foie gras served with pretzel bread pudding, roasted baby carrot, onion soubise, cassis jelly), and Roasted Rack of Lamb (lightly smoked & parsley crusted braised fennel heart, green chickpeas cumin panisse, tomato hazelnut puree, hay scented lamb jus). The wines in the order served as later disclosed with my initial impressions and some brief reflections:
1. 1966 Ducru-Beaucaillou: Browning rim with a distinctly open Left Bank Bordeaux aged herbal noted iodine elegant bouquet. Thinking old cooler year Leoville-Barton. When disclosed at the end as 50+ everyone was amazed. Brought back fond memories for me being on a tasting panel with Michael Broadbent and Bruno Borie (present proprietor of Ducru-Beaucaillou but then the owner of his recently purchased Lillet) at KPBS Auction in San Diego on November 5, 1986 conducting a choice event of 111 red Bordeaux wines (with 2 California ringers of BV Private Reserve & Martin Ray) in 19 flights all from the 1966 vintage at 20 years of age. We started at 9 am tried 47 and continued after lunch with 64 more. The 3 of us agreed that 1966 was indeed "a long distance runner" and Ducru-Beaucaillou served as #103 exemplified that with youthful balanced higher acidity that needed time to integrate. Slow developer. Now 30 years later a big surprise here and showing that breeding of a Second Growth!
2. 1975 Ducru-Beaucaillou: A bit more red colouring at the rim but also old with a drier nose but full rounded flavours. Surprised this was the 1975 because not showing those early big harsh tannins of this vintage but much softer now at 40 with a fair amount of fruit left. Almost creamy.
3. 1981 Ducru-Beaucaillou: Clearer younger claret red with less aged rim has clean fresh lively styling with lovely fruit. An underrated (before the 82) balanced wine on a drinkable plateau showing the vintage well. Excellent with the pasta course! End of first flight with our guesses including 3 St. Juliens of the 1985 vintage or three Leoville-Barton from the seventies. Close but no cigar!
4. 1982 Ducru-Beaucaillou: Deep rich full impressive sweet fruit compared to drier first flight. Naturally everyone liked this and suggesting 1982. What gorgeous complex mature St Julien is all about.
5. 1985 Ducru-Beaucaillou: Slightly corked bottle spoiled the experience. Does have fruit and elegance underneath it.
6. 1986 Ducru-Beaucaillou: Musty cellary nose seems unclean but structured. Maybe these 1985 & 1986 do have that wet cardboard/TBA (Tribromoanisole)/TCA from those contaminated wooden beams of their old cellars that affected the wines of the late eighties and resulted in checking and recorking by the Château of vintages 1985-1989 stored there and the better re-releases. I bought my bottles on their initial release and they have all showed clean and excellent. However, beware of all these vintages of Ducru-Beaucaillou from 1985 to the early nineties because there is big bottle variation and some bottles are badly flawed. Thought less so for 1985 & 1986 before this tasting.
7. 1988 Ducru-Beaucaillou: Shows clean pure full big fruit and some picked this as their top choice of second flight with others the 1982. An excellent 1988 paired so well with the rabbit porchetta course – and especially that cassis jelly.
8. 1996 Ducru-Beaucaillou: Much younger riper deep classy fruit with perfect tannins which will be a classic. Already great at 20 years. Has a WOW factor! Outstanding. Sings with that rack of lamb.
9. 2003 Ducru-Beaucaillou: Riper full and luscious. Easy drinking forwardly style. Rather delicious.
10. 2005 Ducru-Beaucaillou: So different. Some woody turpentine-like strange aromas. Almost Malbec-like. Must be a ringer as doesn't seem to have those typical Bordeaux aromas. Startled to learn it was the remarkable 2005 vintage as not showing well for this bottle at this time. Question mark?
Spotlighted earlier this year verticals of two other top Second Growth St Julien wines: Leoville Poyferre & Leoville Las Cases. Another great one here of arguably the best situation of "beautiful stones" for drainage and a unique terroir near the river. Obviously the wine from this property ages well and shows the class, breeding, and elegant balance you prize. Increased focus since mid-90s on cabernet (70%) and merlot (30%) and dropping cab franc & petit verdot. Also more new oak (75-90%) is being used with better strict selection for the Grand Vin. The future looks bright indeed!
---
You might also like:

Loading ...