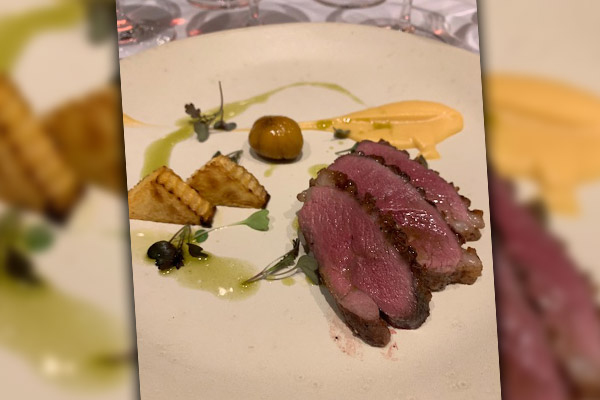 We often state that regional wines go best when paired with the foods from that same region. That rule generally holds true but some classy aged white & red Burgundies matched up just fine with an Italian dinner in Vancouver on February 4, 2020. Executive Chef Chris Janowski and his brigade from The Italian Kitchen served up some classic Italian dishes that worked so well because ingredients included classic lobster, truffle, Dungeness crab, and hazelnut butter for the whites plus roasted quail, mushrooms, and duck for the reds. We started off with the bubbles of vintage 2012 Paul Bara from Bouzy richly showing off those 7 years on the lees to great advantage. Recommend you collect this well balanced 2012 vintage of Champagne to age following on from those fantastic 2008s your scribe mentioned earlier. The first course crab cannelloni was delicious with the quality producer ETIENNE SAUZET horizontal of three 2007 1er cru PULIGNY-MONTRACHET:
LA GARENNE: 2007 white Burgundy usually show some of the higher acidity of that lighter year. Expected the high elevation up to 380 metres of this just under 10 hectare Premier Cru to emphasize that character with less fat and less ripeness. However first try was forwardly softer than expected but opened up with airing and warming. Would have been even better decanted. Second bottle fresher more stylish and better showing of this terroir.
LES REFERTS: Vineyard half the size delivers that typical rich fat softer spicier notes expected but surprising liveliness though a tad coarser.
LES PERRIERES: Somewhat younger vines than their neighbours but lovely with the best elegance and classy "steely" complexity of these. Matched so well with the hazelnut butter in the dish – a common thread often found particularly in Meursault wines.
Didn't try on this occasion the Champ-Canet with its great location next to Meursault Perrieres but usually is a step behind the most complete quality fav of their star vineyard Les Combettes. Always enjoy the education of comparing those subtle vineyard differences that come through from tasting the same producer in the same year. Fun.
In the same learning vein your scribe really likes trying verticals of the same wine over several vintages. This was a rare treat to assess 6 consecutive years of CLOS DE LA BUSSIERE Monopole MOREY ST. DENIS PREMIER CRU from the highly respected DOMAINE ROUMIER. It is South of the Village under the Grand Crus of Clos de Tart & Bonnes Mares in a bowl shaped area but on an upslope that drains well. Wonderful matching them with the quail and duck courses in two flights:
2002: Excellent year but first pour was musty unclean. Second repour pure clean full meaty but still rather young. Fine balance and potential.
2001: Surprise! Expressive rich robust savage very animal. Better than expected on both nose and palate from this underrated vintage.
2000: Lighter year but doesn't show that with a beautiful open so stylish exquisite elegant bouquet. Less body but lovely already delightful now.
1999: Big boy with much more fruit intensity and ripeness. Needs time. Some found a touch of volatile acidity a distracting issue.
1998: Good on its own but balanced though slightly simpler in depth. Shows some use of stems in the fermentation. Better tried with the food.
1997: Solid rich and has come together the best to an enjoyable succulent maturity. Shows by this oldest one that these wines need time to reach their best plateau and there is no rush to drink them up. Stylish with relatively good Burgundy value too.
Amazing how all these red Burgundy wines seem smoother, sweeter, and more delicious when accompanied with the right food matching like for example quail and duck – even if prepared in this Italian way! Excellent experience.


center
---
You might also like: