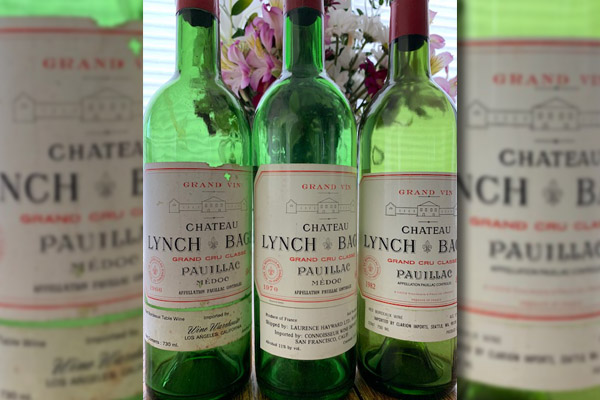 These days you hear comments more often that wine should now show "a sense of place". Your scribe often smiles and usually holds back on making a smug comment of "I told you so". Having studied, tasted, and collected quality wine for over 50 years it is an important lesson so well learned. Vineyard place with unique terroir always is the key. That is why Chablis Les Clos, Meursault Perrieres, and Musigny stand above their nearby neighbours. Fond memories of discussing with the late Robert Mondavi that special site of To Kalon Vineyard that made his 1974 Reserve Napa Cabernet Sauvignon so great. There are more and more of these special "places" around the world today now making distinctive wine. In Bordeaux it is hard to go wrong with a wine bearing that textbook Pauillac AOC label. Criticize myself in hindsight sometimes for not buying more First Growth Pauillac of Lafite, Latour and Mouton during the 80s & 90s which were quite cheap then but still more money than excellent lower classed Pauillacs being collected instead. Today the First Growths are out of sight price-wise but some 5th growth Pauillacs have raised their game substantially too yet remain relatively good value. Out of the 60 odd chateaux classified in 1855 there were 18 Fifth Growths 12 of them or 2/3 from Pauillac. Today Pontet-Canet leads this select group with Lynch-Bages & Grand-Puy-Lacoste close behind with several more trying hard to make the podium. They are all making first class Pauillac wine worth investing in throughout this century.
This all came vividly back to me last week at a dinner at the Cactus Club Coal Harbour where 3 decades of Chateau Lynch-Bages held sway with the rich remarkable fruit depth of 1982, more cedar, cigar-box styling of the 1970, and leaner more medicinal mineral long distance runner 1966. These all showed still good youngish colour and surprisingly elegant complexity with a wonderful matching Beef Duo including that Short Rib Classic of celebratory chef Rob Feenie. Cactus Club Group also sports one of the world's best sommeliers in Sebastien Le Goff who as always served these old beauties to perfection. These old vintages were outstanding value on purchase yet provided rare interesting age ability with an amazing sense of place indeed.
Do you have a favourite Fifth Growth Pauillac or a wine that shows you a real sense of place?


center
---
You might also like: