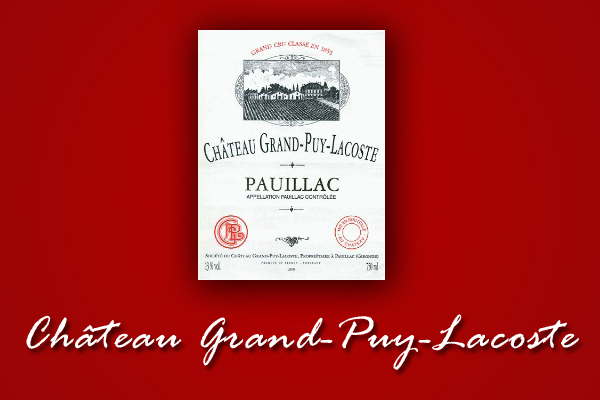 One Bordeaux property I have collected consistently over many vintages is Château Grand Puy Lacoste (GPL). It is a Fifth Growth Pauillac that has been underrated for decades and still doesn't get the accolades of identical classified neighbours Pontet Canet, Lynch Bages, Clerc Milon, D'Armailhac, Haut-Batailley, Haut-Bages Liberal, and others. One of the earliest great wines I ever tried was the concentrated 1961 GPL during a visit to Bordeaux in 1970. There I was fortunate to spend some time with the knowledgeable Rene Barriere of negociant-eleveurs A & R Barriere Freres. They discovered treasures Château L'Arrosee St. Emilion & Château L'Eglise-Clinet Pomerol shipping them to the Belgium market long before they came to America. Rene told me then that the best value of all the Bordeaux he presently had in his inventory was the 1966 GPL so naturally I bought 3 cases which landed in Vancouver at $5.60/bottle. Enjoyed many bottles of this "long distance runner"1966 over the last 45 years. Before the property was sold in 1978 to the Borie family (of Ducru-Beaucaillou fame) it was owned by the legendary Raymond Dupin. Remember fondly our appointment with him at the château set for 4pm one Friday when he landed his helicopter at GPL right on time returning from Paris where he just had his gourmet lunch. So typical of him and his well known lifestyle. Know the vintages of this château quite well so I was excited to attend last week a vertical ranging over 40 years from that nostalgic 1966 up to 2006.
The exquisite 1966 showed complex tobacco and cigar box with style and delicacy. What a textbook example of Pauillac!
The 1970 is a wine I bought initially on release but acquired much more of it when discounted because Robert Parker marked it only at 74 points. I mentioned this to RMP at an event and in subsequent editions of his books he raised his score to 90 -92 but said it was bottle variable. Here it was lovely but I have enjoyed better bottles as this one though it still showed some freshness was drying out with age & too much acidity left. Needed food.
2006 has fruit but harsher young tannins and needs some more time.
2005 powerful seductive riper tannins with impressive balance. Sort of like a 1959 that you can drink younger but will improve over a very long time.
2000 very good but still hard & backward at 15 years.
1999 Open with a lovely mature bouquet has a lighter softer easy entry on an attractive plateau now. A very underrated vintage for this property.
1995 Good rich depth, elegant and quite delicious – the surprise of the tasting.
1990 Still shades of purple colour at 25 years old but presently a bit briary herbaceous and earthy in style.
1982 The star of this tasting yet again. The 1982 always seems to show so spectacular for me and I rate it as one of the very best GPL ever produced. Wonderful cedar and fruit intensity still on an amazing plateau of enjoyment. So pleased I bought cases of it in 1985 at $110/case.
This property GPL has brought me so much joy over the years at a brilliant quality for price value. I continue to highly recommend this property .
---
You might also like:

Loading ...