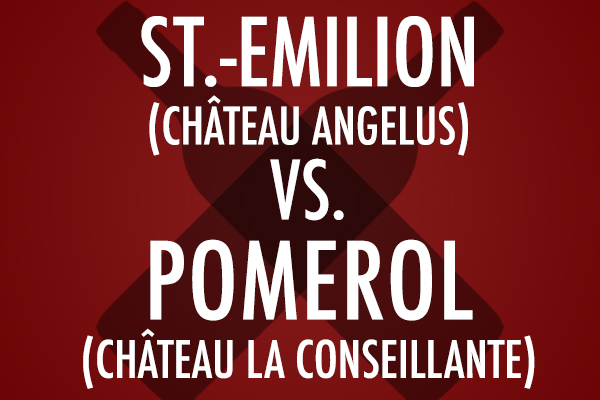 We often compare the differences between the Bordeaux wines of the Left Bank and Right Bank. Their terroir together with the grape mixes is usually substantially different with more cabernet sauvignon in the former and more merlot & cabernet franc used in the latter. However you see less tastings between wines of the leading two Right Bank regions of St. Emilion and Pomerol which can be a more subtle comparison. In Michael Broadbent's Wine Tasting an excellent publication by Wine & Spirit Publications Ltd in 1968 and further revised and enlarged by Christie Wine Publication in 1973 & 1975 these regional characteristics are well described as follows:
POMEROL: Two styles: one deep and firm and Medoc-like, but with full, silky merlot richness, slow developing; the other light in colour and weight, sweeter, more gentle and quick maturing. Each style has a noticeably velvety texture in the mouth. Lighter vintages develop quickly.
ST.-EMILION: Again has two styles: from the "cotes" around the town, deepish but quick-maturing wines, loose-knit, sweeter on bouquet and palate. Easy, flavoury. From the "Graves" plateau next to Pomerol, firm fine fruity wines with depth of colour and flavour, cabernet aroma with hint of iron/earth character detectable on nose and palate."
Now around 50 years later this learned description above is no longer totally inclusive. Global warming, lower yields, expanded use of second labels, many more conscientious producers and other factors has resulted in perhaps more differences between chateaux and these regions but also more similarity too. IMHO it is now even more difficult to definitively define the two regions. Therefore it was exciting to attend a dinner on January 8, 2019 at Vancouver's L'Abattoir restaurant to compare 4 same vintages of a top property from each region. Both regions have relatively small plantings compared to the Left Bank but St. Emilion is about 7 times the acreage of tiny Pomerol (around 2000 acres) with demand often exceeding supply of their top wines. The St.-Emilion chosen was Angelus & the Pomerol La Conseillante with vintages tasted being 1989, 1990, 1995, and 2001. Note that Angelus was completely under the radar 50 years ago on the far western part of the "cotes" with wonderful southern exposure for merlot on the clay hill and cab franc at the bottom on sandy clay-limestone. It was only when the brilliant Hubert de Bouard de Laforest took over in the mid eighties that improvements resulted in their elevation to a Grand Cru Classe B in 1996 & top A in 2012. The wines are sensational with a special concentration complexity. La Conseillante of the Nicolas family long history since 1871 on the plateau of Pomerol has only around 20 acres (12 hectares) with 60% on that special blue clay and 40% gravel & sand planted in 18 separate plots of 80% merlot & 20% cab franc (though outstanding 2016 has 30% cab franc in the blend). They use 22 concrete vats (epoxy lined) of differing size from 35-100 hectolitre to accommodate those plots with more cab franc being planted (to give more structure because of global warming) and maybe cab sauvignon in the future too. More vintage variable but killer treasures in 1982, 1985, and 2000. Brief comments on the wines served oldest to youngest in vintage pairs:
1989 ANGELUS vs. LA CONSEILLANTE: Angelus much darker red colour has big opulent impressive fruit of wonderful concentration with pure class complexity while La Conseillante lighter forwardly with a browning rim and quite herbaceous bouquet but quite delicious matched to veal cheek course though softer and simpler.
1990 ANGELUS vs. LA CONSEILLANTE: Expected 90A with more structure but has a more evolved look than 89 though still lovely with less depth of fruit than 89 on the palate. Excellent. The 90LC looks similar to their 89 is also herbal but rich elegant lower acidity drinking well presently in a quasi-Burgundian style.
1995 ANGELUS vs. LA CONSEILLANTE: 95A more closed but dark intensity of cherries and black olives. Full bodied yet again. No rush. 95LC not as deep as A but pleasing papery red fruits and herbs. Some charm for earlier drinking with this slow cooked lamb shoulder course.
2001 ANGELUS vs. LA CONSEILLANTE: 01A darkest of all 8 wines and shines brightly from that underrated Right Bank vintage. Amazing black fruits concentration again. Seems so young compared to the previous 3 older A vintages. 01LC has best dense colour of all 4 of their wines tasted. Amazing rich full wine with iron notes that surprised your scribe who is anxious to try it against the star 00LC in the near future.
The two regions showed differently for sure. Angelus so impressive and certainly not "easy" or "quick-maturing" though already enjoyable. La Conseillante so elegant with "iron" notes of Pomerol mentioned by Broadbent for St.-Emilion and shows best where there is more riper luscious fruit to go with that structure. Not easy to capture their differing terroirs in just words. You have to experience it. Encourage you to do your own experimental comparisons of these two outstanding appellations. Enjoy!


center
---
You might also like: