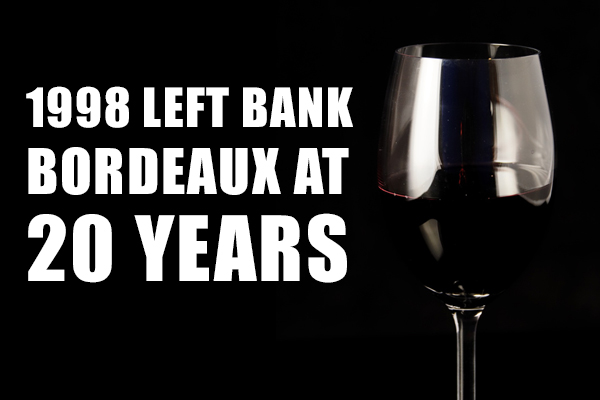 This is a follow-up of my earlier posting on January 29, 2018 on a tasting of 1998 Right Bank Bordeaux. At a tasting dinner at CinCin restaurant in Vancouver on March 27, 2018 another 20 year check was done with 9 wines this time on 1998 Left Bank Bordeaux. As indicated previously this vintage generally favoured the merlot grape prominent in Right Bank wines because the early October rains hindered the phenolic ripeness and intensity of some more cabernet based Left Bank properties. Nonetheless the wines showed rather well and better than expected. Started with a sensational bottle of 1996 Roederer Cristal so rich and complex yet with that underlying acidity vibrancy of that celebrated vintage. Finished up with that usually early darkening bronze colour of forwardly Chateau Rieussec 1986 marmalade perfectly paired with a Granny Smith apple crème brulee. Some brief impressions of the 9 wines served in 3 flights:
1. Chateau La Lagune 1998
2. Chateau Grand Puy Lacoste 1998
3. Mystery Served Blind – Ridge Montebello 1998
La Lagune red ruby to the rim with an open herbal bouquet but tastes lighter simpler "Graves" like styling that is mature ready now. Grand Puy a paler rim showing more interesting classic cabernet Pauillac terroir. Also a bit lighter bodied than expected for this property but appreciate the classy elegance. Mystery a bit darker with more oak and fruit depth. Some California cab eucalyptus notes both on the nose and palate. Evolved in the glass more Bordeaux-like in a drier lighter lower alcohol (12.4) softer style. Could it be Lynch Bages? Interesting ringer that fits well here with 70/24/5/1 blend of cabernet sauvignon, merlot, petit verdot, and cabernet franc. More controversial lighter California cab year styling that was cherished by Robert Mondavi for the balance. All 3 of these on very drinkable plateau now and improved matched with delicious semolina gnocchi "romani" course with wood grilled wild mushrooms & pecorino al tartufo.
4. Chateau Leoville Barton 1998
5. Chateau Leoville Poyferre 1998
6. Chateau Leoville Las Cases 1998
Always exciting to try any vintage of the 3 Leovilles together! Here the 1998 in a so called "shoulder" vintage accentuates that admirable quality of old style Bordeaux – less ripe & less big – but uniquely stylish. Colours of this flight much deeper with Poyferre slightly paler on the rim. Classic Barton solid rich typical "iodine" nose notes with cool harder big muscled cabernet to admire. Contrasts well with more open herbs merlot of Poyferre that is elegant having more acidity and even though way less depth is more ready "most fun drinking" now.  Las Cases has that special complex bouquet with the best rich texture from that concentration of perfectly sorted fruit. All impressed in their own way plus improved with moist duck confit, crisp "roesti" potatoes, jus gras pairing.
7. Chateau Pape Clement 1998
8. Chateau La Mission Haut Brion 1998
9. Chateau Haut Brion 1998
This last flight from Pessac-Leognan (really a Central Bank between Right & Left in this vintage) was approached with great anticipation and did not disappoint. Pape Clement surprises with approval for the solid density of ripe fruit. Drinking nicely but no rush to drink up even if less aristocratic than the two neighbours. The twins have certainly evolved differently over the last decades. Good example here. La Mission has some of that historic Graves admirable "turned earth" cab statement but is more closed in and less typical with the higher 50% merlot in this blend. Needs more time to develop but not the perfect 1989. Haut Brion making an encore from the spectacular mystery wine presence in the Right Bank event again dominates here. Harvested last 2 weeks of September. Hard to pin down that ripe mocha lushness plus the "liquid nobility" superb tannin structure. Love the top vintages of this quality property and 1998 definitely is a respected vintage family member. Wood grilled Alberta lamb rack with Casteluccio heritage lentils, collard greens & rosemary jus was a delicious foil for a great flight of wines. Conclusion that 1998 Bordeaux can be a bit under the radar and there are some lovely wines to experience at 20 years of age – even from the less heralded Left Bank.
---
You might also like: