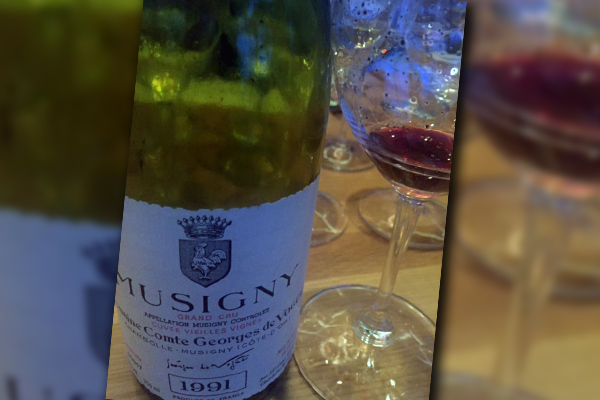 Corton-Charlemagne has an intriguing history going way back to Charlemagne the Roman Emperor who was instrumental in converting the then all red Corton vineyards to some white on the upper slopes "en Charlemagne". It turned out to be a brilliant move as Chardonnay really suits that superb limestone base covered by a clay-marl soil there with differences noted between both the Pernand and Aloxe slopes. Today the Corton property has a surface area of around 160 hectares of which roughly 50+ is Corton-Charlemagne white. The largest proprietors at just under 10 hectares each are Louis Latour and the historic Bonneau du Martray (Stan Kroenke of Screaming Eagle, Arsenal football, Denver Nuggets, and Colorado Avalanche last year purchased majority ownership still partnering with the longtime Le Bault de la Moriniere family) followed by Bouchard Pere at just over three and many others. Of course these limited production wines in demand are becoming even more expensive these days but some of them from smaller growers like Jean-Francois Coche-Dury and Leroy are amazingly so. This Grand Cru shows quite a unique terroir when compared with other white Burgundies usually combining a very good acidity balance to that steely mineral structure plus intense fruit concentration that improves to rounder complexity with some bottle age. IMHO except for the usual pre-mox concerns Corton-Charlemagne (together with some Grand Cru Chablis – especially Le Clos, Chevalier-Montrachet, and Meursault-Perrieres) has the best cellaring record of all the Burgundy whites.
A dinner was held this month at the Cactus Club Coal Harbour to see how some vintages would show and especially when paired with accompanying food courses. In Partners the IWFS Guide to the Game of Wine & Food Match-Making by Andre L. Simon he recommended Corton-Charlemagne with Sole Bonne Femme – an admirable choice! However as this Menu sets out Chef Rob Feenie and his brigade successfully used instead Flatbread, Calamari, Prawn Ravioli, Sablefish and even Duck Confit to advantage. Some brief comments:
2014 Corton-Charlemagne Louis Latour & Louis Jadot: This first flight followed our aperitif of an excellent forwardly drinking 2002 Bollinger RD Champagne disgorged November 19, 2015 after 13 years on the lees. The Latour style usually has fairly prominent lees character but seemed less so after that. It was full rich and concentrated but the style definitely is evolving towards earlier picking and less new oak. Classy and balanced but needs more time. Jadot shows a lot of sulphur on the nose presently so controversial but lovely elegant fruit underneath it that should develop nicely. The caramelized onions on the "pizza" were divine with the young wines from an outstanding vintage for Burgundy whites!
2010 Corton-Charlemagne Louis Latour & Vincent Girardin: Hot fried spicy dill squid worked well here with the classic 2010 quality year from reduced yields with impeccable balance. Latour had some initial sulphur aromas but cleared off with airing to become a delicious full complex wine just approaching the best plateau of drinking. No rush. Girardin had bottle variation with one showing maderization and the other mature but soft for the year and forwardly drinking already.
2008 Corton-Charlemagne Remoissenet & Bouchard Pere: Better flight with more interest. Remoissenet Diamond Jubilee with their signature open aromas of cabbage-sauerkraut (in a good way) bouquet and rich pure flavours while Bouchard Pere more closed in yet so elegantly structured and going through a rather funky offbeat stage but impressive so optimistic it will blossom out soon. Food matching of creamy pasta almost ideal.
2006 Corton-Charlemagne Bonneau du Martray & Chateau de Corton Andre: What a big difference between the two bottles of the Bonneau du Martray! One has bad pre-mox undrinkable but the other is brilliant in the fresh minerality you seek. Already excellent in this leaner style but expect it to climb to even greater complexity with more age if it can avoid pre-mox. Pierre Andre is in a richer sweeter caramel profile with a specific intriguing ginger note. Goes well with the rich buttery flaky earthy black cod that was a delicious matching – the modern day fish with cream & mushrooms as enjoyed by Andre Simon.
The smoky duck confit too actually worked OK with the remains of 8 Corton-Charlemagnes but a preference was shown for a Burgundy red and especially a mystery wine that turned out to be the formidable fragrant sophisticated 1991 Musigny from Comte de Vogue. What a treat. What a pairing. Finishing up with 1986 Chateau Suduiraut Sauternes doesn't hurt either.
Your thoughts please on Corton-Charlemagne age ability and their best matching with different foods.


center
---
You might also like: