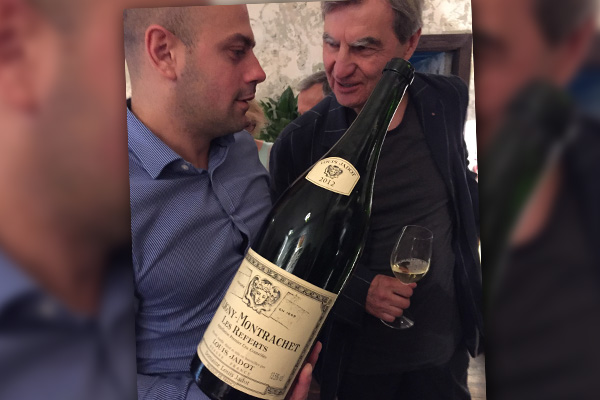 Your scribe is an enthusiastic supporter of all Paulee events. These always offer a chance to meet winemakers and fellow wine collectors with an opportunity to share a variety of top Burgundies. The original one La Paulee de Meursault is a long exciting Monday lunch as the final part of Les Trois Glorieuses held on the third weekend each November and has become an important international wine event. Your scribe has been fortunate to taste many memorable bottles there. This has inspired many other versions including those hosted by American sommelier Daniel Johnnes as La Paulee de New York & La Paulee de San Francisco. Montreal celebrated their second edition at the end of April this year. Many branches of La Confrerie des Chevaliers du Tastevin hold their own local Paulees including an outstanding yearly one held each August in Vancouver with a specific theme bottle to bring along – this year any vintage of Grand Cru Chablis. So it was with great anticipation to attend June 22, 2017 the first La Grand Paulee at Cabotte Burgundian restaurant 48 Gresham Street in the East End of London to finish up their inaugural londonburgundyweek.com. Check out the site for more details on the events, the winemakers, and merchants. What a wonderful final evening!
Menu: Confit Rabbit Leg Consomme with Summer Vegetables; Jambon Persille Ham & Parsley Terrine with Capers & Cornichons; Cotswold White "Poulet Gaston Gerard" & Grilled Poitou Asparagus; Selection of French Cheeses from Androuet.
Wines: Beautifully orchestrated by Master Sommeliers Gearoid Devaney & Xavier Rousset. So thrilled to taste so many top Burgundy wines and managed to scrawl short notes on 31 0f them (9 white & 22 red) as they were passed around:
2014 Meursault Les Narvaux Domaine Ballot-Millot Magnum: Fresh lighter bodied stylish very Meursault
2012 Puligny Montrachet Les Referts Louis Jadot 3 Litre: Richer but even fresher this large format & so structured Breed
2002 Puligny Montrachet Les Enseigneres Coche-Dury: Premox issues but still shows some class of top producer
2006 Meursault Coche-Dury: Only an AC wine but so elegant balanced and complex. Arguably the top white for pure class.
1998 Meursault-Charmes Dom. Lafon: Aged surprisingly fresh intense peaches & nuts with refined integrated oak. Wow.
2012 Chassagne-Montrachet Maltroie Bernard Moreau: Stones + tropical + floral combo. Young showing quality. No rush.
1996 Meursault Perrieres Dom. Roulot: Favourite Vineyard & Producer but premox caramel overwhelms so disappoints.
1992 Chablis Valmur Raveneau: So delicious and lively with aged complexity showing outstanding minerality. Classic.
1966 Batard Montrachet Claude Ramonet: Good shape so nutty and rich almost like an old dry Sauternes.
2007 Gevrey Chambertin Le Poissenot Geantet-Pansiot: Solid energetic blackberry fruit from old vines in a lesser year.
1947 Aloxe Corton Charles Vienot: Open enticing bouquet. Aged so well at 70 years for just an AC wine from a super year.
1982 Richebourg Dom. Gros Frere et Soeur: Mature. Weaker year but fragrant charming a bit lean with acidic finish.
2014 Chambertin Clos de Beze Lucien Le Moine: Power & potential. So impressive for aging. Would like to have in cellar.
1985 La Grande Rue Dom. Francois Lamarche: A terroir treat. Mature elegance using low temp ferment. Lovely drinking.
2008 Clos de la Roche Dom. Herve Arlaud Magnum: Shows smoky but well for this tougher year & is still fresh in Mag.
1996 Clos de la Roche Dom. Dujac: Lots of character but more herbal & floral with softer fruit. Easy to like.
1996 Beaune Greves Vignes de L'Enfant Jesus Bouchard: Good juicy fruit coming around now from a harder tannic year.
2006 Vosne Romanee Aux Reignots Dom. du Comte Liger-Belair Magnum: Outstanding delicious plush classy pinot noir!
1999 Vosne Romanee Cuvee Duvault-Blochet: Special treat to try this rare commodity for the first time. DRC revived harvesting young Grand Cru vines separately for this Cuvee in 1999 and this shows pure strawberry fruit with ginger.
1990 Volnay Clos de la Bousse d'Or Dom. La Pousse d'Or Mag: Lighter aromatic graceful 1990 has lovely elegant spice.
1996 Vosne Romanee Les Suchots Confuron-Cotetidot Mag: Classy top 1er cru but stems. Told 1996 but no neck label.
1990 Pommard Hospices de Beaune Raymond Cyrot Louis Jadot: Very attractive Pommard styled. Solid full & rich.
1985 Roumier Grand Cru Mag: Served blind in a decanter. Brown colour + light sediment. Lean but stylish. Told it was a Roumier Grnad Cru. Never saw what it actually was. Doubt a Musigny or Bonnes Mares. Maybe Charmes or Echezeaux?
1966 Clos de Vougeot Charles Noellat: Very pale & cloudy. Drying out but still shows well with some charm. Drink up.
1993 Musigny Comte de Vogue: Always great class edge. Better bottle of the 1991 recently and even more variable 1990.
1985 La Romanee Dom. du Comte Liger-Belair (or Bouchard): Lots of sediment but exquisite! Pure charm & class so harmonious. Never saw the bottle and just told it was La Romanee but not the producer.
1971 Clos de la Roche Armand Rousseau: So intense for 35 years old. Perfumes at a level above most. Long special flavours!
2001 Clos St. Denis Dom. Dujac: Very spicy & distinctive Harder with good acidity. Better with food.
1990 Bonnes Mares Moillard: Some aristocracy but slightly drier coarser soupy styling. Pairs nicely with chicken course.
2001 Bonnes Mares G. Roumier: Deep colour. A bit of VA at first. Needs air to develop in glass. Rich full still backward.
2009 Latricieres Chambertin Dom. Duroche: A baby but love that ripe 2009 fruit with ethereal aromas. Buy this.
Another really marvellous Paulee! Congrats. Please continue with your second one in London next year!
Have you attended a Paulee?
---
You might also like:

Loading ...