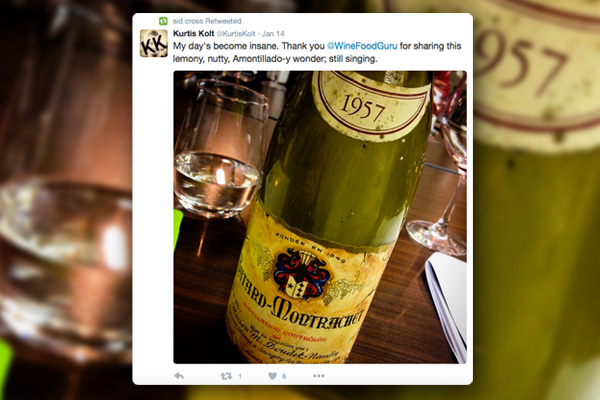 We all know that wine can age. However we usually think in terms of reds, vintage port, Madeira, sweet whites and the like. Certainly there are some dry whites out there that seem to age forever – Tyrrell's Vat 1 Semillon is one good example. You don't hear much these days about old aged white Burgundy. In fact you now hear the opposite buzz that it is safer to drink them earlier on. Chardonnay can age well particularly from Burgundy pre the mid-90s before those worrisome pre-mox issues first arose.
At a recent Burgundy event there were several treasures contributed including a quintessential biodynamic red Burgundy 1999 Nuits-Saint-Georges "Les Pruliers" 1er Cru from Etienne Grivot showing that magical complexity of power with finesse and intensely delicate. Another star was my interesting bottle of white Burgundy now nearly 60 years old the 1957 Batard-Montrachet from Maison M. Doudet-Naudin. Fortunate to taste with Yves Doudet of Domaine Doudet-Naudin in Savigny-les-Beaune several times during the late 80s where they had so many ancient bottles covered in mold lying peacefully in their very cold cellar. On one such visit at an extensive old white wine tasting I was impressed with the acidity fruit balance shown in their Grand Cru Batard from 1957. Eventually I acquired some bottles in 1991 which were recorked at that time before being shipped to me in Vancouver. Vintage 1957 was described by Michael Broadbent as "Quite good, firm, rather acidic but flavoury wines" and Clive Coates in 1997 when the wine was only 40 years old said 57 whites "are good but now past it". Surprising to all at this recent tasting that this bottle showed a lovely lemony zest with a layer of almost sweet very nutty walnut-like flavours. Mature yes but not oxidized with only just a little touch of maderization complexity and not clearly past it. Delicious. There are old white Burgundies out there usually at great value particularly in many of the old cellars in Burgundy or at auction. Keep an open mind about them and you too might experience a rare treasure of history.
Have you tried any very old white Burgundy?
---
You might also like:

Loading ...