Our Group of Eight Vancouver met for Event #105 featuring 9 Premier Cru wines from Volnay with a dinner on October 25, 2022 at Blue Water. Many of these previous special educational wine tasting-dinners have been documented over the years on this Blog. Also earlier references to Volnay including on October 26, 2015 here spotlighting the wines of top producer Marquis D'Angerville. At that time your scribe stated Volnay "epitomizes what I really admire in a pinot noir showing that seductive signature of fragrant delicate elegance. In my opinion the Volnay region still remains undervalued for the quality generally delivered." That was a strong opinion expressed then that remains true today some 7 years later as confirmed by this tasting. Volnay is rather a small AC with the fuller Pommard on one side and vineyards of Monthelie & Meursault on the other. Like in Beaune & Pommard there are lots of Premier Cru vineyards but no Grand Cru. However the overall quality is high as shown by the fact 35 Premier Cru Volnay red cover 136.28 hectares more than the improving Village red Volnay at just under 100 (98.37). Some brief impressions:
Worth mentioning is the high quality though rather unknown old (1894) house Pascal Agrapart Champagne. From the classic 2012 vintage en bouteille May 2013 and disgorged February 2019 as Extra Brut (3 g/l dosage) it has choice upslope old Avize vineyards (Robarts & Gros Yeux) with deeper clay over chalk resulting in a powerful Avizoise Blanc de Blancs vinified and aged in 600 litre oak (demi-muids) that impresses so fresh, delicate, and complex. Highly recommended.

1) 2015 VOLNAY CLOS DE LA BARRE 1er Cru LOUIS JADOT This Monopole 1.32 hectare good drainage plot usually has structure with deep fruit but can be rather austere early on though 2015 is a riper vintage. Approachable.

2) 2009 VOLNAY LES SANTENOTS 1er Cru DOMAINE BERNARD & THIERRY GLANTENAY Also a hot vintage but small production of big ripe red fruits in an earthier spice style from a respected for aging south facing vineyard (but younger vines planted 1989 & 1997) actually in the Meursault commune. Simpler.

3) 2005 VOLNAY CLOS DE LA BARRE 1er Cru LOUIS JADOT A third ripe vintage in the first flight but a solidly balanced one with developing velvet textures. Patience rewarded but already delicious with Spaghetti Alio e Olio with Black Truffle.

4) 2017 VOLNAY LES CAILLERETS 1er Cru DOMAINE HENRI BOILLOT Youngest wine from a vineyard usually producing less fullness but lovely in combining fresh deep cherry & raspberry fruit with textbook delicate classy Volnay style. Structured, vibrant, impressive and the surprise of the night!

5) 2007 VOLNAY "SANTENOTS" LUCIEN LE MOINE Deep but ponderous. Reductive. Needed longer decanting? A bit cloudy. Not singing. Variable vintage with terrible Summer weather.

6) 2005 VOLNAY CAILLERETS 1er Cru ANCIENNE CUVEE CARNOT BOUCHARD Slightly smoky nose at first but cleared to sweet charming intensity -another impressive structured 2005 starting long plateau of lovely enjoyment.

7) 2005 VOLNAY CHEVRET 1er Cru DOMAINE NICOLAS ROSSIGNOL Third flight all have concentration with aromatic depth resulting from great vintages. This is slightly drier on the nose but still lots of generous fruit there with silky textures developing. Now or later. More dimensions with the spiced juicy flavours of the well-matched Pheasant course

8) 1999 VOLNAY-CHAMPANS 1er Cru LEROY A great expensive producer but those 1999 red Burgundy are always stellar. Rich fat plummy weightier style of Champans. Very impressive result indeed. Outstanding.

9) 1999 VOLNAY SANTENOTS-DU-MILIEU 1er Cru DOMAINE DES COMTES LAFON Sturdy like the Champans vineyard but very full rich depth almost lush from a vineyard that has an earned reputation for long successful aging. A very special vineyard in the Meursault commune approved as red Volnay. Another beauty from the 1999 vintage. Pure joy to monitor it going from strength to strength.

Our leader Ian Mottershead read some appropriate quotes from Stay Me With Flagons by Maurice Healy (close friend of our Founder Andre Simon) on "the greatest of them all" a miracle 1889 Volnay-Caillerets!
Certainly Volnay 1er Cru showed what it is capable of delivering here. Exceptional where the top vintages of 2005 & 1999 provide the extra fruit intensity to back that unique delicacy. Also in that surprising 2017. Recommend following Volnay more closely. You will be delightfully amazed.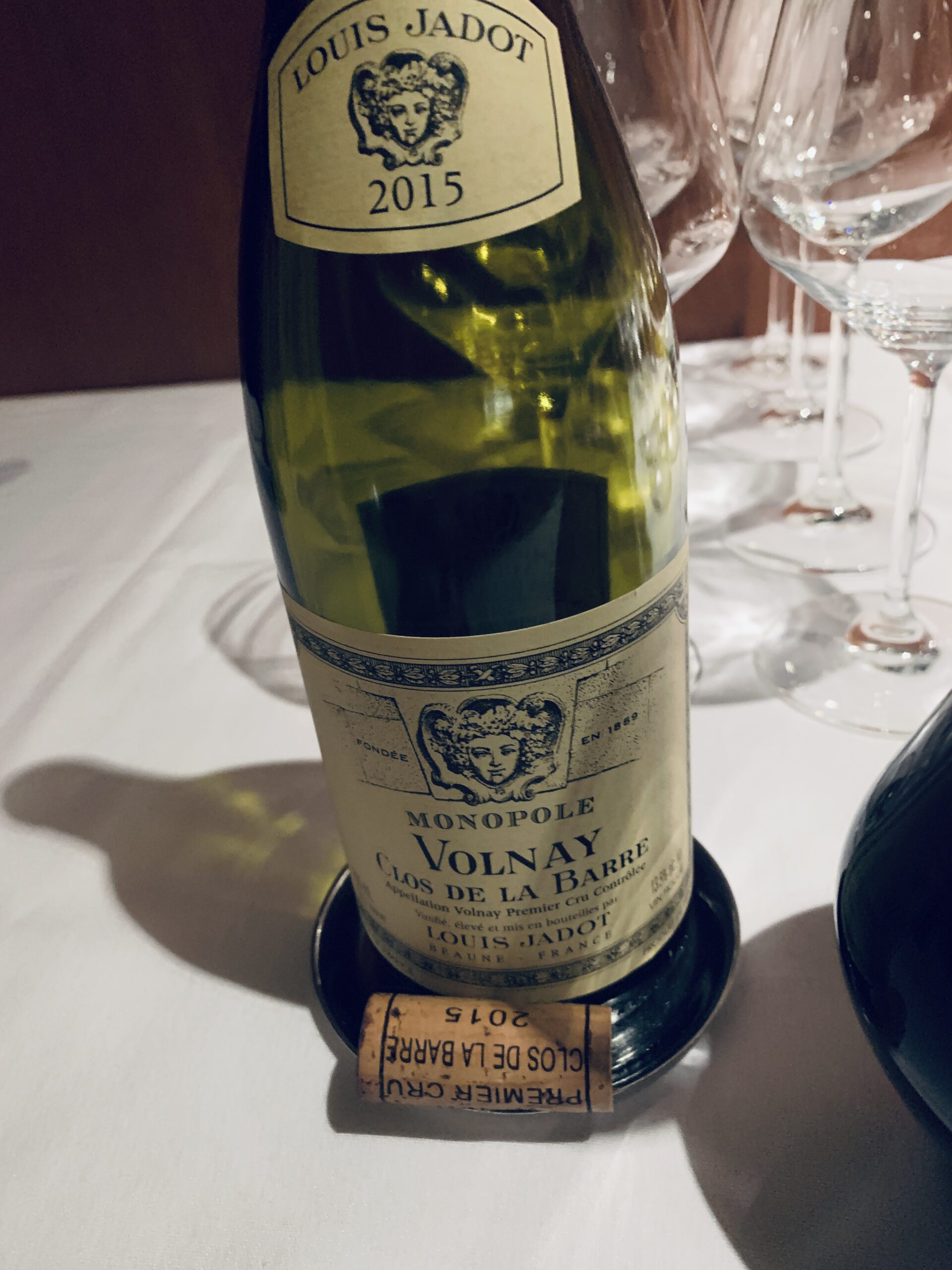 ---
You might also like: