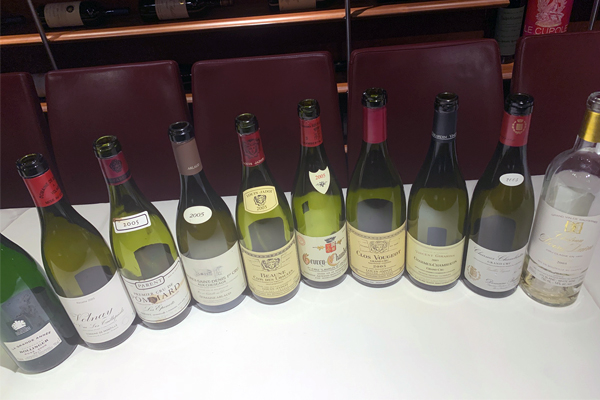 It seems your scribe has always been obsessed over vintages. Back in my earliest days of wine collecting, emphasis was mainly on finding some cherished 1961 Bordeaux (or 1959) followed by underrated 1966 & 1970. During the infancy of California we were seeking out 1968, 1970, and 1974 BV Georges de Latour Cab, Heitz, Mayacamas, Ridge and Mondavi Reserve among others but focusing in on the best vintages. Lesser vintages were deemed earlier drinking and served primarily for comparison purposes next to a still ageable better year. Remember how we all thought it was so ironic that Mouton-Rothschild was elevated to a First Growth in such a poor vintage of 1973 but with that glorious collectable Pablo Picasso painting of Bacchanale. As the long-time Chair of the IWFS Wines Committee every year in London we looked in detail at each wine region for a critical assessment and consensus agreement score out of 7 for every listed vintage on the new annual Vintage Card. Many spirited discussions among Committee members on the merits of vintages usually ensued (later on with the help of input reports from regional specialists) such as whether the white Burgundies of 1985 or 1986 deserved a higher rating! Fun memories. More recently during this century even though grape growing and wine making has been fine tuned to consumer advantage there is a tendency to generalize on the high quality of wines from each and every new year. There have been some very outstanding ones for sure. However global climate change doesn't always help and less heat can actually be more beneficial. Looking specifically at red Burgundy, lots of hype for the last 5 years and certainly deep fruit 2015 is encouraging as are the earlier 2010 and 2009. Over the last few years we have opened several AC and 1er cru of 2005 and every time are impressed by their freshness of cool intense healthy fruit with remarkable structured balance. Examples: Domaine Pavelot Savigny-Les-Beaune (lovely Les Peuillets & dense La Dominode), Alain Jenniard Gevrey-Chambertin, and surprisingly improved so elegant Bouchard Pere reds like Beaune Marconnets are so clean, excellent and reasonable value. 2005 has been my favourite and still is after a tasting-dinner last week that clearly endorsed the overall consistent quality of this year. Shows you how a cooler drier Summer & perfect Autumn, lots of sunlight plus slow steady ripening of smaller berries retaining acidity with thicker skins can produce the very best wines. Reminds me a little bit of
those amazing glorious 1978s that provided so much joy. Some brief tasting notes from June 15, 2021:
So celebratory to start a memorable dinner with Champagne. A salmon coloured forwardly creamy no hard edges touch of cinnamon-ginger in 2005 Bollinger La Grande Annee Rose (72% Pinot Noir, 28% Chardonnay) entirely vinified in small old oak barrels and disgorged May 2017 of 100% Grands Crus & Premier Crus with that 5% special red Cote aux Enfants wine is charming indeed. Nine 2005 red Burgundy in two flights followed:
First Flight Premier Cru:
VOLNAY LES TAILLEPIEDS DE MONTILLE Deep darkest right to the edge. Exquisite dense fruit. This South end vineyard is complete with full textured elegance. Developing still. Age it. Impressive. Personal fav.
POMMARD LES EPENOTS PARENT Lighter aging rim. Bouquet is typically open aromatics showing some wood. Soft & Broad. Forward – Easy drinking. Don't differentiate northern Les Petits or Les Grands near the village but just Les Epenots.
MOREY-SAINT-DENIS AUX CHESEAUX ARLAUD Dark but a bit cloudy as unfiltered throwing sediment. Vineyard is next to Gevrey-Chambertin just below Clos de la Roche shows a similar structure with sweet quality fruit plus vanilla oak. Harder edges. Time needed.
BEAUNE CLOS DES URSULES LOUIS JADOT Palest with watery edge. Some cherry fruit but simpler. Forward. Seemed to miss the best of this vintage in usually dependable Ursules. Least favourite of flight.
GEVREY-CHAMBERTIN LAVAUX ST.-JACQUES ROUSSEAU Anticipated as best of flight. SE exposure on well drained cool mineral soils. Lighter depth of colour than Volnay. Tight rather closed nose. Quality sings on the
palate. Depth of concentrated fruit, flavour interest, superb balanced structure, with great potential. Usually softer than other Rousseau vineyards but no rush. Group fav of first flight.
Fish served with red Burgundy but an appropriate whole grilled white fish with herbs that matched well.
Second flight Grand Cru:
CLOS DE LA ROCHE CUVEE CYROT-CHAUDRON H/B REMOISSENET EN MAGNUM Young look in big format. Turned out to be Cuvee Georges Kritter instead. Bigger with more lush seductive textures of Clos de la Roche than first flight wines. Some Remoissenet styling there.
CLOS VOUGEOT LOUIS JADOT Good look with lighter edge. Solid full presence. Less defined commune with variability. Approachable soon.
CHARMES-CHAMBERTIN VINCENT GIRARDIN First of two Charmes with this one quite light yet charming. Lovely. Forward Grand Cru in style typical of Charmes and also this producer.
CHARMES-CHAMBERTIN BACHELET So deep and dense looking right to the rim. Much more so than all the others. Concentration and intense special fruit. Wow wine from this producer. Congrats! Don't normally get this brilliant pure complex fruit from this Grand Cru. Will turn out to be truly outstanding with some patience. Already "Wine of the Night".
What a shining endorsement these 2005 red Burgundy are turning out to be in showing how important a vintage really is. Try to find some or have patience with your collected smart purchases. Talk about a perfect wine pairing. Here it is prepared by talented Chef Frank Pabst and his brigade. Together the cedar wood roasted squab really improves these wines and the dish sings with the wines. Q.E.D.
---
You might also like: