The Annual Summer Paulee event by La Confrerie des Chevaliers du Tastevin Sous-Commanderie de Vancouver BC was held on August 28, 2022 kindly hosted by Thomas O'Neill, Rajnee Pratap and sharp young son Nicolas at their spectacular "Sky Palace" successfully catered with a 7-course lunch by At Your Table Catering Executive Chef Kate Rice and her brigade. The pistachio with grilled apple for the sous vide long cooking of the duck confit was a nice pairing with the wines. This event is always such a popular one starting with an impressive themed Wine Tasting Reception sharing contributed bottles of members for tasting and discussion. The theme for 2022 was Puligny-Montrachet (repeat of theme reported here on August 29, 2016) with 35 different wines (including 2 Chevalier Grand Cru & 3 in Magnum format) available for tasting. Most members were sensibly sharing around their own bottle, trying a few other bottles for comparison, and pleasantly socializing. However, it has become a bit of a tradition over the years for your scribe to take advantage of this educational opportunity in attempting to taste all & spit most of the wines there and to comment, summarize, and all in good fun award best and worst wine contributions. My focus this time was to speak on how important the combination of Producer, Vintage, and Vineyard are together in the final result in the bottle.

(A) PRODUCER: A big variety of producers were presented led by the generally underrated bigger houses of Bouchard Pere, Champy, Drouhin, Faiveley, Louis Jadot, and Remoissenet that all showed well. At the other end were growers and relatively unknown producers like Bonnardot (simpler 2016 La Garenne), DEux Montille (2011 Les Champ Gain still bright), and Pascal Clement (fresh, lively 2017 Les Chalumeaux). Several highly respected smaller producers raised anticipation including Bruno Colin, Latour-Giraud (primarily in Meursault), Leflaive, Louis Carillon, Pierre-Yves Colin-Morey, Paul Pernot, and Sauzet. The most bottles this time were from my previously recommended Henri Boillot who was a
star of our 2016 P-M tasting with his 2007 & 2006 plus a superb 2006 Criots-Batard-Montrachet.

(B) VINTAGE: Thirteen vintages shown. Brief summary:

2019: Frost April 4/5 mainly St. Aubin, Chassagne & less affected in P-M tending to tropical style but more elegant than 2018.

2018: Hot & Dry but a bigger ripe crop forwardly drinking.

2017: Large crop with rather good balance. Perhaps the last vintage before major climate change is affecting the vineyards.

2016: Frost April 26/27 Meursault more than P-M but rains and rather inconsistent. Five wines served were variable.

2015: Hotter extracted powerful. Better year for the ripe reds

2014: Late June hail northern P-M & Meursault but wonderful acidity balance (Chablis the best in decades) with intensity plus age-worthy!

2013: Cooler year Variable from fresh to exotic to grey rot. Most wines with 6 bottles

2011: Lighter less alcohol with an easy ready style. Forwardly. Tied for most at 6 wines.

2010: Reduced crop of rich pure wines with deep minerality. Great year aging well. 3 wines.

2009: Hot year with creamy voluptuous styling.

2008: Colder year of higher acidity holding well.

2004: Mixed results from difficult growing season. Some less ripe floral notes with elegance. Ready.

1996: More sun than heat with good acidity. Always Pre-Mox concerns in 1996 & 1995.

(C) VINEYARD:

This is a most important key to the terroir and potential greatness of the resulting wine. Those on the northern border like Referts (2019, 2009), Combettes (2013), and Champ Canet (2019, 2015, 2014, and 2011) tend towards adjoining Meursault typical styling with richer, hazelnuts, honey, nutty, oily, and round. But exceptions here as in Meursault Perrieres are more like P-M in structured minerality. Different as you go West with Chalumeux (2017), La Truffiere (2004) and Clos de La Garenne (2008). Even more so as you continue towards the western border adjoining St. Aubin with La Garenne (2016, 2013) and Champs-Gain (2016 & 3 producers of 2011). However as you head South the wines tend to be more elegant in Folatieres (2016, 2014, 2011) and Les Perrieres (2014, 2008) including as part of South Perrieres of Clos De La Mouchere (2016, 2013, 2010). As you go through Clavoillon (2011) and especially near the Grand Crus of Batard & Bienvenues adjoining Pucelles (2010) and Cailleret (2013) adjoining Montrachet some classy P-Ms are capable of being made here. With P-M generally you expect wines to show more almonds, minerals, savoury, stones, and tension than Meursault.

Didn't hand out the Olympic Gold, Silver & Bronze this year. The two Grand Cru Chevalier-Montrachet both from Bouchard stood out with more depth and complex bouquet and flavours. 2015 is rich, softer, already enjoyable but so classy. 2004 special plot La Cabotte was a killer very fresh for 18 years with long impressive nuances. Wow.
On the other hand the worst showing three bottles were:

2015 Champ Canet Clos de la Jacquelotte Paul Pernot is usually a lovely lively P-M for this vintage but this bottle was corked. Bottle variation.

2011 Champ Canet Latour-Giraud this one showing a lot of Pre-Mox.

1996 Puligny AC showed too much aging with some oxidation.
The overall quality of P-M showed very impressively at this Paulee. Lots of lovely P-M to enjoy even in not the best vintages. My Top 11:

2019 Champ Canet Etienne Sauzet- Great producer & ripe rich 2019
2019 Les Referts Faiveley- Making better whites with perfect oak
2014 Les Perrieres PYCM- Brilliant wine rich no battonage MAG
2013 Clos de la Mouchere Henri Boillot- Also Les Perrieres + MAG
2013 Clos du Cailleret Jean Chartron- Monopole fav almost Chevalier
2011 Clavoillon Dom. Leflaive- Reductive Tight Structure Still young
2010 Les Pucelles Henri Boillot- Concentrated delicious Great vintage
2010 Clos de la Mouchere Henri Boillot- Intense Complex 2010 shines
2008 Les Perrieres Louis Carillon- Amazingly vibrant minerals Classic
2008 Clos de la Garenne Duc de Magenta Jadot- Super Surprise
2004 La Truffiere Bernard Morey- Mellow. Matured vs. in 2016 MAG

Some summary conclusions: Vineyards are showing their distinctiveness quite well. Perrieres (and Clos de la Mouchere) clearly of underappreciated top quality. Pucelles & Cailleret are definitely classy. Referts, Combettes, & Champ Canet are producing a richer styling. Henri Boillot is consistently producing outstanding bottles in this decade as well as the last one. Size matters with all 3 magnum formats stellar. Vintage is important in Burgundy. Grab some of those balanced 2020s just being released. 2014 & 2010 were previous vintage recommendations by your scribe that have proven their amazing worth with bottle age.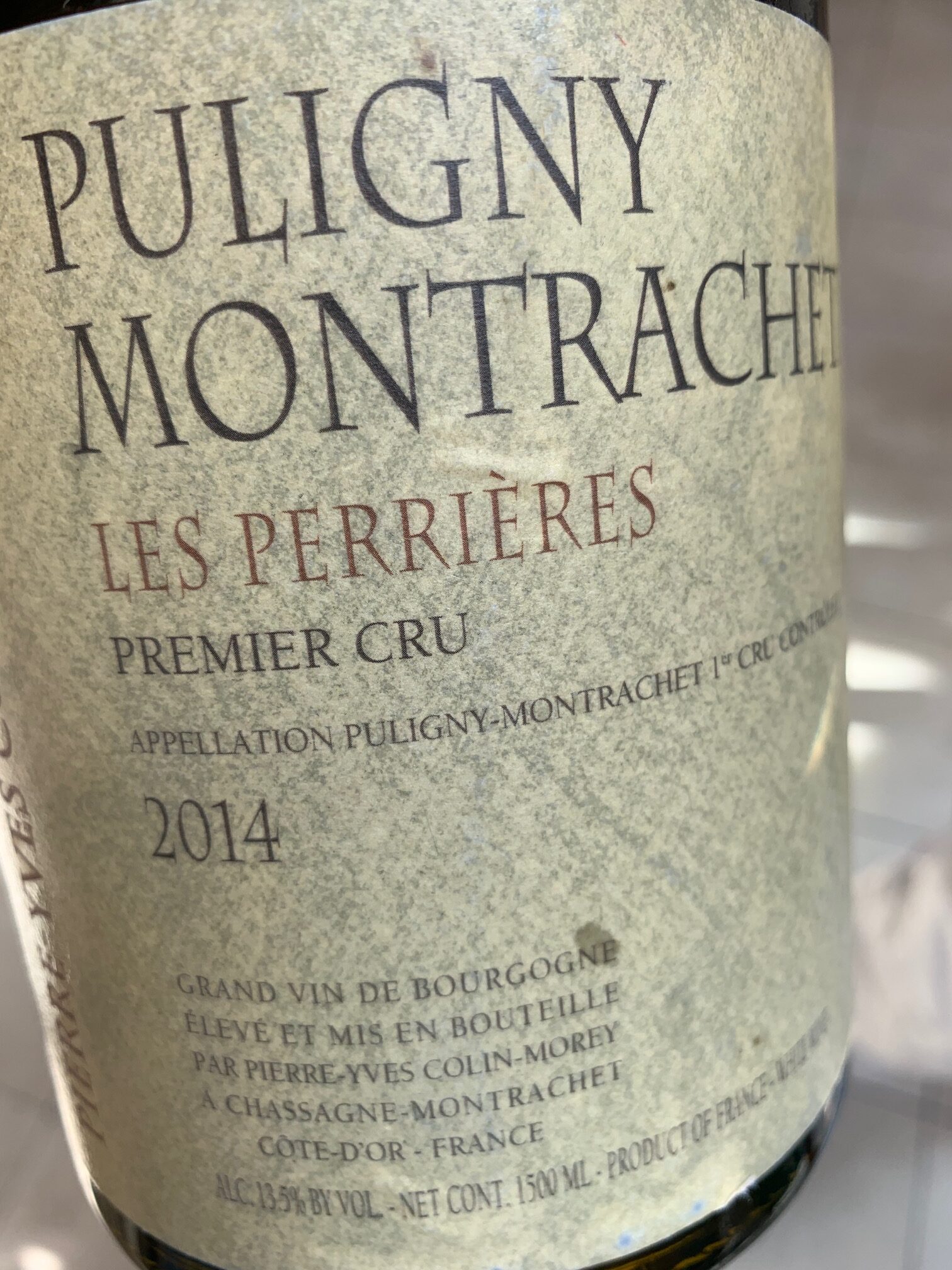 ---
You might also like: