The third and final day of the International Wine & Food Society Vancouver Branch 2022 Wine Tour of South Okanagan on May 29, 2022 is a memorable one. Early 9:30 am Sunday first stop was at MOON CURSER VINEYARDS in Osoyoos warmly greeted by early riser owner Chris Tolley. Check out here your scribe's earlier posting of March 29, 2021 shining a spotlight on this exciting winery with such a diverse portfolio of top quality wines. Their dedicated work in finding success by producing so many different less known grape varieties is truly admirable. Their current wine release has 18 different ones listed on it but some are Wine Club Exclusives. They continue to receive all sorts of awards recognition the latest being led by Double Gold @allcanadawine for unique Touriga Nacional 2020 and Golds for Arneis 2021, Malbec 2020, & Tannat 2018. We tasted 6:
MOONLIT 2021 Frizzante from 100% Viognier is rare picked early for higher acidity shows light 11.5 abv & refreshing with granny smith apple, kiwi, and notes of orange zest.
ROUSSANNE MARSANNE 2021 Grown on Osoyoos East Bench has fresh 13.9 abv floral citrus lime chamomile clove and lees stirring with some oak. Enjoy now or later when a richer texture feel develops.
CARMENERE 2020 Can be difficult to ripen and shows better blackberries, lilacs, and white pepper in hotter years like this intriguing 2020 at 14.1 abv.
SYRAH 2020 This big seller is dark rich & peppery with both blueberries and blackberries lush and powerful at 14.7 abv.
MALBEC 2020 Elegant & delicious here with notes of cinnamon, cocoa, espresso, and mocha at 14.5 abv. Thin skinned grape nonetheless gives an intense expression in the resulting wine.
DEAD OF NIGHT 2020 Flagship unique blend of Syrah & Tannat is bold 14.8 but rich and worth cellaring. Recommend with BBQ.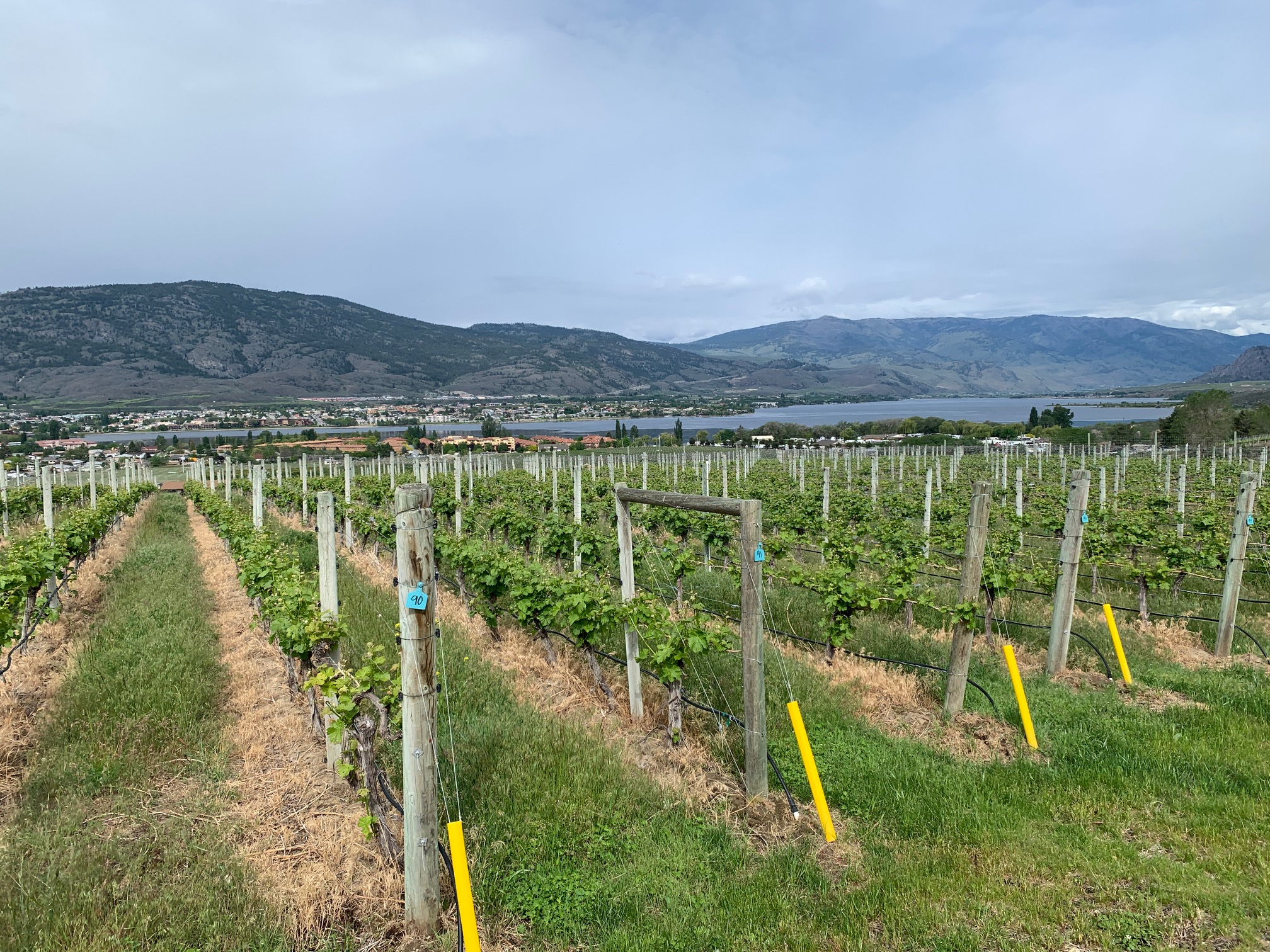 RAINMAKER the estate project of some 27 acres by proprietor Kim Pullen on Black Sage Road in Oliver BC was our second visit. All gravity flow and layout organized well with no pumps or hoses. Tried 6 of their wines with experienced winemaker from SW France Caroline Schaller:
SPARKLER THE PERFORMER 2020 Charmat method of mostly Chardonnay mixed with Gewurztraminer & Viognier
VIOGNIER 2019 Two different ones RAINMAKER VINEYARD vibrant acidity 6 months French oak & RATTLESNAKE VINEYARD richer caramel spends 9.
CHARDONNAY THE CRAFTMAN 2019 Full "sweet" caramel notes from 9 months in French oak
SYRAH 75% VIOGNIER 25% THE MODERNIST 2018 Aromatics – their idea of a "before dinner" red wine
MERLOT SECOND CHAPTER 2017 Planted 2005 in the warm sheltered Rattlesnake vineyard on Golden Mile and produced since 2009. Big rich intense 14.9 abv regular price $40 (same for all reds) on sale presently less 30% for a case.
MERLOT 65% CABERNET 35% THE SOCIALITE 2018 Big Red Bordeaux Blend at 14.5 abv spending 20 months in French oak.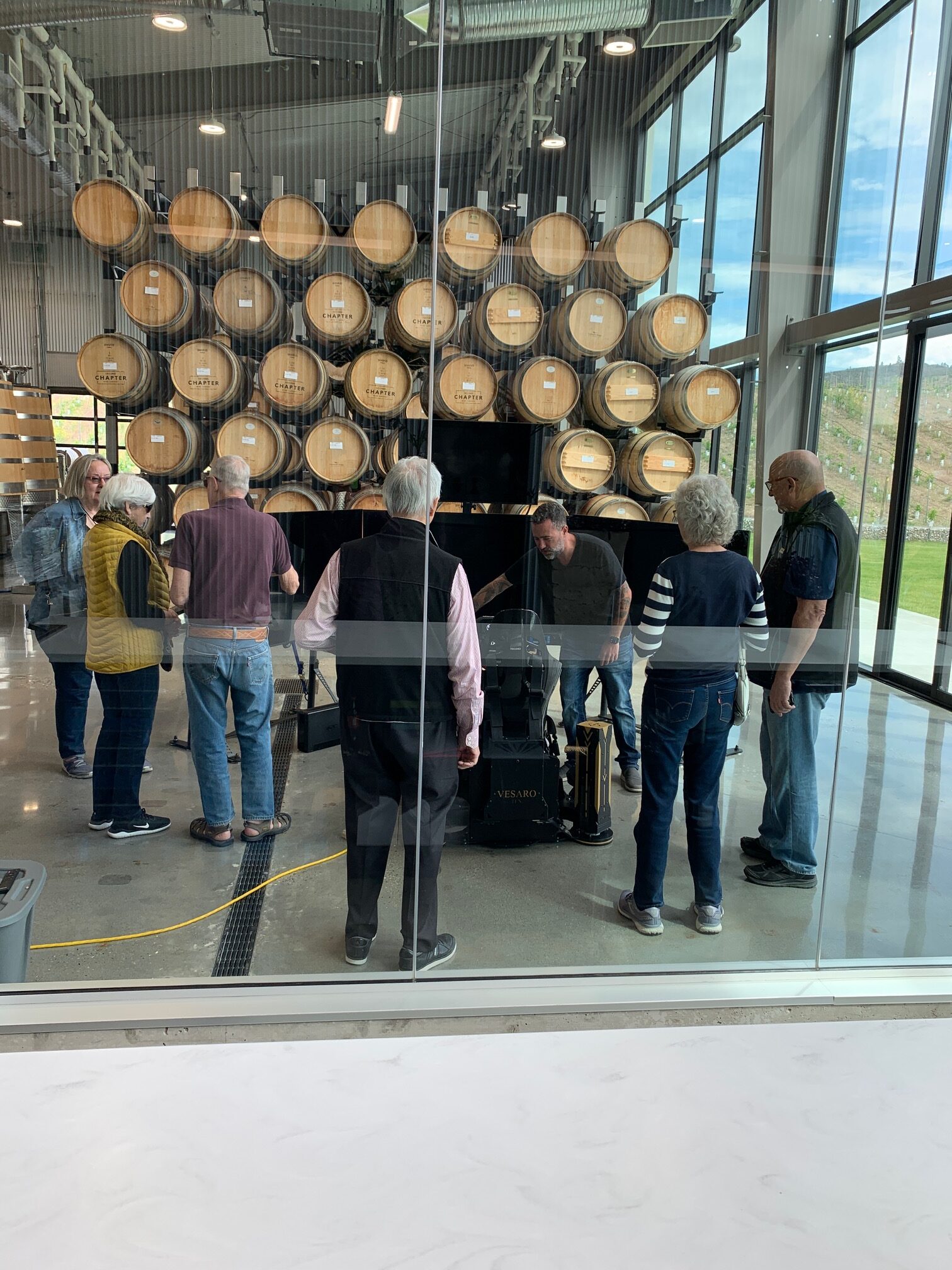 Our final winery visit was the "piece de resistance" with an extensive tour, tasting, and outstanding lunch at PHANTOM CREEK ESTATES on the Black Sage Bench. The entrance into a most special place is noted by the welcoming exquisite two angels tall sculpture by Wu Ching Ju on our arrival. The Estate vineyards started in 1977 as the Becker Project are cleverly guided by Olivier Humbrecht MW organic/biodynamic master from Alsace. The winery founded by Richter Bai is a spectacular showpiece including the finest of everything from the 22 Austrian custom-made best Franz Stockinger (built a second plant to fulfill this remarkable order) oak casks to the beautifully crafted Dale Chihuly mouth-blown glass of 270 pieces chandelier in the Level One tasting room. Their amazing capable team also includes Director of Winemaking globally experienced Mark Beringer, and new attentive General Manager Bill Lui (also has One Faith Vineyards).
Reception was in the interesting History Room with framed soil profiles worth studying of their 4 different vineyard terroirs: Kobau, Evernden Spring, Becker, and Phantom Creek sipping 2019 VIOGNIER only 360 cases. It is from Kobau (gravel with cool afternoons) on the Golden Mile Bench using both stainless & oak in a fresh perfumed elegant textured style showing to advantage in the those classy German Stolzle Lausitz perfect glasses. Tasted 5 more wines:
RIESLING Estate 2019 $33 On elevated SW slopes in Okanagan Falls it is a salute to Alsace with the wonderful vibrant balanced mouth feel.
CHARDONNAY Small Lots Similkameen 2020 $48 Hot days cool nights for 16 Barrels fermented full cluster purchased grapes with partial malolactic fermentation shows strong fruit forward flavours at sensible 12.9 abv with some further development expected as it ages.
KOBAU CUVEE 2018 $80 From 2005 plantings on Golden Mile Bench of 45+ Merlot (savoury bramble), 35 Cab Franc (herbal spices + elegance), 19.5 Syrah (darker assertive fruit) co-fermented with Viognier at 14 abv. Spent 21 months in barrels of 45% new oak. Like the open raspberry violets aromas.
BECKER CUVEE 2016 $70 Merlot dominant Bordeaux blend showing success from late ripening of older vines with Cab Franc adding freshness at 14.5 abv with expressive interesting earthy almost mushroomy bouquet developing.
PHANTOM CREEK CUVEE 2018 $150 (Magnums $300) Best expression of their Cabernet Sauvignon (40%) dominant blend with Petite Verdot, Malbec, Cab Franc & Syrah for 21 months in 65% new French oak is powerful 14.5 abv has minty almost eucalyptus notes with bramble herbal blackberries and black pepper (more than bell pepper) and is a promising unique standard of what top Okanagan reds are capable of producing for cellaring.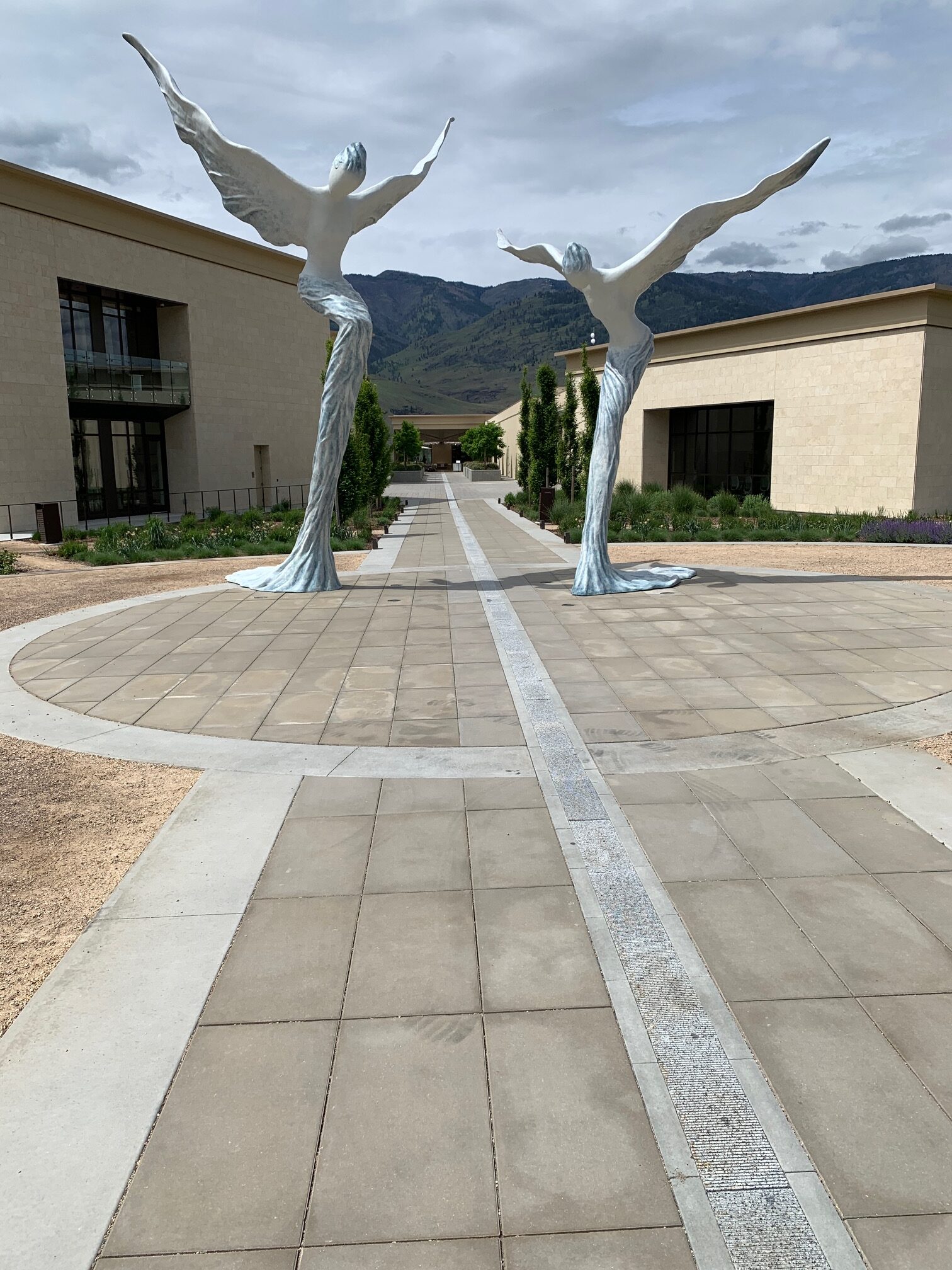 Lunch was a tour-de-force culinary treat by talented Chef Alessa Valdez and her skilled brigade using local ingedients where possible to match the stellar wines produced. Ambitious lunch menu of excellent inspired choices including as shown artistic presentations of shaved root salad, killer burrata course, Halibut, and Duck Confit. Where are those new Michelin Guide investigators for Toronto when there is a worthy 3 star award Canadian winner right here in the Okanagan BC waiting to be crowned?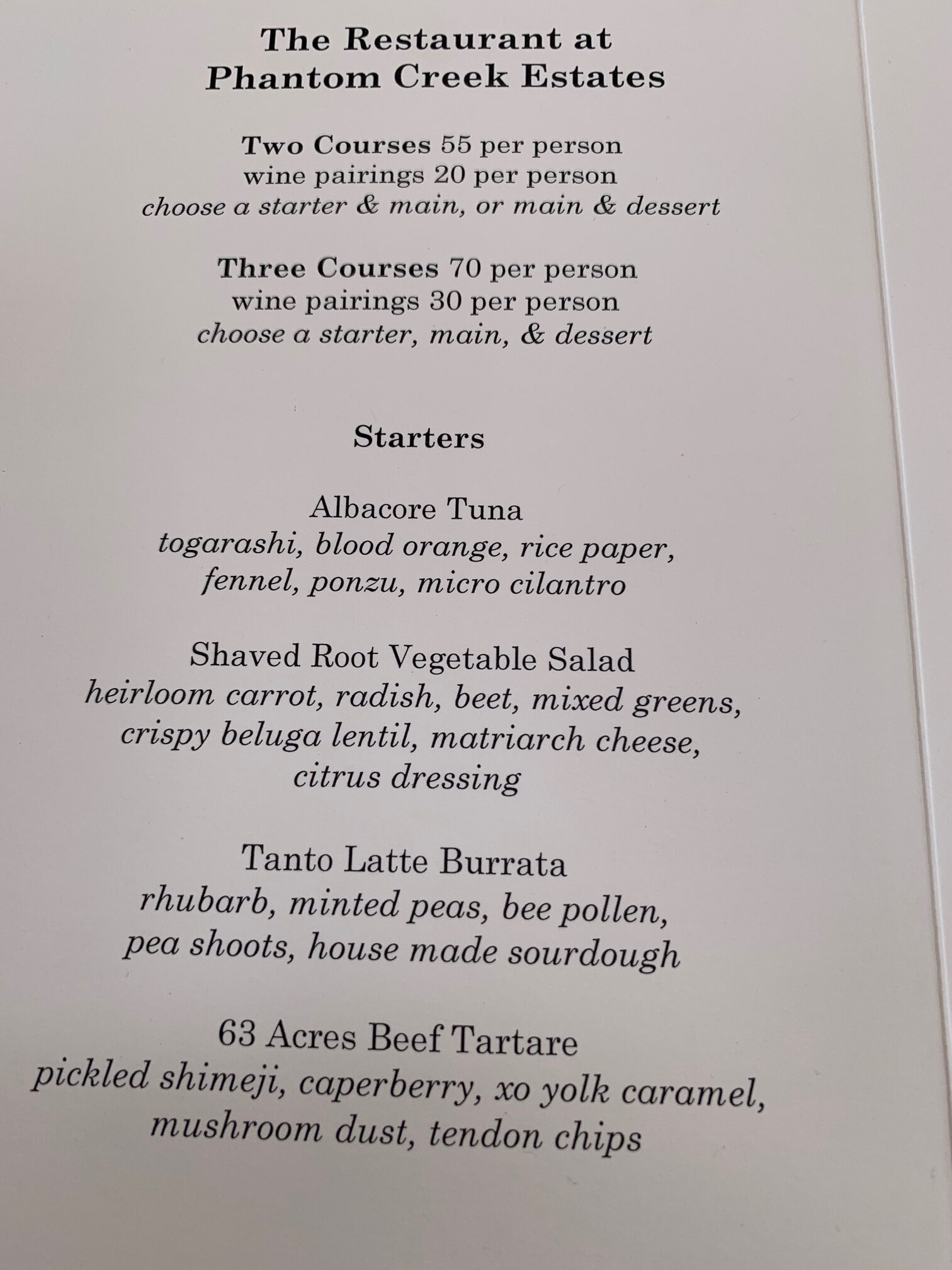 ---
You might also like: