Pork continues to be popular as a versatile non-wasteful food choice with all parts of the pig being utilized from head to tail. Remember celebrated Chef Jacky Robert of Amelio's in San Francisco serving us in the mid-eighties his most innovative "ears & tail" pork recipes that always matched so well with the aperitif bubbles. Tenderloin, shoulder, butt, ribs (smoky BBQ!), ham, bacon, sausage – even cheeks & trotters – are among so many useful delicious food items. A piglet at birth is only around 3+ pounds but after 6-7 months grows into a 250-300 pound hog. In British Columbia they are regulated under the Natural Products Marketing (BC) Act with a BC Hog Marketing Commission using the definition of "hog" as "means a pig of any age." The reality is that producers want to maximize the size and the weight of their hogs to obtain maximum selling prices. Small pigs are almost an unwanted specialty item for the Asian & Chinese market and restaurants with a much higher price/lb charged.
On April 29 at the increasingly popular Chef's Choice Chinese Cuisine in Vancouver they prepared another outstanding dinner featuring a small suckling pig for six of us cooked first on the rotisserie and then finished by roasting in the oven. Amazing presentation and such succulent flavours so well done indeed!. Brought back lots of fond memories of similar but even smaller suckling pigs enjoyed in Spain with less restrictive laws for the protection of young animals. In particular provided nostalgia for your scribe of several memorial meals in Madrid featuring roast suckling piglet at Botin's open since 1725 with the Guiness record for oldest restaurant in the world. Check out the photo of the mastery of this dish by the chef and his brigade at Chef's Choice. What a crisp skin!
Lots of other interesting items served including spot prawns, razorback clams in black bean sauce, pork several ways, tasty beef on the bone, and a remarkable dessert of mango stuffed with taro root. Other big highlights were the wines so well paired with the food:
DOM PERIGNON 1990: Looked golden but no oxidation or maderization. Pure aged rich marvellous complex almost creme brulee toasted brioche and dried apricots bouquet with smooth balanced complex taste. Harvested 32 years ago on September 11, 1990 but still going strong. Brilliant now in magnums. Calling for more!
MANDELBERG RIESLING GRAND CRU 2018 TRIMBACH: This choice Grand Cru vineyard Mandelberg ("Almond Tree Slope") is a hill sheltering the village of Mittelwihr from those cold northerly winds. One hectare cultivated by Trimbach since 1996 of 60+ year old vines with S/SE exposure on brown limestone-marl soil is early ripening but was not specifically labeled until their 2016 vintage release. This 2018 is spectacular with full rich noble breeding with distinct terroir from those unique soils plus fantastic lemon acid finesse. Still an infant but will age exquisitely for a very long time. Moreover it was a brilliant match choice for complementing roast suckling pig!
RIOJA IMPERIAL GRAN RESERVA 2015 C.V.N.E.: Only produced in exceptional vintages using mainly Tempranillo hand picked grapes from their oldest vineyard. Oak for 24+ months & 3+ years in bottle results in a wonderful typical attractive sweet elegant style that will only develop even more nuances with some more bottle aging. Paired magically with the beef dish. Lovely wine indeed.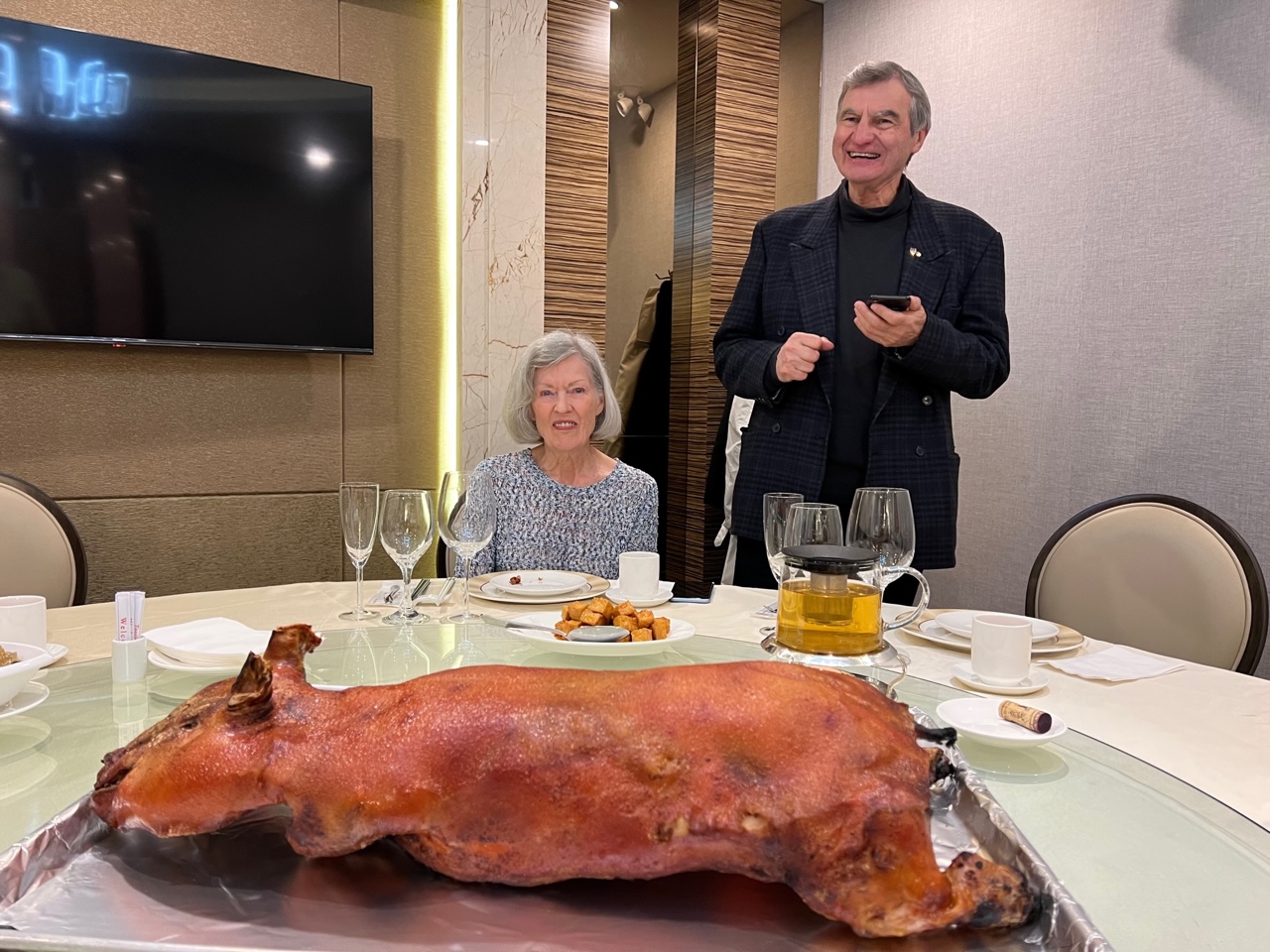 ---
You might also like: