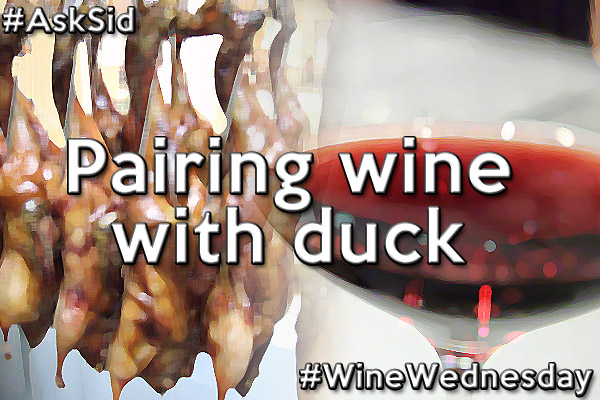 By Sakurai Midori (Own work) [GFDL or CC BY 3.0], via Wikimedia Commons
Question: We are preparing some ducks for a special dinner and need your help in choosing the best wine pairing. What do you suggest Sid?
Answer: This is easy. I recommend pinot noir with duck, squab, other game birds and even chicken. Need more information to be more specific. Domestic ducks are milder than wild caught. Classic duck recipes work well with classic Burgundy pinot while modern preparations open the door to more New World choices. Two important issues to consider are your sauce and the accompaniments. Pinot noir delivers appropriate fruit weight with balance and refreshes your palate with the complementing acidity. If the wine is too jammy and alcoholic you may lose some of the complex special flavours of your delicious duck. Lots of good producers out there from Oregon, California, Ontario, BC, Central Otago, Tasmania, Mornington Peninsula and other regions. A good choice is Cono Sur Vineyards & Winery in Chile who produce an amazing range of excellent pinot noir from expensive Ocio to best buy Bicicleta (Bicycle series). My fav is their 20 Barrels Limited Edition from the cooler Casablanca Valley. Enjoy!
---
You might also like:


Loading ...