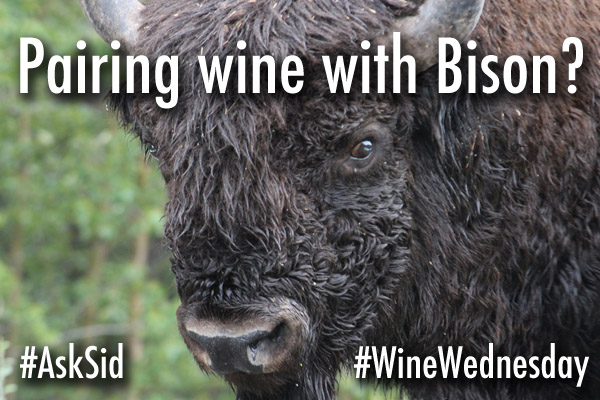 Question: I just picked up a couple Bison rib eyes. What would you consider the best wine for these?
Answer: Bison (a herd animal similar to buffalo) is becoming a more popular meat protein choice over beef because it is lean and dense with very little fat. Useful in many preparations including burgers, "flat iron" top blade steak, roasts, and your choice rib eye! The key to cooking is at a lower temperature than beef to a medium rare or even less doneness so it doesn't dry out. This should have an influence in your wine choice because fat helps soften the tannins in red wine. Therefore a softer or older less tannic red wine is preferred with bison rather than a young more tannic cabernet style which would work better with beef. Remember to factor in marinades, spicy rubs, and the accompanying side dishes when making your own specific choice. The good news is that there are lots of different wines that will match well and enhance your bison rib eye. My choices might include a softer syrah like Crozes Hermitage, St Joseph, or Cornas with a few years of age; juicy Malbec (maybe reasonably priced Catena Alamos from Mendoza); a lighter Zinfandel from California; a savoury sangiovese from Tuscany; or a riper sweeter tempranillo from Spain. If you add some earthy flavours with wild mushrooms, truffles, roasted garlic and the like I would tend more to a round silky pinot noir or an aged nebbiolo from Piedmont in a forwardly softer vintage like 1997, 2000, or 2003. Enjoy!
---
You might also like:

Loading ...