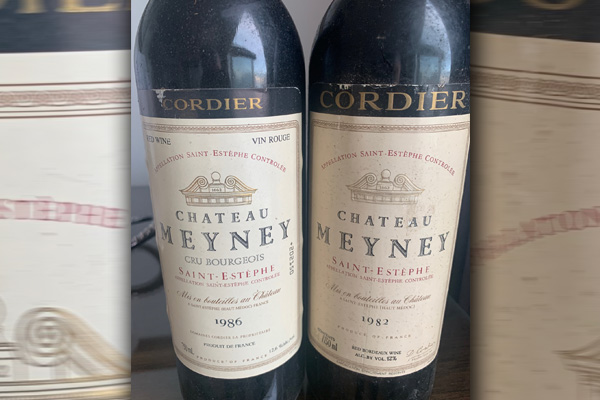 With current classified Bordeaux continuing to skyrocket in price it is smart to check out other less publicized value properties producing high quality wine. Excellent Cru Bourgeois Chateau Meyney in St. Estephe really hits the mark! Neighbour Chateau Phelan Segur also is highly qualified and most worthy. Meyney has a long history of grape growing but instrumental to wine development was the acquisition by the Cordier family (Gruaud Larose & Talbot) in 1917 and currently by CA Grands Crus (Grand Puy Ducasse & Rayne Vigneau) since 2004. Your scribe is a long time collector of St. Julien's by GL & T and was fortunate to buy many of their wines during the eighties. So many star vintages in that decade with 1982s written up here on January 3, 2022 and a GL profile here on November 2, 2015. Wine shops usually also carried the other Cordier sister wine Chateau Meyney at much lower prices so bought those too.
Over the years felt tasting Meyney that they showed earlier on as simpler, more austere & rustic but with some age as they matured learned to appreciate them more. They have structure from iron rich "blue" clay (similar to Petrus in Pomerol) and develop with cellaring lovely smoothness, depth, and licorice notes. A single 51 hectare parcel divided into 62 different plots is unique with high Petit Verdot contribution in the Cab Sauv/Merlot blend. St Estephe is being helped by climate change with those clay soils preserving much needed moisture for the vines over the hot Summers – as seen during the blistering heat of 2003. All recent warmer vintages from 2014 to 2020 inclusive have been so successful with even Jancis Robinson awarding the 2016 a score of 18/20. Since 2013 Consultant Hubert de Bouard of Chateau Angelus deserves some kudos for all his contributions to stellar winemaking. In her recent Inside Bordeaux wine book Jane Anson sings the praises of Chateau Meyney and suggests it is worthy today of a 5th Growth classification.
Last night was a surprising treat of how well the 1986 (dark powerful & earthy but only 12.6 abv) paired with a delicious Risotto of Porcini Mushrooms. Last year stuffed chicken thighs also matched the flavours of 1986. What sublime matches. Earlier the mature 1982 (low 12 abv) still has juicy cherries with complex subtle savoury spices drinking beautifully. Buy some bottles of the recent vintages from the last decade and look forward down the road to an amazing treat at real value.
---
You might also like: