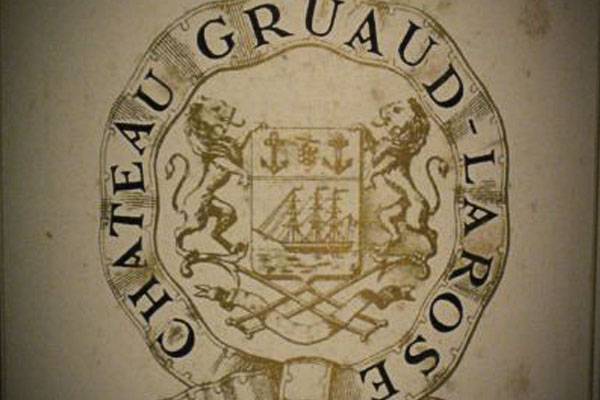 In full disclosure I have been a big collector of Château Gruaud-Larose (GL) over many vintages since the sixties and know their wines quite well. After all it is a second growth Saint Julien in the 1855 Classification and generally has been very good value for the quality delivered. I liked the fact that it usually delivered a big powerful cabernet sauvignon fruit statement that developed complexity with aging. A major influencing factor for me later on was how well the harder 1870 & especially the riper superb 1865 showed against the very best wines in the world on September 23, 1985 during the historic German-American wine connoisseurs and collectors events held in San Francisco. More recently their connection with the Bordeaux styled Osoyoos Larose in the Okanagan BC was a further inducement to follow it closely. Last week our Commanderie de Bordeaux Chapitre in Vancouver held a vertical of 9 vintages of GL back to 1961 & 1966 (both in those old style shaped bottles). Some impressions:
1961: An outstanding concentrated vintage across the board in Bordeaux and GL usually among the very best if properly stored. Can rival  the stupendous 1945 & 1928. However these bottles were recently purchased at $350 US/bottle and not consistent with only 1 bottle showing that brilliant fabulous cedar cigar-box experience you expect while others were tired and oxidized with only some fading tobacco left.
1962 & 1964: Not in this vertical but recently tasted and both are still excellent.
1966: Always have enjoyed the acidity balance and long distance runner profile of this vintage. Here bottles just purchased for a bargain $100 US and showed again that providence can be everything with old wines. Still dark colour with some black currants but acidity was too high for the drying fruit and needing food to show best. I bought more bottles in January 1978 at $10.55 US and they still show better.
After 1966 GL went through a less successful period until the underrated 1981 arrived as a major surprise that is still a lovely elegant delight.  Also the underrated is 1983 certainly one of the best from the northern Medoc from a vintage that had summer rain/rot issues and favoured the Margaux & Graves regions.
1982: As I anticipated this was the wine of the tasting again this time. Buckets of ripe fruit with cassis, licorice. forest floor, cedar, complexity and no rush to open. Classy & impressive to say the least! Possibly another 1865? Pleased to have bought some in July 1986 for $115/case or $9.58 a bottle. Those were the days for the Bordeaux buyers. Sister property Château Talbot also a winner in 1982.
1985: Lighter and more of a merlot vintage for drinking now with more olives & delicacy for this property. A success.
1986: Very dark deep concentration. Lots of massive strength and potential but still needs more cellar time. Hope for another 1870?
1988: Medium colour but herbal, simpler and a bit greener.
1989: Also in this similar 1988 style of herbs and neither up to the more classic 1990. Same with Talbot.
1990: Darker with better ripe fruit and concentration. Clearly best of the last grouping from 1988 on. Will improve.
1995: Shows much younger more rustic but structured and solid. Maybe a dumb period even though at 20 years of age.
Excellent 2000 but the change in ownerships since 1997 seemed to have produced a somewhat lighter less typical from the old style that had been so successful in the very best older vintages.
My revised update assessment on the terroir of this property (located some distance away from the Gironde) is that it continues today to be a solid and reliable Saint Julien but perhaps slightly gamey with less elegant complexity and finesse so doesn't always reach the peak of complexity shown by the First Growths or so-called Super Seconds except in the very best riper vintages like 1982 and some others.
---
You might also like:

Loading ...