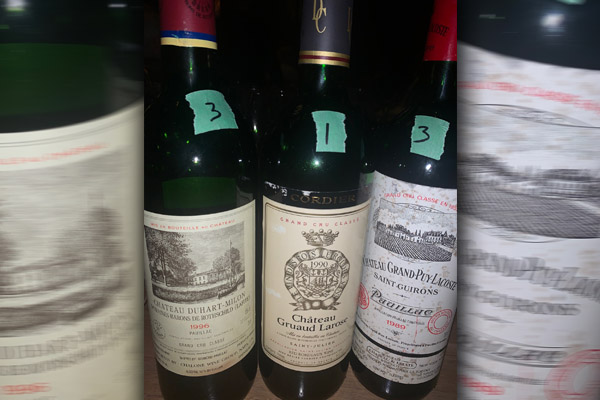 Pleased in Vancouver to be back enjoying high-quality restaurant meals again. A Bordeaux black-tie affair held on March 19th at the outstanding Boulevard kitchen reinforced that idea to the max. The culinary fare and top-class service there is running superbly orchestrated by talented Chef Roger Ma and his amazing brigade. The food courses look enticing and are delicious from bite-size varied hors d'oeuvre to most interesting tasty mains. The rhubarb dessert was a wonderful splendid work of art! Check out their innovative menu and enticing photos of the courses.
The libations started with a value Champagne Brut Selection NV of family house Marc Chauvet at Rilly-la-Montagne (between Epernay & Reims) of 60% pinot noir & 40% chardonnay with no malolactic fermentation but long lees aging. Finding these days more and more everywhere with climate changed vineyard conditions the use of no malo (or only partial) to help preserve that fresher acidity lively wine style.
A fav of mine is Domaine de Chevalier white 2008 (planted 70% sauvignon & 30% semillon) was classy, zesty honey fruit, with intense leesy length yet bottles served varied from vibrantly young to touch of oxidation mature. Olivier Bernard was so correct when he found frustrating inconsistency while drinking his aged whites with cork stoppers that he decided to bottle all of them starting in 2015 with a Diam closure (and all the reds as well from 2016).
Your scribe was at Table 3 for the five reds here. Again bottle variation raised its head as the 1995 Smith Haut Lafitte was badly corked and a replacement bottle though better and drinkable still showed a touch of musty TCA. Your scribe will sometimes unfairly dismiss those older wine write-ups by critics as maybe not reliable for the bottle you presently are tasting. It is helpful to know the wine originally showed "lush ripe cassis fruit" but that was long ago before storage conditions, individual unique corks, plus maturity in the bottle had an effect on it. Always be open minded to the actual bottle you are tasting! The hot year 2003 Haut-Marbuzet was on a lovely current drinking plateau of oaky riper fruit. The three big reds were fun to compare:
1989 Grand Puy Lacoste – a property fav but this vintage is an easy elegant simple lighter less Pauillac-like one than the still powerful 1986 or classic winners produced in 1990 & 1982.
1989 Ducru Beaucaillou – always a big risk for vintages 1987-1990 from this property due to their contaminated cellar of old wood & insulation (all replaced) resulting in some off bottles. This was an example of it.
1996 Duhart Milon – property to watch and collect currently. 1996 one of the better ones from the decades of the eighties & nineties but not singing here. More dried herbs prominent this time and not a touch on the great intense riper fruit of 2003 and subsequent vintages.
1990 Gruaud Larose – Replacement for DB was excellent indeed and clearly the wine of the night. Classic cedar open bouquet complex with rich textures. Reminded me of those choice bottles of GL from the early sixties. Beautifully paired with the beef dish.
2007 Suduiraut – Prominent Semillon (90%) here with very low yields showing intense pineapple mandarin orange with big botrytis. No bottle variation here. A real beauty!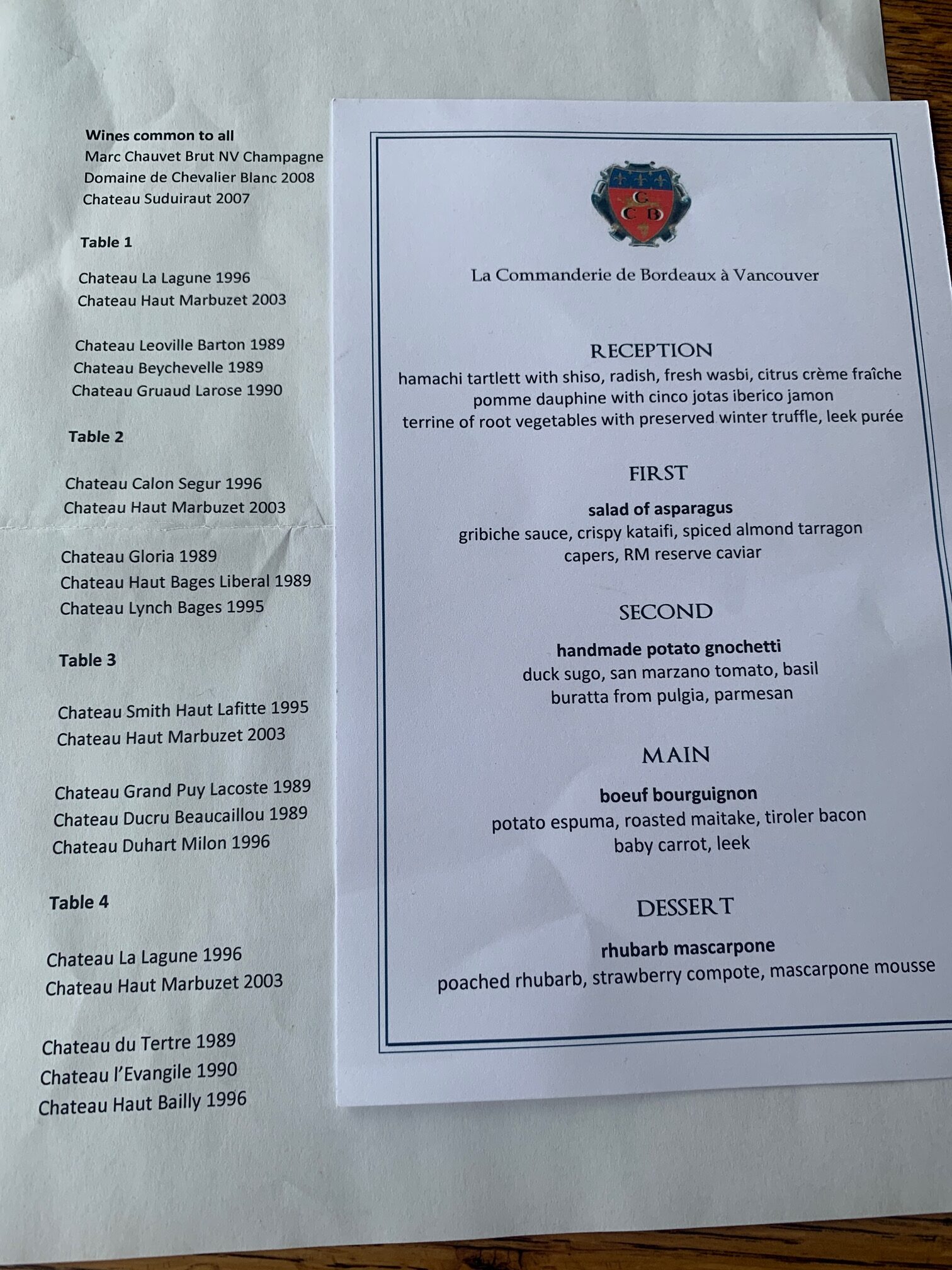 ---
You might also like: