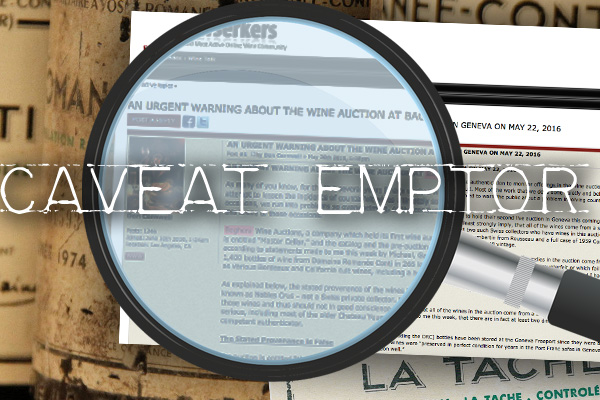 By Joseph Temple
This past Sunday in Geneva, a highly sought-after collection of rare wine bottles including several grand crus from the legendary Domaine de la Romanée-Conti estate went up on the auction block. Owned by an anonymous individual and allegedly stored for 15 years at the Geneva Freeports customs-free zone, Michael Ganne of the Baghera Wines auction house told journalists that this particular auction was "the most important one over the past two decades in continental Europe."
Then all hell broke loose!
Just days before this supposed treasure trove went under the gavel, a lengthy posting by lawyer Don Cornwell was made on Wineberserkers.com titled "AN URGENT WARNING ABOUT THE WINE AUCTION AT BAGHERA WINE AUCTIONS IN GENEVA ON MAY 22, 2016." Listing many inconsistencies along with photographic comparisons to substantiate his claims, Cornwell declared, "On very rare occasions, we run into problems so overwhelming, or the conduct is so obviously fraudulent, that I'm forced to warn the public about a problem involving counterfeit wines or wine fraud. Sadly, this is one of those occasions."
The first lots placed under the microscope contained 1978 Romanée Conti, which Cornwell claims are counterfeit because of the embossed glass—a feature that was only used for the 1974 vintage. Other examples include a 1952 DRC Romanée Conti with a wax capsule (it shouldn't have one) and a 1961 Petrus Magnum with a falsified label that is clear as day. However, two bottles of 1919 Rousseau Grand Chambertin Vieux Plants didn't require you to be Sherlock Holmes; a simple Google search would suffice. "Rousseau did not own any vines in Chambertin until 1920," writes Cornwell. "This is directly stated on Rousseau's website."
After these charges went viral, Baghera quickly responded by removing six lots while promising to cancel the sales of any bottles that were suspect. And despite this dark cloud hanging over Geneva, the collection was still able to raise £4.3m according to The Independent. But have these revelations tainted future auctions? Are lingering doubts surrounding authenticity the new norm?
Given the history of wine counterfeiting and the windfall profits that criminals stand to gain, it was almost inevitable that something like this would happen—and will continue to happen. One high-profile case over the past few years was the trial of Rudy Kurniawan. In 2013, this infamous counterfeiter was sentenced to ten years in prison for making millions off blends that were all created in his kitchen sink and labeled with print outs from his computer. Then there were the bottles allegedly owned by President Thomas Jefferson that were auctioned off in 1985, only to be discovered later on that the engraving "Th. J." was the result of an electric power tool. The entire ordeal surrounding the Jefferson fraud became the subject of author Benjamin Wallace's 2008 book The Billionaire's Vinegar, which is slated to become a major motion picture starring Matthew McConaughey.
An important question that remains is what happens to a bottle that is proven to be a forgery? In 2015, the United States Marshals Service created a well-publicized spectacle by destroying over 500 counterfeit bottles belonging to Kurniawan. But is this standard operating procedure for private brokers and retailers? According to Cornwell's posting, he found one lot containing a 1969 Rousseau Charmes Chambertin that had Rudy's fingerprints all over it, including an off-center neck label and incorrect numerals. So are plenty of fake vintages still for sale to unsuspecting buyers? Maureen Downey, a fine wine authenticator who responded on Wineberserkers believes so. "Has any vendor ever made a public spectacle of standing up for the good of the consumer, or the market and destroying counterfeits? NO, you haven't. Because they don't," writes Downey. "All these counterfeits are out there, and being sold and resold. And again- it is mostly by brokers, and shady retailers! At least people are monitoring auctions. There is no way to monitor the grey market."
---
You might also like:

Loading ...