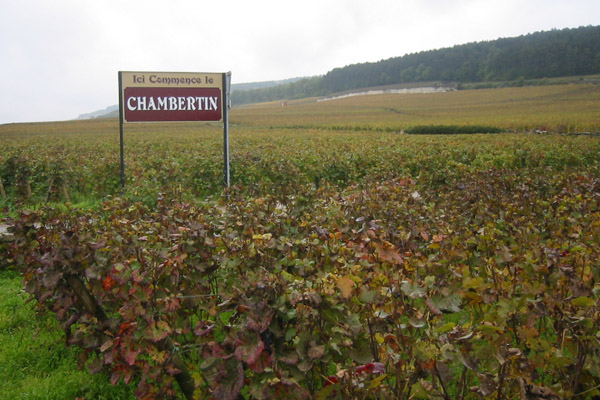 By No machine-readable author provided. Arnaud 25 assumed (based on copyright claims). [GFDL or CC-BY-SA-3.0], via Wikimedia Commons
I am a long time big fan of Rousseau red Burgundies. The late Bob Charpie head of Cabot Corp. was a past president of The International Food & Society. Bob & family had a large wine cellar at their home in Boston and often stated "We don't collect wine, we drink it up". On several visits there he generously opened some mature Rousseau Chambertin including that phenomenal 1964. This year I have tried several bottles of different appellations from Rousseau that I have cellared of their 1991s and 2002s – both vintages are still youthful but all wines sampled very impressive indeed! This month I was at a dinner featuring 9 different top 1999 red Burgundies and the dominating most complex beauty was clearly Chambertin Armand Rousseau. Another still young treasure from this Domaine I cherish.
I visited this Domaine in Gevrey-Chambertin for an update on April 22, 2015. The 2014 crop was up 30% more in volume than 2013 & 2012. A few details on their appellations:
Gevrey-Chambertin Village: 1 ha. 68a uses 7 different parcels from South to East – Supple Elegant & Fruit Driven expression of Gevrey terroir.
Gevrey-Chambertin "Clos Du Chateau": 1 ha. 36a part of Domaine since 2012 Finesse Freshness & Floral Aromas + Raspberries & Red Currants palate.
Gevrey-Chambertin 1er Cru "Lavaux-Saint-Jacques": 0ha. 76a South-East exposure on well drained soil on Cool Mineral Climat – Elegant & Soft.
Gevrey-Chambertin 1er Cru "Les Cazetiers": 0ha. 60a Along North wall of Clos St Jacques produces full black fruits masculine wines.
Charmes-Chambertin Grand Cru: 1ha. 47a is 2/3 Mazoyeres (brown & white soils on calcareous gravels) & 1/3 Charmes (rich red iron soil on rocks) – Supple Elegance & Finesse.
Mazy-Chambertin Grand Cru: 0ha. 53a Most northerly in deep brown soil – Powerful Great Tannic Structure that remains Smooth Velvety.
Clos De La Roche Grand Cru: 1ha. 48a Only plot in Morey-St. Denis extremely calcareous soil 30 cm deep with big stony blocks – Mineral Powerful & Monolithic with Long Finish.
Ruchottes-Chambertin "Clos Des Ruchottes": Grand Cru Monopole: 1ha. 06a Compact Rocks Very Little Soil stays Cool & Windy – Aromatic Complex Lot of Elegance, Finesse & Smoothness.
Gevrey-Chambertin 1er Cru Clos Saint Jacques: 2ha. 21a Clay at bottom going to white marly up the slope – Fresh Very Harmonious & Tannins Well Integrated. Powerful Intense Lot of Delicacy.
Chambertin Clos De Beze Grand Cru: 1ha. 42a Two northern plots of deep rich soil – Complex & Tannic Aromatic Small Black Fruits & Oriental Spices Delicacy Needs Lots of Time to Fully Develop (20-35 years).
Chambertin Grand Cru: 2ha. 55a Four East Exposure Parcels with Freshness – Strong & Firm Aromas of Liquorice Well Structured Dense Powerful Firm Tannins Huge Length Needs Lots of Time to Fully Develop (20-35 years).
Interesting to note that Domaine Rousseau divide their recent vintages into 3 general groupings:
1. Able to Consume Younger While Fruity: 1984, 1986, 1992, 1994, 1997, 2000, 2004, 2008
2. Average to Long Aging Ability: 1985, 1987, 1989, 1998, 2001, 2003, 2006, 2007, 2009, 2010, 2011
3. Greatest Quality For Longest Aging: 1983, 1988, 1990, 1991, 1993, 1995, 1996, 1999, 2002, 2005, 2012
---
You might also like:

Loading ...