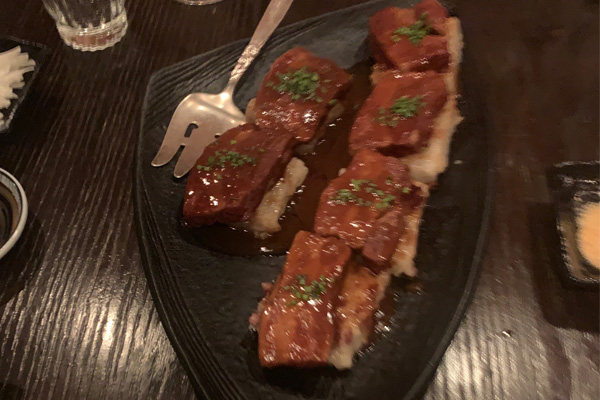 Lunar New Year celebrations seem to have expanded in 2022. The Chinese calendar is based on the cycles of the moon so this Year of the Tiger begins with the start of the new moon on February 1 running on for 15 days, Asian communities especially are celebrating their important festive holiday for looking forward, renewal and friendship. The Year of the Tiger (king of beasts in China) signifies endurance, fortitude, resilience, and strength plus looking after each other. This celebration is bigger than ever in Vancouver right now with more restaurants featuring festive celebratory dishes for families and friends. Of course many menus make use of traditional food items that symbolize forthcoming good fortune including noodles for longevity, fish for abundance or surplus, Spring rolls & dumplings for wealth, pistachios for a happy year ahead, Mandarin oranges, pomelo, & tangerines for good luck and so on.
On February 5, 2022 your scribe celebrated Lunar New Year with a dinner in grand style at the thriving Mott 32 inside the just rebranded Trump International Hotel now named Paradox Hotel. They highlighted an 8 course Chinese New Year Menu shown below with prominent lobster and prawn dishes plus chicken & duck. We enjoyed a
table of 6 in a private area displaying appropriate hanging red lanterns. Our own menu was pre-ordered and paired with quality wine gems less known but acquired and chosen by true professional Wine Director Robert Stelmachuk (also Vancouver Magazine 2020 Sommelier of the Year). Mott 32 has developed a top reputation for the best dim sum in town made to order from the finest fresh ingredients. We started with two exquisite dumplings of beetroot, scallop & shrimp in a most delicate wrapping followed by a Siu Mai of Iberico pork, quail egg, and black truffle. The matching celebratory bubbles of Laieta 2011 Gran Reserva Brut Nature worked fine. Next came a crispy roasted pork belly perfectly paired with an interesting Hungarian Tokaji Furmint 2013 from that special vineyard with volcanic rocks of Szent Tamas showing dry (often sweet in their dessert Aszu wine) full with good balancing acidity Riesling-like. The piece de resistance was the fantastic whole Peking Duck apple wood roasted presented and then
carved with separate golden skin plus the thinnest ever wraps with all the accoutrements. Outstanding culinary work! Three unique reds served of 2015 Scholium Project 1MN Bechtold Ranch Cinsault 13.32 abv own root planted in Lodi California in 1870; 2013 Alto Moncayo big 16+ abv rich intense powerful Garnacha from Campo de Borja in Spain; and 2014 L.A. Cetto Nebbiolo Reserve from Valle De Guadalupe in Baja Mexico earthy, peppery, smooth and much riper than classic Piedmont. More tasty beautifully prepared dishes including prawns, smoked cod at the
table, vegetables, crunchy fried rice with flying fish roe, soy ice cream with Valrhona white chocolate. What a wonderful way to celebrate the Lunar New Year!
Please chime in with your own experience. Anyone matching food with improving cabernet sauvignon from Ningxia (north central China) or newer marselan grape wines all from China?
---
You might also like: