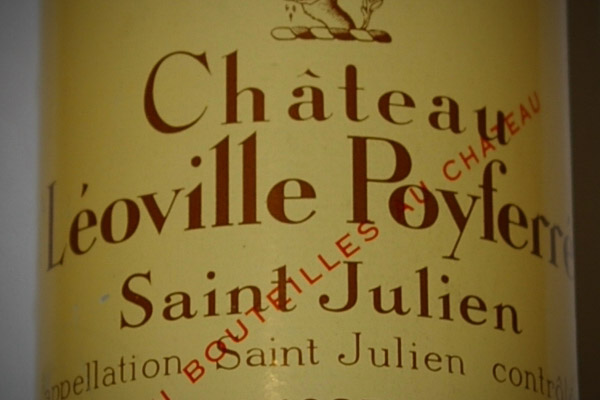 The name Leoville is a magical one in Bordeaux. The Estate was one big St. Julien property for a long time until being divided in 1840 resulting in the 1855 Classification as three all highly rated Second Growths. Since then over the years there have been ups and downs but Leoville Poyferre (LP) fell behind their well respected neighbours Leoville Las Cases and Leoville Barton. However the modern era starts in 1979 with a young Didier Cuvelier replanting vines with more cabernet sauvignon while expanding vineyard size (48 to 80 hectares) yet lowering yields and raising quality at LP. Today it is clearly recognized as an equal to and in some vintages (like 2009) arguably better than the other two Leoville estates. Last week your scribe was fortunate at a tasting/dinner to update his knowledge on how 9 key older vintages of LP are presently showing:
2005: Dark colour 68% cab sauv. Nose backward somewhat closed and not giving much. However improves with airing and outstanding cassis fruit on the palate with refined tannins & admirable balance. A classic in the making and just needs more time to blossom.
2000: Good depth. Impressive cedar black currant bouquet. Delicious with full rich wonderful weight and sweeter supple textures that should appeal to everyone – even California cabernet aficionados. Drinking on lovely plateau more forwardly than its 2 sister Estates.
1996: Deep still dark. Young solid aromas. Bit brawny perhaps but 70% cab sauv results in a full bodied ripe traditional St. Julien that continues to slowly develop well. Lots there. Promising. No rush.
1995: Much lighter rim. Quite herbal red cranberry notes but nice balance. Good merlot vintage that can be slightly overrated in the Medoc because of the lesser quality of the 4 years from 1991-1994 that preceded it.
1990: Maturing rim. Pure elegance majestic complex perfumed nose! Somewhat similar to 2000 in that spectacular style with a seductive exotic personality. Exquisite lush fruit on a beautiful plateau of enjoyment now. Group favourite.
1986: Dark. Backwardly cellar nose at first but opened more later. Highly thought of by their cellar master on initial release. Harder tannins sterner more abrupt taste. Believe it will get better with cellar patience.
1983: Briary fruity plums yet sound surprisingly drinkable and enjoyable with food. Under rated.
1982: Great anticipation of this vintage. Not pleased with this atypical bottle showing more shoe polish with mint smells than the cigar cedar spices text book St Julien expected. Extract and the kind of smooth polish you like on the palate. Still good. Can be more outstanding.
1975: Inconsistent wine with no Parker rating. Experienced the same. However, this bottle shows very well indeed with open complex mature bouquet plus smooth round rich textures on entry full of life before the drier tannins show on the finish. Has come around much better as shown here.
Have you tried one of the Leoville wines? Do you have a preference among the 3 properties?
---
You might also like:

Loading ...