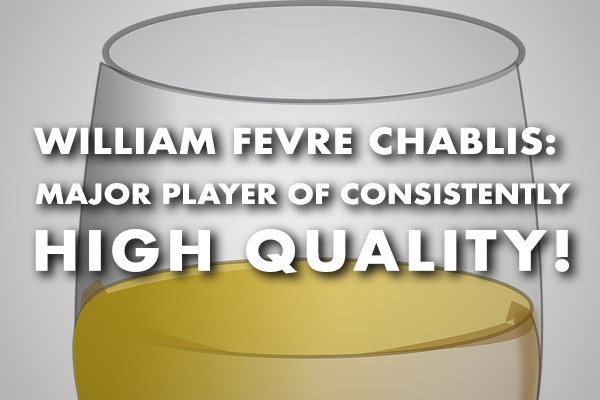 We all admire the Chardonnay (known as Beaunois) variety when grown on Kimmeridgian subsoil resulting in a special sense of place & terroir that is uniquely Chablis. The four appellations include lighter Petit Chablis (885 hectares) more on Portlandian subsoil, fresh Chablis (3370 ha), mineral Premier Cru (780 ha) of some 40 climats usually consolidated into about 17 recognized names and those 7 very special age worthy Grand Cru (110 ha).
Your scribe has been a keen follower of the William Fevre Chablis for decades. Experienced a lot of their wines during the seventies, eighties and nineties includng a period where they were being given just too much new oak that overwhelmed that remarkable terrior. That all changed in the late nineties (1998) with their acquisition by Champagne Henriot including a new winemaking team led by magical Cellar Master Didier Seguier (IWC White Winemaker of the Year 2018) still going strong 20 years later. William Fevre holds 50 hectares of this region with nearly 16 hectares of Premier Cru including 3.62 ha of arguably the best one in Vaulorent (adjoining Les Preuses). They also hold over 15% of the prestigious Grand Crus (15+ ha). Fevre has become a major player of high quality because of their consistent ability to tap into brilliantly the amazing qualities these properties are capable of showing. Always look for balance, harmony, and intensity yet capturing that special aromatic pure mineral delicacy so well. Congrats.
All of this was brought into focus on Sunday July 28, 2019 at an outstanding dinner at Nightingale Restaurant in Vancouver paired with 9 double blind white wines in 3 flights hosted by my brother Ken – a smart wine collector, star home cook, and a most talented taster in his own right of both wine & food. Fortunate to be invited to what turned out to be a surprise private tribute affair honouring Head Chef Phil Scarfone and team members including Head Sommelier Chris Rielly who both sat down to enjoy this fantastic dinner for 12 at their kitchen table. The culinary dishes chosen and well executed showed why Chef Phil so impressed the judges on the recently concluded Top Chef Canada Season 7 on the Food Network. What a tasty delicious menu!
The wines were all maturing Chablis Grand Cru (plus one wannabe or possibly shouldabe) with a 6 vintage Les Clos vertical all from William Fevre. Fun experience trying them double blind and actually nailing all as being top Chablis in my requested comments – made easier to guess correctly only because of the textbook definition of Chablis they all displayed so well. Exciting wines double decanted and served at ideal temperatures by attention to detail Sommelier Chris:
1. 2002 LES CLOS: More colour, quite an earthy open bouquet, rich full developed textures impressive. Fevre own 4.12 ha of the 26 (largest and probably best structured Grand Cru for aging) with due south slope exposure on white limestone bed. Shows that full bodied typical spicy element you often encounter with Les Clos.
2. 2004 LES CLOS: Fresh pure mineral best nose of the first flight with a racy elegant still young impression. Harmonious beauty – still improving. Killer with Prince Edward Island fresh oysters served.
3. 2006 LES CLOS: Full rich powerful excellent extract with a bit more alcohol punch. On lovely plateau to enjoy now but no rush. Perfect food wine presently- with thin crisp delightful ingredients crostino.
4. 2007 LES CLOS: First of second flight similar in style to wine #2 (2004) with lighter balanced freshness. Appreciate and admire how Fevre captured the essence of this 2007 vintage here. Brilliant winemaking. Still developing complexities but already so pure & lovely.
5. 2008 LES CLOS: Only bottle showing a slight maderization form of oxidation but not really pre-mox. Still it is full with charm underneath and quite serviceable with food – roasted mushroom pizza.
6. 2009 LES CLOS: This is different being very ripe on the nose and flavours. A big wine with more alcohol on the finish that is a result from the hot summer days of this year. Still a joy to drink in its own style.
7. 2008 VALMUR: This wine your scribe gets to try quite often. Bottle tasted last week not as pristine as this one which is so fresh. Typical power and structure of Valmur. Fevre has 1.11 ha of 13.2 with a deep clay-lime topsoil on marl with both south & southeast exposure in the shape of a small valley ("Valmur"). You have to be enthusiastic about the minerals and smooth textures here.
8. 2008 VAUDESIR: This Chablis was well liked by the group including Sommelier Chris and displayed balanced finesse with a superb mid-plate. Developing nicely. Double exposure appellation of 14.7 hectares but Fevre plots of 1.2 face only due south on very steep slopes. This Grand Cru is much richer in clay than limestone which results in an earlier drinkablility with aromas of flowers plus rounder approachability.
9. 2008 VAULORENT: Very good intense minerality here with subtlety & elegance. A little less body perhaps but top flight. Qualifies as being with the Grand Crus on the right bank of the Serein river next to Les Preuses with good drainage. Fine quality and belongs as Fevre says as their "8th Grand Cru". Citric character is perfect match with grilled Arctic char course.
Recommend more studying of these classic Chablis treasures from William Fevre! Can appreciate them early on but they develop with age so incredibly at a better price than most other white Burgundy and with seemingly less risk of pre-mox. Enjoy.


center
---
You might also like: