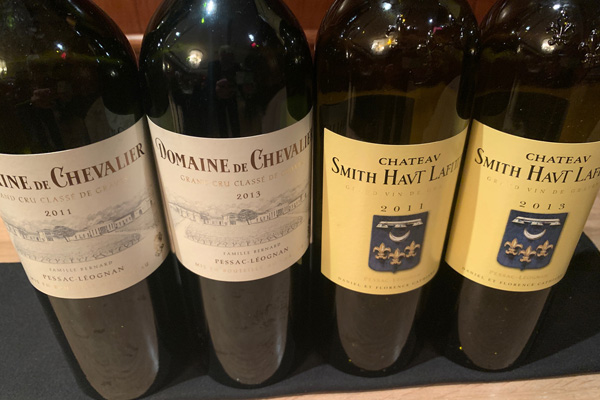 Two respected Grand Cru Classe De Graves in Bordeaux are Domaine de Chevalier (DC) and Smith Haut Lafitte (SHL). Both have some similarities yet with important differences. They are both in Pessac-Leognan, both successful with their whites as well as the reds, and family focused showing even on their bottle labels respectively as "Famille Bernard" and "Daniel et Florence Cathiard". However some major differences too which include the terroir and the history. DC is hidden in a pine forest hard to locate in SW Leognan with deep clay mostly gravel soils with good drainage above a 3-4 metre water table sometimes subject to hail and frost. SHL is on a plateau in Martillac with deep gravel mixed with glacial sands. DC has been making outstanding underrated wines for a long time starting in 1942 for a 40 year successful reign by Claude Ricard before Olivier Bernard took ownership in 1983. SHL has a shorter history of fine wines though managed by negociant Eschenauer for decades before the Cathiards took over in 1991. Your scribe has visited both properties on numerous occasions and is always impressed by their conscientious current attention to every detail in the vineyard and cellar for producing high quality Bordeaux wines. The Cathiards have produced miracles with their hard work, passion, and dedication over 30 years to raise SHL to this outstanding level. Congrats.
Some of these recollections were brought to mind on October 23 spotlighting DC & SHL for dinner at Vancouver's Boulevard Restaurant. My brief impressions:
WHITES:

2011 & 2013 DOMAINE DE CHEVALIER BLANC

2011 & 2013 SMITH HAUT LAFITTE BLANC
Interesting how rather weaker red wine vintages can still be good for whites as usually picked earlier and are often helped by less ripeness and more acidity. Certainly the case here. Late September 2013 rains and uneven ripening 2011 reds in Bordeaux didn't affect dry whites to the same extent.
Different styles with DC having more richness from 6 hectares picked by 35-40 harvesters over 2 hours at sunrise for freshness. On my last visit May 16, 2018 with owner Olivier Bernard & Director Technique Remi Edange they were so impressed with their outstanding 2017. Only making 3-4 barrels of white so manually carry the grapes (around 70% Sauvignon Blanc & 30 Semillon) and empty them not destemmed or crushed into a special air bag press at low pressure for best juice. Start fermentation with one night in a cold 5C room and then 2-3 weeks
alcoholic fermentation to retain "energy" and the "new baby is born" maturing 1 1/2 years in oak. Don't stir the lees that much if the juice is outstanding but Olivier says "battonage is important if there is high acidity". Beautiful refined classic style. On January 26, 2015 on this Blog there is a profile of his book "The Magic Of the 45th Parallel". Also on this Blog on May 31, 2018 a reference about his "frustration by all the bottle variation" and his decision from 2015 all whites bottled with quality Diam 30 long cork closures. Smart move. SHL is different with more vineyards and mostly 90% SB, 5 important Sauvignon Gris, and only 5 Semillon. Remember when there was no Semillon at all in the mix. Remarkable improvement this century and white was selling for more than the red earlier on but now quite similar prices. Really like the elegant quality fresh fruit and complex minerals. 2013 vintage preferred over the 2011 for both properties with divided opinions
enthusiastically supporting both styles. All drinking beautifully but no rush.
REDS:

2008 & 2005 DOMAINE DE CHEVALIER ROUGE

2005 & 1995 SMITH HAUT LAFITTE ROUGE
Vintages were all important here. 2008 an underrated rather classic year showing deep colour with lovely developing tobacco notes. Starting to drink well now as it mounts the plateau of long enjoyment with supple rounding tannins plus mid weight balance and 9% Petit Verdot interest. No rush. 1995 the oldest one here is open quite herbaceous though smoother than expected from what can be quite a tannic year. Lovely now. Two 2005 a rare treat from that magical vintage of power and richness for future stunning complex wines. Fun to compare now both properties in 2005 as they are presently reluctant superstars.
DC shows some attractive spicy plums but not jammy at all. So typical graphite floral undergrowth notes with a big black currant statement. Olivier chooses his wood carefully from where the trees grow and tells the coopers exactly what he wants for toasting and not to break the fibre of the oak. He states "I am not selecting for the taste but for the breathing ability and different types of oak work best for me. Check the bio quality of each barrel for micro bugs as one bad barrel could ruin the whole blend and only use them for 5 years." Olivier reflects back that "the best years were always the warmest – 1929, 1945, 1982, 2009. Therefore I am optimistic with global climate change that we can protect the fruit during the hot summers, not leave too much fruit on the vines, and still wait for picking with outstanding results for 2018 and following years." Impressive result here for 2005 but needs time to open up and develop further dimensions. Patience is required.
SHL is similar but rather closed with concentrated pure cassis with refined tannins. Seems lusher in texture and though more oak polished has beguiling nuances including chocolate. Recall jogging through the vineyards with Daniel Cathiard and his pointing out to me the highest mound where the choicest fruit grows. Suggested making a small Cathiard Cuvee out of it alone but he wisely said "it was needed in the mix to make something memorable like our outstanding 2005". Was he ever right! Quite a trio with 2009 & 2010 all top level. Another long-term beauty to still cellar with confident optimism. More detailed profile on SHL on this Blog August 3, 2015 linked below.
Finished dinner with 1988 Chateau Raymond-Lafon Sauternes from the Meslier Family, the first of an outstanding trio with the best acidity. Botrytis and balance working together. Delicious. Memories back to tasting with Olivier & Remi at DC in 2018 the remains of a wonderful Imperial of 2008 Chateau Guiraud Sauternes they had just served at an event. Olivier strongly recommends "drinking your Sauternes before the dessert arrives as it is too late with dessert." Your scribe followed this smart tip and it worked marvellously for the rich wine before the strawberry cheesecake!
---
You might also like: