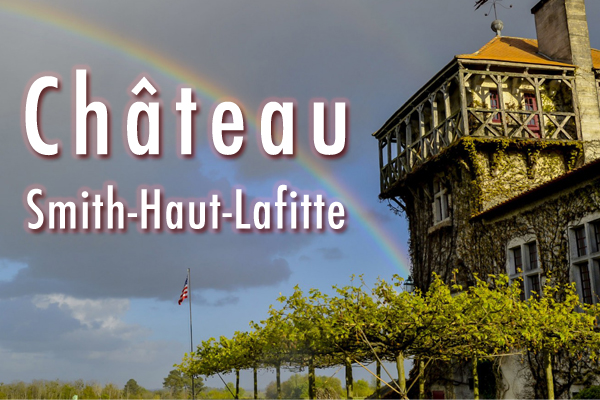 Photo Courtesy: www.smith-haut-lafitte.com
Chateau Smith-Haut-Lafitte (SHL) is an amazing success story. Florence & Daniel Cathiard purchased this property in 1990 from the Bordeaux negociant Louis Eschenauer. With continuing passion and dedication over 25 years they have raised it from obscurity to the very highest echelons of quality Bordeaux. Eschenauer exported their wines including this chateau to North America (strong Vancouver market) in the 70s & 80s and none of us envisaged at that time that this then minor site could warrant a 100 point score which was awarded to the 2009 (released at 97 euros but now 256) . Meticulous attention to the "bio" organic sustainable vineyards and on site barrel cooperage are just a couple of the many keys to their current success. The Cathiards arrived as outsiders on the Bordeaux scene but have made their presence known and contributed so much to the overall success of the whole region. They have purchased two nearby Pessac-Leognan properties Chateau Cantelys (2011 red 14.50 euros) + Chateau Le Thil (2012 red 18 euros), Chateau Beauregard in Pomerol (2009 46 euros), and Chateau Bastor-Lemontagne (2009 50 cl bottles 18 euros) in Preignac Sauternes.  A brand new exciting "aperitif" of screw-cap SO Sauternes of 100% young vines Semillon from top properties mixed with Perrier sparkling water and limes. Very innovative idea.
SHL white from about 11 hectares is now 90% sauvignon blanc, 5% sauvignon gris, and 5% Semillon. I remember when it was 100% sauvignon blanc and they presently have some very old vines with the average around 40 years. Fermentation in French oak (50% new) on lees for 12 months with battonage (stirring) and no malo.  Wines now show the perfect balance with very special fragrant aromas. The 2011 & 2012 both sell at 80 euros and the 2010 at 96 so the high quality is reflected in the price. Their second wine Les Hauts de Smith more reasonably priced with 2013 white for 21 euros & 2012 red 20.
SHL red are high density planted with 55% cabernet sauvignon, 34% merlot, 10% cabernet franc and a touch of petit verdot. Aged in about 60% new oak for around 17 months. Reds have increased in value with 375 ml 2005 53 euros, and bottles of 2007 (70 euros), 2009 (256), 2010 (140) and 2011 (66).  Tasted in July 2015: 2010 classic needs time; 2009 intense riper delicious; 2006 drier less fruit better with food; 2005 so balanced open complex bouquet already throwing sediment; and 2000 still young tight at 15 years but has real concentration & depth – not as ripe or luscious as the 2009 but in the style of 2010 but slightly in a more good rustic way.
No old wines in the cellar when the Cathiards arrived but they have acquired old bottles since with some in large format including 1970, 1961, 1955, 1947 and back to 1878. A special 1878 SHL red labelled by Café Voisin, G. Braquessac  261 rue Saint Honore Paris. Now that is historic!
---
You might also like:

Loading ...