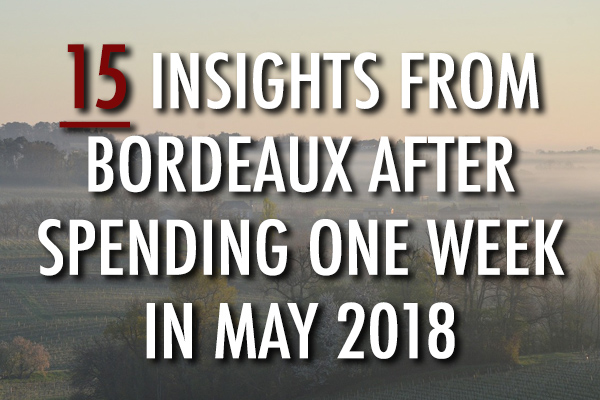 Always so much to see, taste, and learn on every visit to Bordeaux. My first one was way back in 1970. This latest educational update brought even more new revelations. Here are some brief highlights listing 15 insights that were definitely worth noting:
1. 2016 reds just now being bottled are truly a great vintage. 2017 are good or even better than that but more variable with some properties affected by the late April frosts.
2. La Fabrique Boulangerie on Pas St. Georges is worth the line-up for a freshly baked hot crunchy baquette.
3. Celebrated the 93rd of the incomparable amazing May de Lencquesaing of now Glenelly Estate in South Africa (ex-Pichon Lalande) on May 17 at Château d'Yquem with a special birthday cake and the mature delightful 1934 vintage.
4. Check out the diverse special buys wine list put together by Francois at Au Bistrot restaurant to match a simple value meal at 51 rue du Hamel near Marche des Capucins where delicious 2014 St. Aubin 1er cru en Remilly from Château du Puligny-Montrachet is 60 euros.
5. Alfred Tesseron at Château Pontet Canet seeking ever smaller details with his latest 32 brand new amphoras locally designed and made of only 40 hectolitres in size. Now up to 10 horses (with potential for 20) to avoid compacting the soil with tractor use.
6. Philippe Bascaules back home as managing director of Chateau Margaux with key broadening experience obtained at Inglenook in California. Sauvignon Blanc at very strict selection from low yields (20hl/ha) for their Pavillon Blanc du Château Margaux means grapes from one vine produces only one glass of top white wine. Saw oldest bottle in their cellar of the 1828 red.
7. Recommend Racines restaurant in Bordeaux with their excellent cuisine for a 3 course lunch Monday to Friday for only 19 euros. A steal.
8. Continuing improvement in quality at Château Du Tertre in Arsac with 2017 blend of 75 cab sauv, 10 cab franc, 10 merlot, and 5 petit verdot. 10% petit verdot flavour enhancer in 2015.
9. Sister property Château Giscours also on the improve though managing director Alexander van Beek really likes that old treasure of 1970 as does your scribe – with the high 80% cab sauv.
10. Remarkable Veronique Sanders has outstanding twin vintages of 2009 & 2010 at Château Haut Bailly though when tasted together the former is all ripe seductive fruit so delicious while the latter is more classic in style definitely needing more time to open.
11. Cheval Blanc is one of the few properties still using the old wooden bungs and burlap for a tighter fit in the barrels while it is more usual for everyone now to use the silicone ones.
12. Pierre Lurton of Château d'Yquem says quality requires "playing with the risk" of 6 or 7 passes picking only the perfect grapes. Still very bullish on that extraordinary 1967 vintage.
13. Olivier Bernard at Domaine de Chevalier is frustrated by all the bottle variation so now has put all his eggs into one Diam basket. Their beautiful 2015 white is the first one done with long quality Diam 30 cork closures and their 2016 red soon will follow suit. Diam 10 being used on the secondary labels.
14. Château Figeac in St. Emilion guided by proprietor Marie-France Manoncourt, knowledgeable manager Frederic Faye and consulting Michel Rolland usually use 1/3 each of merlot, cab franc, and cab sauv in the blend but the last 2 years saw cab sauv up to 40-42%. Just started there a two year big construction zone to build an amazing new vertical winery.
15. Since 2012 La Conseillante Pomerol has 22 concrete vats of different sizes (35-100) to accommodate 18 distinct plots kept separately. Thinking about planting some cab sauv in the future. Their 2016 composed of 70 merlot & 30 cab franc to be bottled May 22 & 23 is as usual elegant but also deep massively concentrated almost atypical in this vintage.
Encourage you all to visit Bordeaux! Check out the new La Cite du Vin wine museum.
---
You might also like: